CIENCE Technologies is a Top-Rated Lead Generation Agency

It's long been known that for any new business to be successful, it needs to generate sales leads — and to ensure long-term success, it needs to continue to generate leads.
Today, lead generation has gone digital, and there are countless strategies and approaches to capturing leads online. Many assume that digital marketing must make it easier to capture leads than traditional advertising, like print ads or billboards, but this isn't necessarily true. As we've entered the digital age, information is abundant and consumer attention spans are sparse. Businesses need to work harder than ever to be noticed, let alone chosen, by consumers.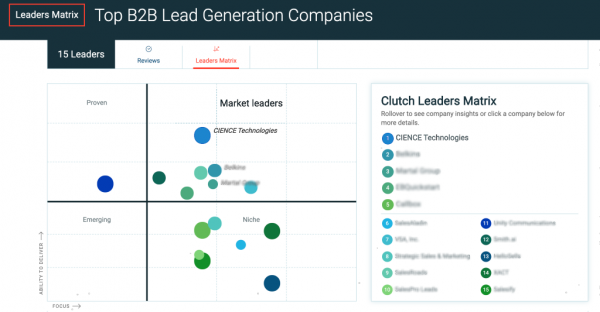 Luckily, CIENCE Technologies is here to help. We're a B2B lead generation services firm and a top HubSpot sales solution partner. Our turnkey approach is tried and true — we've worked with hundreds of businesses and generated tens of millions of leads. We help clients launch sequenced campaigns to targeted audiences in as little as 10 business days with dedicated SDR teams.

Of course, any company is going to say that their services are the best — so what sets CIENCE Technologies apart? Our client feedback.
We've collected nearly 50 glowing client reviews on Clutch, a B2B ratings and reviews platform that helps businesses connect with buyers. We appreciate that Clutch curates such in-depth and unbiased reviews, as these give potential clients a transparent view of what it's like to work with us and the kind of results we're capable of delivering.
Just recently, we received a 5-star review from a biotech company that approached us to help them gain more leads and exposure. We began the process by having the client fill out a questionnaire and using that knowledge to build a template on their target audience. Our team then compiled a list of leads and began reaching out to those leads via email, social, and phone.
The client measures conversions by the number of appointments that new leads book. When we initially started working with them, they saw 1–2 appointments per week; as we continued to finetune the template and our workflow, the client began getting a minimum of 8–9 appointments requests weekly.
"Their responsiveness and flexibility most impress us. CIENCE Technologies keeps up with the data and responds to our comments to make positive changes to the template and their strategy."

Marketing Manager, Biotech Company
They like that we have weekly meetings to discuss performance and that if they ever have a question, we always respond within a few hours. They also commend our team's flexibility with contracts; we offer monthly, 3-month, 6-month, and yearly options, depending on our client's needs. We're excited to continue working with this client!
We're proud to be among the first 3 on Clutch's list of top BPO companies in California — and we're #1 on The Manifest's list of top BPO companies! Be sure to check out Clutch and its partner sites to see our past work and what our clients have to say about us. And then don't wait — let's talk about what we can do for your business.
A Few (Related) Sales Posts
Your source for sales information