6 Best CRM Data Management Strategies to Improve Your B2B Data Quality
"Arming your sales & marketing staff with confidence in your CRM is the key to unlocking the value the CRM was meant to create." —Henry Schuck, Founder, CEO of ZoomInfo
Spending tons of hours and money implementing a CRM (customer relationship management) system may ensure a structured B2B database and business development teams' alignment.
But, to drive sales, just a centralized place to manage accounts and contacts isn't enough to drive growth.
The lack of quality CRM data will prevent your sales and marketing team from realizing their potential or the value of the investment you put in.
Today, CRM systems are a critical part of most organizations' business processes. Nonetheless, to fully exploit your CRM, It's important to have accurate data, derive actionable insights from it, and optimize your data quality tactic.
In this post, we'll be discussing what exactly CRM data management means, how poor CRM data affects your B2B business, and six effective practices to improve your B2B CRM data quality.
CRM Data Management: What It Means
CRM data management refers to the process of organizing the essential data on your organization's prospects and existing clients, inspecting it, and leveraging it to form strong customer relationships.
In addition, this data is critical to both your sales and marketing staff. Your CRM should offer insights on everything from what industry your prospects are in, to the information on the business's key decision-makers. You should be able to access all this information without the need to scour through massive, unorganized mass data.
CRM data management enables you to examine your client's history with your brand. If done right, it can enhance business relationships with the customers, boost long-term retention, and experience continued increased growth in sales.
Through CRM management, you can build personalized marketing campaigns, create winning sales measures, optimize effective sales routes, and more. And all of this is only possible when you follow proper CRM management practices to improve your B2B data quality.
How Poor CRM Data Affects Your B2B Business
Poor CRM data management leads to the loss of valuable opportunities, which costs businesses a fortune. A recent Gartner research states that poor data is related to an average loss of $15 million per year.
In addition, bad B2B data quality in your CRM results in a waste of time and resources, increased bounce rates, unanswered phone calls, etc., all of which ultimately hurts your brand image.
When poor data creeps into your CRM system, it gets in the way of B2B lead generation. Additionally, your sales department faces problems creating a pipeline, your sales predictions are off, and ultimately, you fail to meet your expected business goals. That's why data quality is of utmost importance to maintain productivity and brand integrity. That's why data quality is of utmost importance to maintain productivity and brand integrity.
6 Ways to Improve Your B2B Data Quality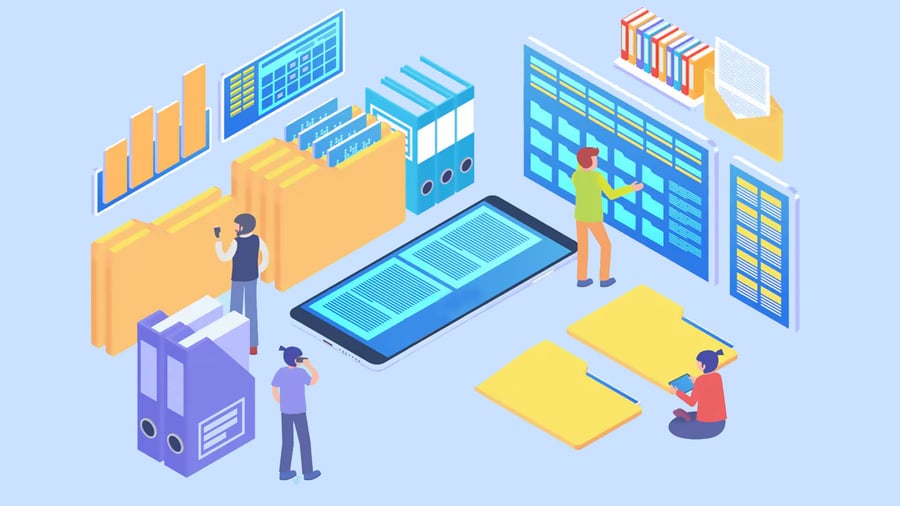 Image provided by InfoCleanse
Here are six effective CRM data management strategies you can follow to improve your B2B data quality:
1. Assess Your CRM Database Health Regularly
One of the most important steps to ensure quality B2B data quality within your CRM is by assessing your database health regularly.
One-third of CRM data is expected to be obsolete. According to marketing experts, 30 percent of your B2B data will become inaccurate, corrupt, and outdated. This happens due to a number of factors: B2B contacts switch companies, clients change their contact details, contacts get relocated or promoted, etc. This dirt in your existing data can negatively impact your business.
Assessing your database health will help determine what condition your B2B data is in (poor, OK, great). It will also help identify the inaccuracies and even fill in any missing information, thereby ensuring data completeness and accuracy.
2. Standardize a CRM Data Management Process
As a B2B business, it's vital to define a standard process of data management for every team in your organization. If not, you can't expect to have good data quality.
A Harvard Business Survey report revealed that the top complaints from employees about their leaders were regarding the lack of a clear direction. Also, 57 percent of these employees said that their leaders do a terrible job giving clear guidance for administrative management assignments and tasks—this includes CRM data management.
If your B2B business lacks standardized customer data management processes, you're bound to come across incorrect, out-of-date, and missing data.
By establishing well-defined data management processes and user workflows, you can streamline the process of capturing and storing information within your CRM.
3. Make Sure the Current Data Is up to Date and Clean
According to SiriusDecisions, 10 to 25 percent of most B2B organizations' CRM databases contain critical errors in contact records. This number is generally much higher if you consider all the other factors, including the rate of firms relocating and changing, merging, going bankrupt, and so on. Effective data management is therefore critical to make sure your business CRM database is clean and relevant.
Cleaning the current CRM data is the most practical way to begin implementing necessary CRM data management and making sure it remains that way in the long run. Here are some practical ways to keep your existing data clean and relevant:
Filter the day: In doing so, you can identify important missing data. For instance, you can filter to check if the contact phone number or email address is missing.
Run exception reports: Conduct monthly exception reports once you begin data cleaning. As such, you'll be able to detect records that have incomplete data.
Merge duplicates: Merging multiple duplicate data to create one complete record is another excellent way to clean data.
4. Validate and Enrich Every Lead Data That Comes In
After cleaning your existing data, it's also important to validate any new information that comes in.
If your potential clients submit their details through your business website or any similar channel, there's a high chance that it won't always be complete or accurate. Maintaining clean data within your CRM database moving forward can help save money and time, and remove many headaches in the future.
Validating and enriching lead information involves the process of removing any duplicate data, correcting false data, and adding missing data. You can do this either by manually or using reliable automated data cleansing software.
5. Automate Mundane Tasks Like Data Entry
When you automate tasks such as data entry, you'll save your sales reps valuable time and significantly boost the chance of maintaining accurate and complete records in your CRM.
CRM data automation can help minimize the occurrence of duplicate, missing, or inaccurate data. It will also ensure that your data is relevant at all times.
Automating and reducing the time that your teams usually spend doing manual administrative tasks like entering CRM data will allow them to use that time on more important matters.
6. Practice Ongoing Data Hygiene
Finally, make sure you practice B2B data hygiene on an ongoing basis. You can do this by partnering with a B2B data provider. As such, they can help maintain data quality as your organization scales.
Optimize Your B2B Sales Processes
By now, it's clear that strong CRM data management is what your B2B business needs to generate profitable business opportunities and build lucrative loyal customer relationships.
Make sure you follow these best practices and see how your data quality improves significantly. And in doing so, your B2B sales and marketing team will also be armed with all the necessary information they will need to optimize the whole sales process and find better data solutions.
A Few (Related) Sales Posts
Your source for sales information