CIENCE Named #1 Call Center and a Top B2B Company Worldwide (Clutch)
Traditional call center services have changed dramatically over the past decade– shaped by emergent trends like cloud technology and multi-channel outreach. Call center services, especially for Lead Generation, add value to your business. As such, we are thrilled to share that CIENCE Technologies has been named as the #1 Call Center Service Firm in the world as part of the Clutch 1000. The Clutch 1000 is a list of the 1,000 top B2B service companies as part of the 2019 Global Business Services New report.
"As the top company in Call Centers and being recognized as a Clutch Top 1000 company, this is really a testament to our corporate goal to put our customers first," said John Girard, CEO of CIENCE. "Clutch generates its rankings and placements using first-party interviews with customers, so we are humbled by those we've served appreciating our capabilities."
Methodology and Recognition
Clutch includes verified client reviews in its ranking methodology, with nearly all reviews collected through real conversations with current and former clients over the phone.
Criteria required for verified client reviews includes over $10,000 project engagement, phone appointment without vendor influence, and directly attributed quotes from references.
Clutch 1000
We are ranked #69 on the Clutch 1000 and represent 1 of only 4 voice services companies on the list. We are also the only company from Solana Beach, California. We are thankful to Clutch for this award and for all of our clients who left us reviews on Clutch.
Based in Washington, DC, their team conducts interviews with the past clients of service providers listed on their site. These verified reviews form the basis of their ranking system. We are proud to be #1 in call centers on Clutch!
Manifest Rankings
Clutch has a sister site, the Manifest, which compiles shortlists of companies, business survey data, and how-to guides. We are thankful for the recognition of our call center services on the Manifest, where we also rank #1.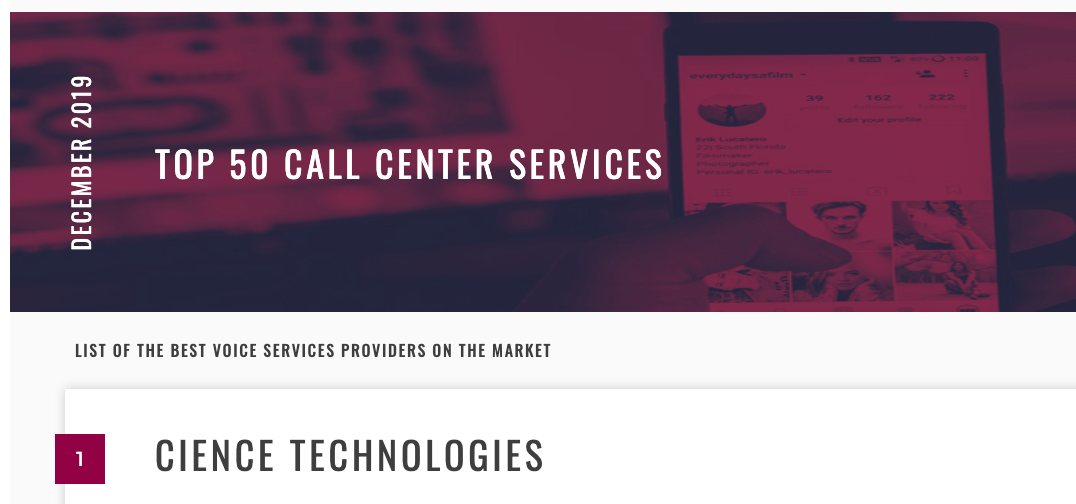 Check out our Clutch profile to learn more or get in contact with us directly to start your next project!
A Few (Related) Sales Posts
Your source for sales information