A Day in the Life: Data Researcher
Data is a critical component of a B2B lead generation process. In fact, it can be a game-changer for the success of your outbound efforts.

High-quality data can help you fill your sales pipeline with good-fit, potential clients and facilitate the work of your sales team. That's why you should make sure to have the right people in place to collect and process your B2B data.
At CIENCE, we are all about sales specialization. We have SDR teams that do outbound prospecting and special teams that collect data for them.

One definitely depends on the other. Your company might have the greatest pitch and 100% dedicated SDRs; however, if the data quality of your lead list is poor, the efforts of your lead generation team will go to waste.
Surprisingly, there are still companies that believe that simply purchasing a data subscription or buying a pre-generated list of contacts will be enough. It's not.

Even if such lists contain solid data with a variety of different options, this is not enough to have your outbound efforts work really great. And, more importantly, it shows a lack of understanding of how the sales pipeline works.
To get the best out of any data, it should be cleansed, enriched, organized, and transformed into high-quality targeted data before your SDRs even start to work with it. And that's what we do at CIENCE.
B2B Sales Prospecting Research

Data research is the process of generating a customized list of contacts that fit your buyer persona.

In other words, you will have the names of people and companies that are likely to become your customers. There are two types of sales prospecting research:
Enrichment: This involves a contact search of leads based on a list, or what's already in a

CRM

. The research exercise is to fill in missing data about companies or contacts or bring that information up-to-date.
Generation: This is research from scratch. It's much harder compared to enrichment. The net new aspects to generation place a premium on finding particular types of data.
In both cases, the CIENCE data team uses a number of tools, databases, and techniques to make the process as smooth as possible. It ensures high effectiveness and quick turnaround, but the human component is always a part of the process—it helps to convert raw data into targeted one, maximizing its quality.
Data Research vs. Data Subscriptions
There are some distinct advantages of targeted data research versus data subscriptions or list buying:
1. Higher quality of contacts
Probably the biggest challenge of lead generation is the accuracy of data. Generating quality leads has remained a key pain point for many prospecting businesses for years now. There are several ways to solve this problem.
One way is by finding as many quality contacts that fit your buyer persona as possible. That is what a good data research team excels at, and something a purchased list cannot provide.
A data researcher will look for the leads based on the criteria specified in the ideal customer profile. It will result in a custom-made, precise, and micro-targeted lead list that will match your requirements.
2. Up-to-date data
In general, any listing broker will be selling outdated data. Decay rates vary but can be as high as 8% per month. So even an immaculate list developed a year ago can be utterly worthless by the purchase date.

The older the data becomes, the more irrelevant the information. It's worth noting that insufficient data can be dangerous (not just a waste of time), potentially inviting blacklisting, do-not-call bans, or corrupting email deliverability.
On the other hand, a skilled data research team, at all times, provides the latest and most relevant data. They'll either generate it from scratch or enhance the existing dataset.
Pro tip: Conduct data enrichment and data research regularly if you want to succeed in lead generation.
3. Human-driven, machine-powered approach
One of the best parts of using human curators of data is the ability to combine datasets.

A request to find chief marketing officers in New York-based companies between $25 and $100 million who blog at least once a month on WordPress and share that content via LinkedIn is impossible with a list broker or data subscription (it may require a few, good luck). Still, it's possible for our data team.
Many tools enable data researchers and data analysts to almost fully automate potential client research. However, they still need human supervision since some things such as context, overlap, or suppression a machine can't just understand.
4. Consulting and feedback in real-time
Dedicated data team and team managers have experience working on various projects. They can provide helpful advice to a client on search criteria, industry, and many other research factors.

Furthermore, with the weekly list approval, a client can introduce timely changes to requested data or the buyer persona. Extensive use of machine learning tools enhance this process even further.
5. No mistakes, no setbacks

What does error-free data look like? It is a list with very few people who've quit their jobs, few companies that have changed domain, or ceased operations. It means that you'll see fewer email bounce notifications in your mailbox. It will save time, effort, and keep your SDRs in a good mood!
At CIENCE, we have data teams of different specializations:
Internal: Used for our own lead generation
External: Serve as dedicated researchers for our clients
CIENCE Now: Researchers who perform broad-ranging, on-demand research projects that are typically CPL-based (cost per record)
Our sales prospecting research experience is valuable for companies who want to fill the sales pipeline with quality leads and close more deals regularly.
Data Statistics at CIENCE
Here are some top data statistics about our researchers:
Normally we deliver around 750–800 unique, high-quality contacts to our customers on a monthly basis. This is an average output that depends on the complexity of the project, requirements, and amount of data collected per each record.
The average accuracy rate is greater than 95%. Our data quality assurance (QA) process doesn't allow this level to drop.
We provide a minimum of 15 different data points per record.
On average, we provide around 2.5–3 decision-makers per account. This number varies based on the ICP and size of the companies we target. For enterprise accounts, we might target up to 100 decision-makers per company.
Generally, data is being collected around 2–3 weeks prior to the campaign start date.
Our CIENCE data team can handle multiple accounts at the same time.
The quota for data, the number of people, and fields are based on the project's complexity, which depends on three key factors:
The rarity of companies (e.g., a particular geographical area)
Number of criteria in the buyer persona
Number of fields required to be filled in
CIENCE Data Team: Responsibilities of a Lead Researcher

Each element of this team has a separate area of responsibility.

The team manager (TM) normally oversees a team of around fifteen people that includes data researchers and QA specialists. The TM also interacts with customers on a weekly basis.
Data team leads (TLs) get the raw data querying different databases or parsing web sources and send this data to data researchers for cleansing and enrichment. The team leads also validate the final datasets to ensure the highest quality.

Data researchers get the data from TLs, verify it, fill in the missing information and extra data points, and ensure it follows the ICP.
The main responsibilities of a lead researcher are:
Prepare two samples of the contact list at the beginning of a campaign. This list will be later sent to the customer for the assessment. If needed, necessary changes will be implemented.
Deliver data to a customer on a weekly or biweekly basis.
Participate in a weekly call with the data team to analyze the results and make any adjustments according to the clients' feedback.
The Daily Schedule of a Data Researcher at CIENCE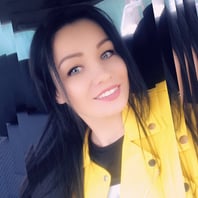 Helen Liubina
Senior Researcher
We talked to one of our data team members, Helen Liubina. Helen is a senior data researcher and currently doing enrichment in the marketing industry. Her schedule is somewhat typical of an average data team member at CIENCE:
9 a.m. EST (11 p.m. PDT): Start of the workday. She turns on the computer, makes a cup of tea, and begins the first search, looking for new prospects for her client.
10.30 a.m. EST (12.30 a.m. PDT): 15-minute break.
Data team members take several long and short breaks during an active search. Since their work requires a significant focus on the details, it can be quite tiring and shorten their attention spans.

If you want happy, productive researchers, you have to include frequent physical and mental breaks separate from their responsibilities.
10.45 a.m. – 2 p.m. EST (12.45 – 4 a.m. PDT): Power sessions, or unbroken concentration on building the lead list.
2 – 3 p.m. EST (4 – 5 a.m. PDT): 1-hour break.
Pre-pandemic, employees utilized a gaming area to unwind and have some fun. In the new reality we live in, lead researchers are encouraged to take a walk outside, do sports, or play some games online with their colleagues.

Unlike SDRs, whose work is stressful due to multiple rejections they deal with, the researchers' work is somewhat deprived of diversity, which can also be challenging even for the most persistent and stable personalities.
3 – 3.45 p.m. EST (5 – 5:45 a.m. PDT): Study time! CIENCE training sessions.
Our research team has two types of main training: 1) how to analyze data, and 2) how to automate research using special tools. Both types are equally important in their work.
The analysis increases the quality of contacts, while automation increases the speed of the research.
4 p.m. EST (6 a.m. PDT): Continue the data research for the client.
"In our profession, people talk a lot about the monotony. However, now I have an interesting project that requires analyzing companies' activities and filtering them according to particular and rare criteria. Furthermore, our client is constantly changing the ideal customer profile, bringing diversity to my work. I like it!"

Helen Liubina
6 p.m. EST (8 a.m. PDT) – Clock out. Time to turn off the computer and rest!
Certain clients have been with CIENCE for a long time and trust our data teams. They don't require the weekly list of leads for approval at the end of the week. In this case, our researchers provide the list of new contacts to SDRs daily at 3 p.m. EST (5 a.m. PDT) because, at 2 p.m. EST, our sales development teams begin their day and get ready for the send-out.
Sales Prospecting Research Matters
No matter how you do it, internally or via outsourced services, research is the starter of your sales engine.
The operational side of the data researchers' work is not that complicated. It is how it's done that matters the most. Teach your team how to do it right, explain the importance of the buyer persona, and you'll get the quality leads in your sales pipeline.
Or just hire CIENCE.
A Few (Related) Sales Posts
Your source for sales information