Is Your Website Lead Generation Friendly?
When it comes to outbound prospecting, a website can pull your leads further into your sales funnel or otherwise scare off your potential clients. Why does it happen? And, most importantly, how to make your website lead generation work in line with your outbound campaign?
At CIENCE we have created and implemented 681 campaigns for 354 companies across 17 industries. We studied the behavior of our leads closely. Most people who opened our email would respond (positively, negatively or ambiguously) or leave the message with no reaction. About 10% of those who were interested in our email would click on a website hyperlink in the signature for more information about the company. And that's when we lost them.
Kate Galchuk, Project Manager of CIENCE Concierge: "Usually, company websites are large. They provide much information on various services. The leads who received a particular offer in a targeted email expect to see more about it. However, more often than not they get lost in navigation and leave. They are unable or unwilling to waste time on finding relevant data."
Does your business have the same problem? We found an easy solution to tackle it. Instead of sending the leads to a corporate site, we create a landing page dedicated solely to the offer in our email. In this way we make website lead generation work for the outbound prospecting. We call this service "Concierge" because it opens the doors to the business cooperation.
How the website lead generation for outbound looks like:
As we mentioned above, it's a landing page that covers entirely only one offer or service. We create it solely for the purposes of an email campaign using the design of our client's corporate website.
We insert HubSpot tools with a call-to-action. Depending on a client, sector or campaign, we incorporate one of these tools or both of them.
Web Chat. It connects the lead with our SDR, who is in charge of the mailing and phone-call campaign. He or she can answer all the questions about the service/product in the real-time during the working hours.
Web Meeting Link. It enables a lead to schedule an appointment without contacting a sales rep.
There are number of companies, which create landing pages optimized for leads from Facebook or ads.

Kate Galchuk, Project Manager of CIENCE Concierge: "It's better not to buy a new domain for your landing page because it can be perceived as spam by some email robots. In addition to that, it can confuse your leads and customers. We also close them from search engine indexing for a page not to compete over the traffic with the main website. It's made exclusively for the outbound campaigns."
We insert the link to the corporate website for those people who want more information on the company. Some of our clients ask to include their phone number if a prospect wants to call.
The advantages of the website lead generation for outbound are:
1. Saving time for your leads. Time is the most valuable resource. And in business, the more a person earns, the more expensive his or her time is. If your prospect clicked on your website in your mail, you have about 10 seconds to catch his or her attention.
Can your website do it? Does it presses the pain point of your leads from the start? If not, it's time to think of the featured landing page for your outbound prospecting campaign. The faster your prospects find the related information, the higher are the chances they will opt for your services.
2. Targeting. Provide the necessary data to the lead. For example, your company develops software for B2B companies that work in real estate sector. Your potential clients are marketing managers. However, you recently made a new product, and its buyer persona is a C-Level accounting title at a restaurant (B2C).
You won't want them to get to your website because they'll be confused by the amount of information about real estate. On the contrary, a landing page describes the benefits of software automation for restaurant's accounting solely. It will attract the attention of your prospects and will pull them down the sales pipeline.
Also, think about this. You read an email that promises to increase your lead generation by 30%. You open a website and then get distracted by a colleague. When you return to your computer, you see a site dedicated to a number of different services. And the first thing that catches your eyes is a call center.
First, you don't understand why you are here. Second, you don't remember what was in a letter. Finally, you slightly recall that it was something promising. But you don't seem to find anything interesting on the website. Summing up this item, remember:
Data overload confuses people.
3. A decrease in the website bounce rate. If your prospects click on the link in your email and see irrelevant information or have to waste time to find the necessary data, they are most likely to leave silently. Don't let them do it.
4. The illusion of control in decision-making. Some people who click on a corporate website link in email signature want to choose independently. They prefer to explore and analyze on their own. Providing a landing page gives them this opportunity. At least they think they have control over it.
5. A landing page supports your outbound campaign. Your SDR will get the notification as soon as your lead writes in a chat or requests an appointment. Remember, buyers indeed want to talk to sellers. Furthermore, the earlier they contact, the better. That's why a B2B business needs SDRs – people who can advocate your services and products and explain their value.
Stages of the website lead generation for outbound prospecting: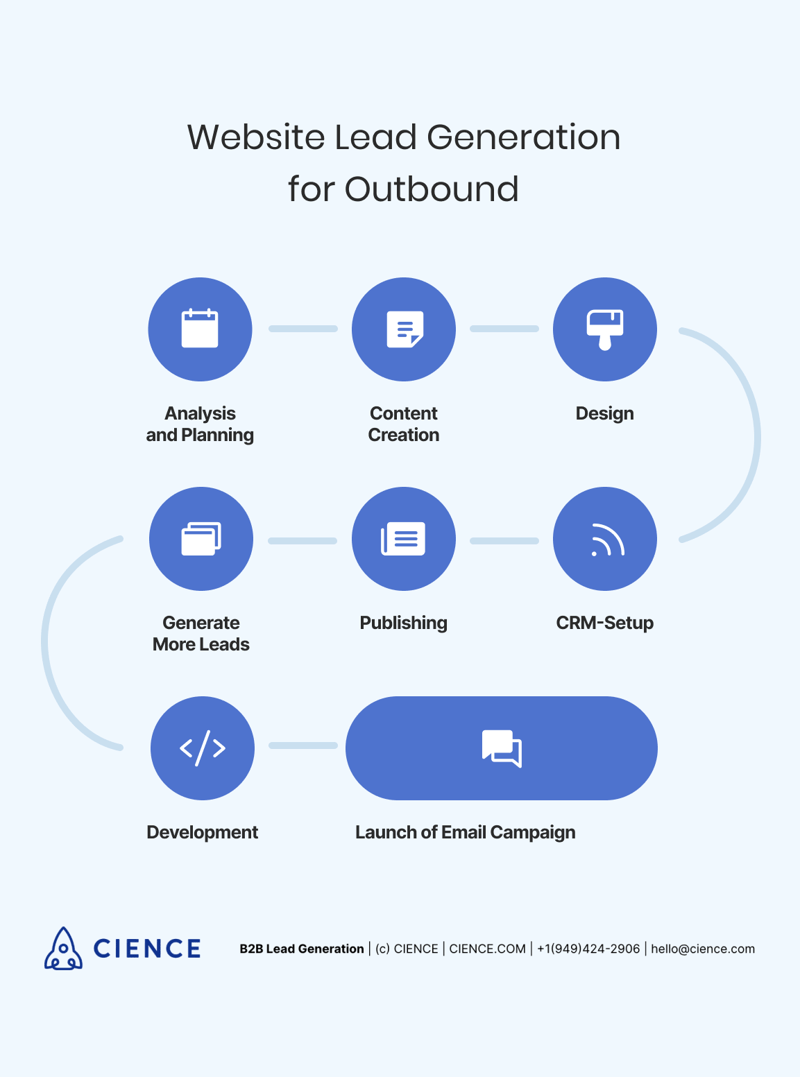 1. The first stage is always the analysis and planning. We begin it as soon as our client decided to empower his outbound prospecting campaign with a landing page.
At this point, we study the client's product/service, website, unique sales proposition as well as the offer of email send-outs. Based on it, we develop the brief (the description of the landing page) and pick a sample layout.
2. Content creation is the second stage. Our copywriter studies the brief and then writes the necessary information for the landing page.
3. At the third stage, our UI team creates a design based on the client's corporate website. Sometimes a client wants to have other colors and concepts. However, we recommend sticking to the traditional ones in order not to confuse the leads. The design shouldn't be exactly the same as that of the main site.
After the designer created the image of the landing page, we send it to our client for the supervision and approvement. Sometimes, we receive the requests to make specific changes in design and content. We do as our client asks.
4. After the main elements of the page are ready, our IT expert develops a webpage and inserts the HubSpot tools.
5. As usual, by this time, our clients have already created a subdomain and provided us with the access to it. All we need to do is to publish the landing page and double-check if everything works right.
6. This stage is of great importance. We connect the Hubspot tools with the CRM account of our SDR. They are the key features of a landing page. That's why we need to make sure everything works correctly. We don't want for a quality lead to leave because of the lousy set-up.
7. We launch the outbound prospecting campaign. Except for emails and landing pages, we also make phone calls to those leads who opened emails.
8. At the final stage, we supervise the lead generation of the landing page and try introducing specific changes.
Tips to make your website lead generation for outbound more effective:
If the offer in your email was to increase sales by 20%, mention it on your landing page and describe how your company can do it.
Don't insert the information about other offers and services on your page. It will confuse your leads, and they will leave.
Provide more specific figures. For example, we have 36 outbound prospecting projects with landing pages running at the moment. It will make you look trustworthy.
Don't forget about your client's feedback! People do read it.
Be brief and make your point clear to your reader.
The call-to-action buttons must launch pop-up windows with your HubSpot tools.
CIENCE statistics of website lead generation for outbound prospecting:
96% of our clients like the offer
We've created 96 landing pages over the past six months
It takes 12-14 days to complete the project if a client gives immediate feedback
Summing up, website lead generation for outbound prospecting isn't hard to implement. However, your sales team and your business will benefit from it substantially. This practice will secure those leads who are interested in your business, and your offer will find the relevant information within the shortest period. It will also pull them further in the sales pipeline with compelling calls to action.
A Few (Related) Sales Posts
Your source for sales information