Sales Development Experts
At CIENCE, we are known for our proven expertise in Orchestrated Outbound strategies. With nearly a decade of experience working with thousands of clients, we have developed a turnkey approach that combines software and services. This comprehensive solution allows our clients to execute a variety of targeted campaigns, including:
1) Inbound-led Outbound
2) Intent-led Outbound
3) Content-led Outbound
4) List-led Outbound
Once we initiate outreach, we continuously optimize and refine our approach to consistently bring qualified appointments to your organization. Our managed and affordable growth solution is virtually on-demand.
People + Process + Platform = Precision Prospecting
Spray and pray emails don't work. Smile and dial tactics are ineffective.
Cold emails on LInkedIn are non-starters. Ads? Better be targeted
before budget disappears
2,500,000+
Pre-targeting ad impressions served to Decision Makers
263+
Unique industries researched
At CIENCE, we create an unparalleled prospect experience based
on immense sales development data, experience and expertise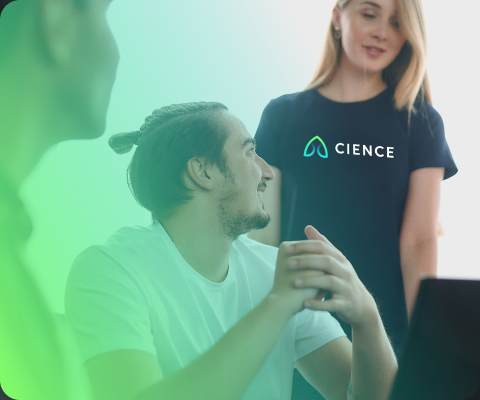 Talented People
What if your Sales Development Representative (SDR) Team could consistently perform at the same level as the top 10% of SDRs in the industry? Imagine the impact it could have on your business.
At CIENCE, our highly skilled team is motivated by outcomes. Equipped with the necessary training and expertise, our SDRs execute high-impact outbound campaigns, identifying and engaging with the right prospects to ensure every interaction counts. With a comprehensive understanding of sales development strategies and techniques, our team consistently delivers stellar results.
Data-Driven Processes
How do you experiment effectively with SDR activities in order to find consistent appointment formulas?
CIENCE uses a combination of our proprietary software, the CIENCE Platform, and best-in-class tools to increase efficiency, ensure accuracy, and drive opportunities to our clients' sales teams. No stone goes unturned, and every message is relevant and timely, and delivered on the right channel.
CIENCE Platform Visibility
Our proprietary software enables you, the client, to live inside the same tools, and observe -- in real time -- the work your team is doing on your behalf.
This transparency is unheard of in the lead generation services industry. Our reports give you the ability to visualize, analyze, and act on data to generate optimal business results. Each decision we make is grounded in data so your growth becomes as predictable as our activities.
Pre-Targeting Ads
Also known as Pre-Warming Programmatic Ads, display advertisements create brand awareness, familiarity, and the opportunity for impactful CTRs.
CIENCE GO Digital -- our own DSP -- enables us to granularly match audiences to contact devices and effectively deliver Awareness at Scale.
Web
We use your own web traffic or create custom, bespoke landing pages (value-added service) for our outbound campaigns.
This gives us the ability to identify & prioritize leads of all types (especially Inbound-led Outbound leads) or even interact with (GO Chat) and book (GO Schedule) web meetings touchlessly.
Email
At CIENCE, we don't take a cookie-cutter approach to crafting email messaging.
In fact, we have industry-leading Personalization at Scale AI tools that touch any/every campaign. So our SDRs can deliver unique, prospect-focused, value-driven emails in a coordinated, repeatable sequence.
Phone
Cold-calling is not dead. In fact, it's the perfect opportunity to reach decision makers effectively. Direct dials establish better connections, and cold calls are a valuable and innovative way to turn prospects into qualified leads.
With our GO Data verification advantage, you can expect more connected calls compared to other alternatives.
LinkedIn
Since 4 out of 5 LinkedIn users "drive business decisions," outreach on the platform is becoming more critical to B2B sales than any other social media channel.
CIENCE is here to help you leverage this social channel on your behalf. Don't hesitate to reach out to our sales team for more information!
Your Insider Knowledge
Sales Development is hard. Qualified labor is in short supply. Fully-loaded salaries, overhead and bonuses for SDRs are expensive. And, tenures are notoriously short
With CIENCE, you hand off the headaches. We hand you qualified appointments. We recruit, hire, train, and retain dedicated sales development teams so your salesforce can go big game hunting and focus on moving opportunities to closed-won deals.
Performance Model
PPA
Pay-Per-Appointment fees available. Complete alignment, fees paid on help meetings.
Software Platform
DiY
You perform services, using the complete CIENCE GO Platform for your team.
Our CIENCE-Tistic
Background Highlights
Sales Certified Staff
Each SDR possesses CIENCE GO Platform Certifications.
Many also specialize in Sales Enablement, Email Marketing, Outbound Methodologies, and Inbound Marketing.
Appropriate Software / Tooling
CIENCE provides the leading-edge sales development tools, including our sales engagement platform, sales intelligence, lead scoring, dialer, real-time chat, scheduling, KPI management and scheduler.
Constant Training
Our model includes company-wide and specific skill-set training on demand generation strategies, prospect psychology, account-based methodologies, and optimal messaging.
Visibility
All activities are done in our tools that you access as well. Bi-Weekly update calls inform, and provide opportunities for collaboration and real-time strategy sessions.
Accountability
All CIENCE dedicated SDR Teams are managed at both Department and Customer Success levels, providing quality assurance across activities, tasks, and work done on your behalf.
English / TOEFL Scoring
SDRs undergo comprehensive testing, including TOEFL scores, to ensure their capabilities and proficiency in English. Hiring individuals with excellent TOEFL scores ensures effective communication with clients and prospects.
Why Orchestrated
Outbound Works for You
Go to Market
Adding CIENCE is the shortest path to market to find sales leads and generate qualified appointments.
Identify, Analyze, Penetrate, Repeat
This straightforward formula leads outbound campaigns to achieve remarkable success rates surpassing any alternatives.
Penetrate New Markets
Our approach has helped thousands of businesses grow, and grow fast. When we win, you win!
Read G2 Review by
Real Customers
Serious ROI
We help organizations swiftly enter new markets, establish reliable sales pipelines, and achieve remarkable revenue growth.
Our services combine human expertise and our software advanced technology to deliver unmatched ROI compared to other sales development approaches.
Our costs are no-lose, performance based.
Get Started with CIENCE Sales Development Today!
See if managed, affordable growth is for you!