How to Generate High-Quality B2B Sales Leads
Generating leads is the priority of every B2B business—it's a fundamental part of the sales process that ignites the sales engine. But if you want your engine to run smoothly, you'll need to fuel it with high-quality B2B leads to fill up your sales pipeline. Easier said than done, there are effective outbound strategies to help you generate those leads essential for your business.
Want to attract the right leads for your business? Use our guide to gain insights into B2B sales leads, with powerful tips to help you convert quality leads into prospects.
What Is a B2B Sales Lead?
A B2B sales lead is simply that person or company who has the potential to become a client. Knowing who has that potential starts with the B2B lead generation process of identifying your buyer persona and ideal customer profile (ICP) and attracting them to your product or service.
Establishing your ICP is an essential activity for sales and marketing teams because it helps to generate high-quality B2B sales leads that may become future prospects. Once a sales development representative (SDR) identifies them as a good fit by a set of criteria, they can become a qualified sales lead.
There are many different types of leads out there that require different approaches. Even among the most interested in your services, not all will become buyers—and the reasons can be numerous.
But the goal is to attract the best leads and convert them into potential customers. To succeed, let's first explore the difference between quantity vs. quality in B2B sales leads.
B2B Sales Leads: Quantity vs. Quality
Any sales process is a set of filtering stages—like panning for gold. To succeed, you need to understand the difference between quantity versus quality to get the right results.
Quantity in B2B leads
The quantity of B2B sales leads remains an important indicator because it actively regulates the scalability of sales. For example, if 100 high-quality leads convert into one appointment, then reaching out to 200 high-quality leads should give you two appointments.

Scalability is one of the critical tools for your business growth. Once you've built a consistent and predictable sales development process that seamlessly feeds your account executives with qualified leads and set appointments, you can expand by hiring more SDRs, searching for more sales leads, and reaching out to them.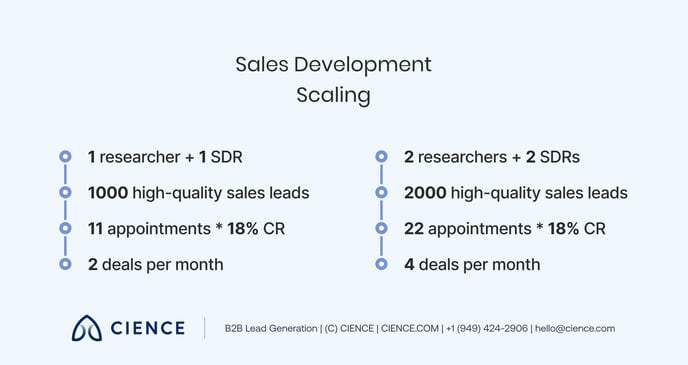 Keep in mind that the quantity of B2B sales leads you get is ultimately limited by your ideal customer profile; the less specific your ICP and the more generalized your requirements are, the more leads you'll find at the end of the day—but these are less likely to bring you the highest number of high-quality leads.
Quality in B2B leads
In the B2B sales process, quantity is not necessarily as important as quality. Increasing the total number of leads can have a negative impact on your business, whereas increasing the number of quality leads can be critical to your success.
With the right lead qualification process, you can quickly identify those high-quality sales leads that will increase the velocity of your sales funnel from the top to convert prospects into customers.
Controlling the quality of B2B sales leads at the beginning of the sales process can be a helpful way for you to significantly reduce churn and ultimately build customer satisfaction in the post-purchase phase.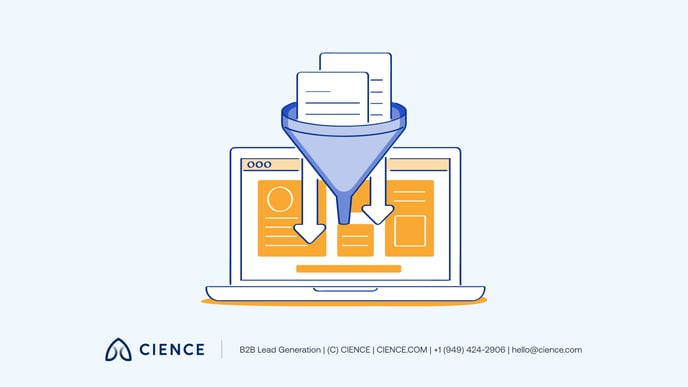 How to Generate High-Quality B2B Sales Leads
Every sales rep or business owner knows that there is a ghost of a chance of having qualified leads show up at your doorstep. And yet, generating more leads is the top priority for B2B marketers.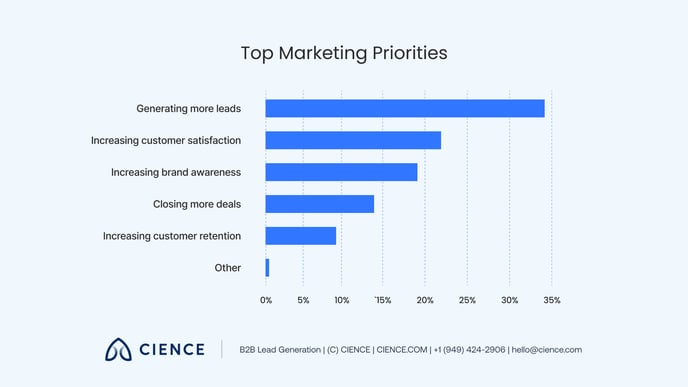 Source: Hubspot, 2020
If you want to construct a solid and efficient base of B2B sales leads, you need to possess the necessary skills to implement best practices to achieve those goals.
That means rolling up your sleeves and searching for the leads interested in your services, willing to receive your value proposition. So how do you do that? By applying these strategies that can make your sales lead generation process more efficient.
1. Update your B2B data lists.
Your outbound marketing strategy is only supported by the quality of your sales lead lists. This means updating your lead lists in these ways:
2. Find qualified leads with cold calling.
There is no doubt that we have entered a new era in technological evolution where many aspects of our lives will never be the same—this applies to marketing and sales methodologies. Sure, it's important that SDRs keep up with the current trends, as they are constantly evolving. But while sales have developed new digital ways of prospecting, cold calling has remained as effective as ever.
You might have heard that cold calling is outdated, but this could not be more wrong. According to a RAIN Group report, 51% of buyers prefer to be contacted by phone. Out of fifteen outreach methods studied, sellers found that using the phone made three of the top five most effective methods to connect with prospects, including phone calls to existing clients, past clients, and new leads. To generate more quality leads, follow these tips for making cold calls:
Prepare for your cold call. Research your lead and think about the most suitable way to represent your services. Also,

prepare a script

and rehearse it before the call.
Pick the right timing. Try to show the potential prospect that you respect their time. It's better to avoid calling on Mondays through Thursday in the middle of the day, when they are probably too busy, or calling them on Friday right before the weekend.
Don't be too persistent. Try to keep a friendly, informal attitude. Follow up with an email, thank them for their time, and ask for the next opportunity to talk about the details.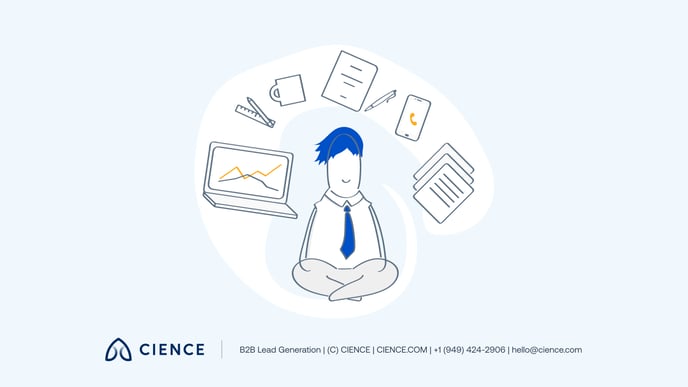 3. Set up a chatbot.
Having a chatbot on your website is a great way to convert your cold leads into warm leads. This ensures that your visitors will always receive the highly personalized information they require any time of the day or night.
Thanks to chatbots, you can collect the necessary information about the prospect, such as names, email addresses, phone numbers, and more. This not only saves time for the salesperson, but it also saves money for the business. According to Juniper Research, chatbots are estimated to save over $8 billion per annum by 2022.
Chatbots can communicate with site visitors using the language they prefer. Yes! Chatbots break the language barrier. You don't need SDRs speaking multiple languages; all you need is an AI-powered chatbot satisfying the needs of your visitors around the globe.
Here are a few tips on how to use a chatbot to find B2B sales leads on your website:
Pick the website pages that have the highest conversion rates. This will ensure that you can engage with the highest number of visitors.
Choose the tone of voice that corresponds with your company. Friendly, polite, and straightforward language is the best choice.
Update and introduce new features. Like any other digital tool, chatbots need to be optimized from time to time to fit in with the current demand of visitors.
4. Interact through social media.
Social media is currently one of the top channels in B2B, with 80% of organizations using it to assist with content marketing.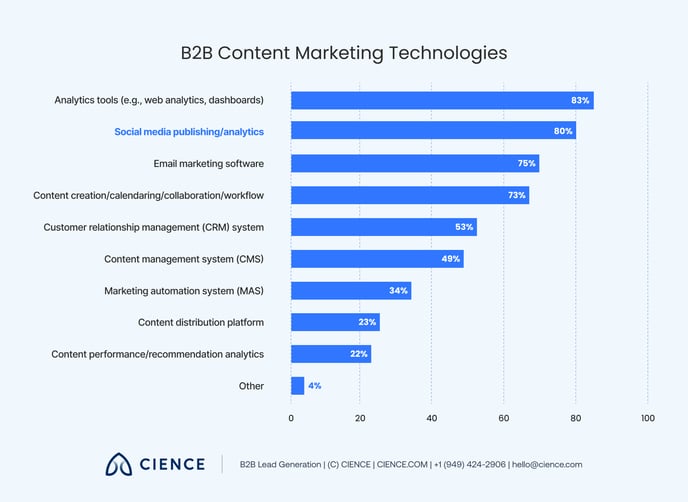 Source: Content Marketing Institute
Many of your daily actions on social media can help you considerably in finding new leads. Social media gives people from the same industries a forum to discuss common interests and share ideas. One of the best strategies to attract new leads is by joining groups with the same interests. Participate in activities by sharing posts, commenting, and engaging in discussions. Show your presence and offer thought leadership in your industry.
Social media not only makes your company more visible, but it also gives you a chance to learn more about the potential B2B sales lead before making contact. By using a comprehensive social media strategy, and great content planning, all with the help of a social media management tool, you can skyrocket your business's online presence. This allows you to collect helpful information about them and use it to orchestrate a more personalized approach.
Among all social media out there, LinkedIn truly deserves a shout-out: It's no longer just a recruitment platform but has become an effective, trustworthy tool in the B2B lead generation process for targeting the best prospects.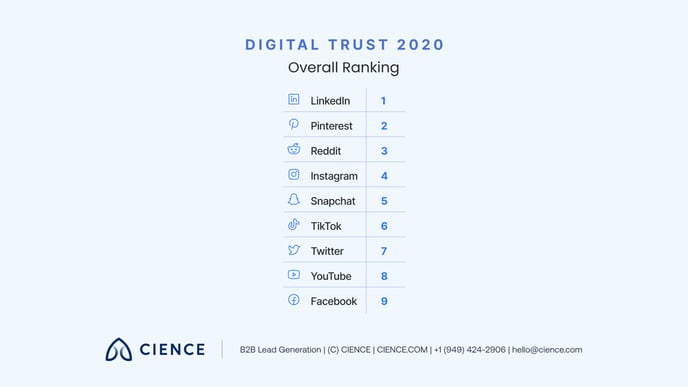 Source: Business Insider, 2020
LinkedIn can help you to seek out decision-makers as well as give you current information about the company, its products, and pain points. This will give you a leg up by figuring out their issues beforehand so you can offer solutions to resolve them.
Use these tips to prospect B2B sales leads using social media:
Know how to warm up your leads.

If you have already been connected to your leads, you should continue to engage with them regularly by liking or commenting on their posts.

This will help warm them up, and the next time they see your activity, they will remember who you are.
Build a professional relationship. Before starting a conversation about your service, you need to organically build a relationship with your leads. Otherwise, you risk being ignored or deleted from their connections.
5. Create meaningful content.
Creating attractive and relevant content is another great way to introduce your service and products to potential customers. You can create blog posts, whitepapers, or case studies with useful information to demonstrate the value that your products offer as well as your expertise in the industry.
You can drive more traffic to your website and generate qualified B2B sales leads with these simple tips:
Post relevant topics. When publishing on social media or other channels, create content that is relevant to your audience. This could be about something trending in your industry or answers to burning questions that potential clients may have.
Use social proof. This is a powerful tool in B2B sales lead generation that helps build trust to attract quality leads. Consider adding client testimonials or reviews to your landing pages or sharing them on social media.
Use the right keywords. Apply SEO best practices and use catchy but relevant headers to grab your audience's attention.
Create a call-to-action (CTA). The more relevant your content is, the more chances that a potential prospect will use a CTA to take further actions.
6. Use segmentation to personalize your outreach.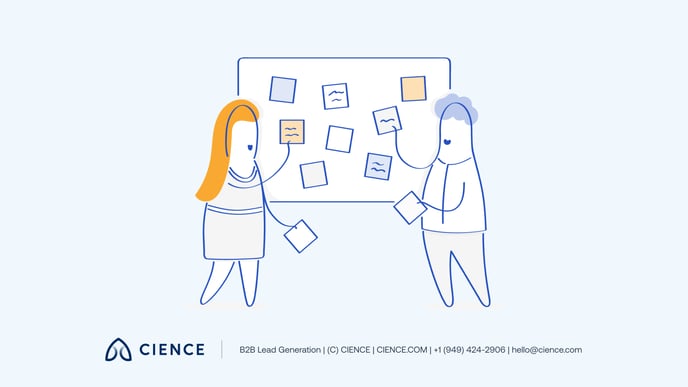 Reaching out to B2B sales leads should by no means look like an advertisement intended to attract the masses. Mass outreach is inefficient regarding time, money, and lead conversion. In fact, 72% of consumers say they only engage with marketing messages that are personalized and tailored to their interests.
It's highly recommended to segment your audience database to make your outreach much more manageable and personal. You can then convert those leads by categorizing them by industry, prospect title, geography, company revenue and size, and those who have completed an action.
Once you define these segments, you can identify and group customer profiles in your sales lead lists with common needs and create target messaging that resonates with your potential prospect. Here's an example of segmentation that puts a personalized spin on your outreach: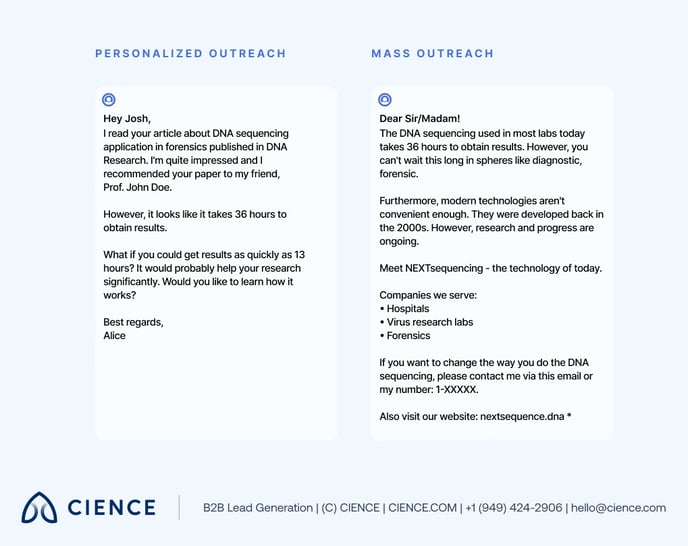 Sending a personalized email gives clients confidence that you understand their issues and can offer solutions. Keep your messages short and to the point. Avoid "me-messages" that focus only on your accomplishments but instead follow a "you-message" approach that focuses on the prospect.
Furthermore, a well-built "you-conversation" with a prospect can provide additional data that an SDR can pass to the sales managers along with a qualified lead.
5 Lessons Learned About Sales Leads
At the end of the day, there is no bullet-proof lead-generation formula. The success of every singular campaign heavily relies on external factors like the industry, the length of the buyer's journey, and the caliber of the competitors that are aiming for the same targets.
Internally, a vast number of elements also have a major impact on what a high-quality lead means for every company, from the creation of solid target account lists for account-based marketing tactics to leveraging accurate data for crucial decision-making.
While the knowledge gathered over the years may be too broad to pin down in a single article, here are some key lead-conversion lessons that the sales and marketing reps can apply to their sales processes:
1. Data is the perfect ally to understand your target.
Do not be afraid to combine several data sets from different sources, especially when human filters can be entered. Some of the most basic features you may want to consider are:
Demographic (e.g., name, title, age)

Geographic (location)

Firmographic (size of company, revenues, and industry)

Technographic (types of technology used, bought, and platforms)

Psychographic (likes and affinities)

Social graph (connections, introductions, and followers)

Trigger events (promotion, new job, funding, and acquisition)
2. Important prospects should be tracked at all times.
Your prospects' situations, perspectives, occupations, and outlooks may change over time. A good practice is to implement a business wiki, or knowledge base where you can track when they change jobs, companies, or industries, and as a minimum, being aware of these changes.
Setting up job change alerts or organizing profiles you follow based on keywords are ways to keep yourself aware of changes to a prospect's situation.
3. Social listening is always a good idea.
Social media profiles can become great allies for those interested in high-end prospecting. They can help you identify relevant people within a company of interest and access relevant intel about their needs.
You can also gain great value from learning what topics are transcendent for a targeted prospect, what group activity it has, and what comments trigger a certain reaction. This can offer significant clues for new content ideas or ads.
4. Ideal customer profiles must be qualified.
Creating accurate customer profiles is only half the battle. You still need to develop an effective outbound strategy for identifying and going after a qualified lead.
Here are a few common qualification criteria companies start with:
The company's level of need

The prospect's buying capacity of the prospect

The contact's decision-making authority

The buyer's urgency to purchase
5. Lead-building tools take campaigns to the next level.
Customer data platforms accelerate the process of identifying your ideal client profile and defining the relevant data points that your sales reps, marketing team, and managers need to drive a successful outreach campaign
CIENCE GO Data is a top-notch CDP example. It offers over 300 million lead records from all industries to its users. GO Data validates the quality, freshness, and accuracy of our databases daily so B2B marketing teams can rely on trustworthy data to target high-quality leads.
Get More Quality B2B Sales Leads
Generating high-quality leads is the priority of every B2B business. There are various effective strategies that SDRs can apply to produce more B2B sales leads, and every year there are new ways to outpace past performances. Try improving your sales performance by redefining outbound strategies with solid techniques to generate the best quality leads for your business.
Editor's note: This post was originally published in July 2020 and has been completely updated for accuracy and comprehensiveness.
A Few (Related) Sales Posts
Your source for sales information