Outbound Marketing Strategy: A Roadmap to Success
Even though many marketers proclaim inbound the new black, the truth is that outbound marketing strategies are stronger than ever. Outbound has retained its position as the fastest and most efficient go-to-market strategy and even evolved into adopting the best practices of the new era.
When it comes to B2B, it is hard to imagine a successful marketing strategy without outbound. PPC ads, narrow-targeted landing pages, email campaigns, and cold calling—all of these outbound channels can help generate more quality leads, close deals, and as a result, gain revenue—but only when well-tailored and smartly implemented.
In this article, CIENCE puts outbound in the spotlight to define its strengths and weaknesses, figure out the latest outbound trends, and ways to choose an outbound strategy for your business.
What Is Outbound Marketing?
Outbound marketing is the type of advertising where the company of the product or services promoted reaches out to the potential customers directly and makes the first contact. Usually, when speaking of outbound, people associate it with such outreach channels as TV and radio advertisements, outdoor banners, print media, telemarketing, direct mail, etc.
However, CIENCE has introduced a new approach to understanding outbound outreach, called orchestrated outbound, a set of prearranged well-researched tactics, which altogether can achieve the desired goal. These tactics include ROI analysis, ICP validation, research, creating campaign strategy, multichannel outreach, and campaign optimization in the last stage.
Advantages and Disadvantages of Outbound Marketing
Like any other marketing strategy, outbound has its pros and cons:
Advantages of Outbound Marketing
Disadvantages of Outbound Marketing

Efficiency: Proper

research

, segmentation, and targeting increase the number of quality leads significantly.

Disruptive: Not every lead is opened to a cold-type conversation with a company they've never heard of before.

Not personalized: For some channels, the ads reach a very large target audience only.

Effortless: Outbound channels are relatively easy to master, which makes it a good starting position in sales/marketing.

Expensive: Other channels like PPC need large investments but may not offer efficient results.

Effective: The conversion ratio of emails/calls to set appointments is 7 to 10%.

Not popular: Often outbound marketing is associated with salespeople from the eighties with no sense of personal boundaries and a strong desire to sell the product at any cost.

Fast: Outbound channels help to get immediate feedback from your potential customers.
All these disadvantages can be eliminated by using outbound marketing correctly. Thanks to the data access, you can warm up leads before contacting them for the first time, create only highly personalized messages, and avoid spending money on inefficient channels by delegating this job to professionals.
Why Is Outbound Marketing Still Effective?
Due to the rapid development of advanced technologies in the last few decades, outbound marketing has adopted a few successful principles of inbound that have made it more effective than ever. These principles include targeting, value-based services, and personalization.
1. Targeting
Access to the internet and modern software made it possible to efficiently work with large databases and segment leads by multiple criteria. Thanks to this, marketers can simply avoid contacting those leads that aren't a good fit for your business. Given the sheer amount of wasted motion in marketing and sales on unqualified prospects, this is a tremendous win for B2B companies where the sales cycles are much longer.
2. Value-based services
Today, companies serve their clients by educating their staff and solving their problems. Salespeople no longer try to sell for the sake of just selling. Before sending the first cold email or making the first cold call, businesses create their ideal customer profile (ICP) and buyer persona, conduct deep research on the decision-makers in the industry, and define the pain points of their potential customers. Thanks to this change, having an outbound marketing strategy has helped businesses deliver great value to their clients.
3. Personalization
Due to the easy segmentation of prospects and the huge scale of information available on social media, sales offers have become highly customized. Sales development representatives (SDRs) can now create personalized messages to attract the attention of quality leads simply by going through the prospect's LinkedIn profile and company's website. Furthermore, you can also adjust your product or service according to the needs of your client.
Implementing high-tech software available to sales and marketing teams also enables you to automate many daily activities for your employees. These tools are what has given outbound marketing strategy its second life.
Components of a B2B Outbound Marketing Strategy
With the shift of outbound marketing strategy toward a more inclusive and personalized approach, some of its components have changed as well. To implement a successful outbound campaign, you should answer the following questions: What is your product, and how does it stand out in the market? Who are your potential customers and what is their need? How will you catch their attention?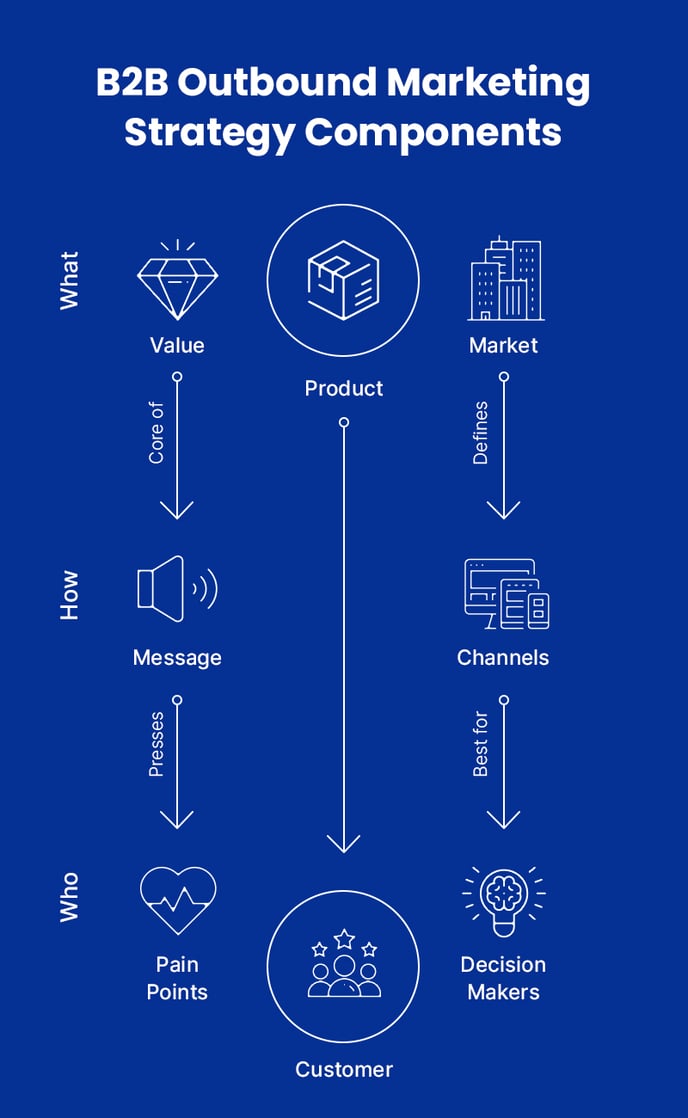 1. What?
Your product serves a certain purpose:
Other companies with similar products will compete over the clients with no mercy. However, the value of your product and the unique approach will be your primary power to overcome the challenges.
2. Who?
Your potential customers are those who need your products:
Decision-makers won't eagerly spend money on your product. They'll analyze and evaluate it. Furthermore, they won't always realize they have a problem unless you emphasize it. Their pain point makes your product valuable.
3. How?
Having an outbound marketing strategy is about making your potential customer notice your company in the constant flow of competitor's offers:
Implementing a Successful Outbound Strategy
When building the outbound marketing strategy, you need to focus primarily on how to establish contact, attract attention, and persuade a company to become your client. The good news is that you don't need to invent anything, but you must be relevant. After all, other companies have already done most of the job for you. You only need to use their best practices and adapt them to your needs.
To implement a successful outbound strategy, marketing teams should remember:
1. Marketing is still all about sales.
The ultimate goal of any business is revenue, which a lead can ultimately give to your company for a particular product or service. Therefore, outbound marketing strategy should by no means be to generate leads for the sake of generating leads. On the contrary, it must ensure the comprehensive analysis and enumeration of an efficient and repeatable cycle to close deals.
2. Marketing and sales should be in alignment.
The marketing team's primary task is to work in alignment with sales. For many companies, this is not always the case. Your outbound marketing efforts can bring in more results if sales and marketing work together to achieve business goals.
How to Choose Channels for Your Outbound Marketing Strategy
When B2B marketers of the new generation speak about outbound, they usually use a combination of different channels together. Some might use cold calling and direct mail along with TV ads. However, what works in B2C might not work for B2B.
A business should consider the resources-to-efficiency ratio when estimating the value of every channel. Note that the resources include money, time, and effort spent on acquiring a certain prospect's attention. As for the efficiency part, you need to take into account the number of quality leads. For example, many people will see your advertising, but few of them will fit your buyer persona.
Choosing the right outbound channels
After years of using outbound channels and many successful cases of building outbound marketing strategies for our clients, we've defined the best methodology: The combination of email sequences and phone calls has the best resources-to-efficiency ratio for B2B.
Of course, this combination of channels isn't the only one to work well. The best outbound channels to use in your outreach strategy are emails, phone calls, web, social, ads, and offline sessions. Cohesive coordination between these channels can create a strong marketing strategy. After all, if you are targeting specific people, why wouldn't you orchestrate outreach across all relevant channels that prospect is likely to respond to the most?
Creating a relevant message is as important as establishing efficient channels of communication. This message should press the pain points or address the goals of your prospects and explain why your product is the solution to their needs.
We recommend sending cold emails first. And as soon as a prospect opens them or replies, make the phone call. After reading your letter, it will be easier for your potential client to perceive the message you want to deliver.
Cold messaging tips
When you compose the message, use these tips:
Remember, the more you know about your prospect's business and industry—the better. People like and expect a personal approach from SDRs. Show them you understand what their company is going through now. Let them know that you have the solution. If they aren't familiar with your type of product, be sure to educate them to optimize results.
Make Use of Outbound Marketing Strategies
With these principles and guidelines in mind, you can create an efficient outbound marketing strategy. Eventually, it will increase your quality lead pool and boost your sales. Share your ideas, experience, and thoughts on this blog post with us, or contact our specialists to get started with outbound marketing.
Editor's note: This post was originally published in July 2018 and has been completely updated for accuracy and comprehensiveness.
A Few (Related) Sales Posts
Your source for sales information