How Small Businesses Should Format a Long-Term SEO Strategy
Small businesses generally understand the utility SEO – it's no longer really an option in 2019 if you want to achieve visibility on search.
As a result, many companies publish blogs and are proactive about linking to their high-value pages when they can.
A strong SEO strategy, though, is more than a combination of one-off efforts. SEO is a long-term investment. It requires a good deal of maintenance and strategy over time to earn long-term success.
Clutch's 2019 Small Business SEO survey found that just 36% of small businesses had an SEO strategy in place at the start of 2019, though 23% say they plan to invest in a strategy before the end of the year.
What keeps small businesses from implementing a long-term SEO strategy? And, how can small businesses work to format an effective long term strategy?
Use this article to review the benefits of creating an SEO strategy in 2019.
Difference Between SEO Services and SEO Strategy
Many small businesses invest in digital marketing efforts and strategies that benefit SEO. These include:
Keyword research
Claiming Google My Business (GMB) profile
Optimizing content for the web
Active company blog
Intuitive site structure
These efforts, though, are often disjointed and, to an extent, random. For example, publishing on your blog can earn search rankings, particularly if you write about niche industry topics.
In addition, choosing to optimize your Google My Business profile has real SEO benefits: you can earn feature in a local 3-pack.
These efforts alone, though, won't have a large impact on your SEO success.
An SEO strategy combines a number of services that work in complement to help your search rankings across a set of keywords.
SEO Strategy Gets People in the Door
Your small business needs to establish a presence at the top of search engine results pages (SERPs) engage people who refer to search engines to find business products and services.
"Simply waiting for users to come and buy doesn't work, online or off," said Natalia Makarenko, an SEO Specialist at CIENCE, in Clutch's survey.
Your small business' website equates to its storefront, providing information that people used to rely on physical locations to learn.
The difference on search engines is that people won't randomly encounter your business. You need to appear in the search results for terms they use find answers to business challenges or research companies.
That initial brand awareness is incredibly valuable for associating your company with potential solutions to your customers' business challenges and needs.
Small Business SEO Services to Consider
Small businesses favor social media marketing as their primary SEO service, though social media does not have a direct impact on SEO.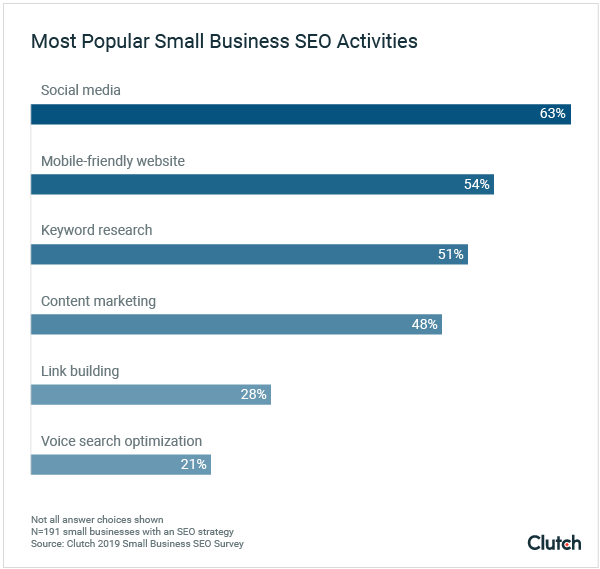 Small businesses should review services that have a major impact on their SEO and can give them a competitive advantage.
Keyword Research
Just over half of small businesses do keyword research, which leaves significant opportunities for small businesses to earn an advantage of competitors.
Specifically, by conducting keyword research, small businesses can find keywords that are relevant to their business and that competitors may not appear for.
Use keyword research to optimize your website content with the terms you want to compete with. Make sure to include these terms organically, though, as stuffing them in your content without context actually hurts your search rankings.
Content Marketing
Content marketing helps you engage prospective customers and guide them to purchase from your company.
Use your keyword research to determine which topics most interest your target audience and style your content around those subjects.
Content marketing goes beyond simply blogging as well. Videos, infographics, and product descriptions are all content that you can create and promote to engage audiences and address their business concerns.
Make sure to consider your audience demographics when formatting your content marketing strategy: Young professionals, for example, are likely more interested in video content than older cohorts.
Along with building content strategy, be sure not to miss out on common SEO errors: even if you wrote a great piece of content — it will never rank without proper on-page optimization.
Link Building
Earning links to your website and content is still crucial to your search ranking. Links act as endorsements from other sites that indicate that you are a source of authority about a certain topic.
Your content marketing can serve as an excellent resource that naturally earns links to your sites.
Invest time and resources into your content and its promotion to create the opportunity to earn links to your site.
Consider efforts such as journalist outreach and guest posting to boost the number of backlinks to your website.
Value of Small Business SEO Strategy
Small businesses benefit greatly from an effective SEO strategy. Consider the above benefits and approaches to creating an effective SEO strategy.
CIENCE is listed as the top voice services company and as the top-rated call center services on The Manifest.
A Few (Related) Sales Posts
Your source for sales information