CIENCE Sponsors the Future of Work Conference 2018
CIENCE is pleased to announce our sponsorship of a great inaugural event – the Future of Work Conference 2018 (FOW18). Taking place this week, April 1, 2018, in Kyiv, the conference will provide a platform to discuss the essential aspects of labor in the upcoming years. FOW18 will welcome 12 speakers and a sold-out audience of 500 young and ambitious people.
We are also very proud to participate in this event. Our CEO, John Girard, along with Sergey Kashchenko, COO, Eric Quanstrom, CMO and Kateryna Hrebeniuk, Head of Education will represent CIENCE at the conference. They will share their ideas, as well as the values and the best practices of our company with the audience.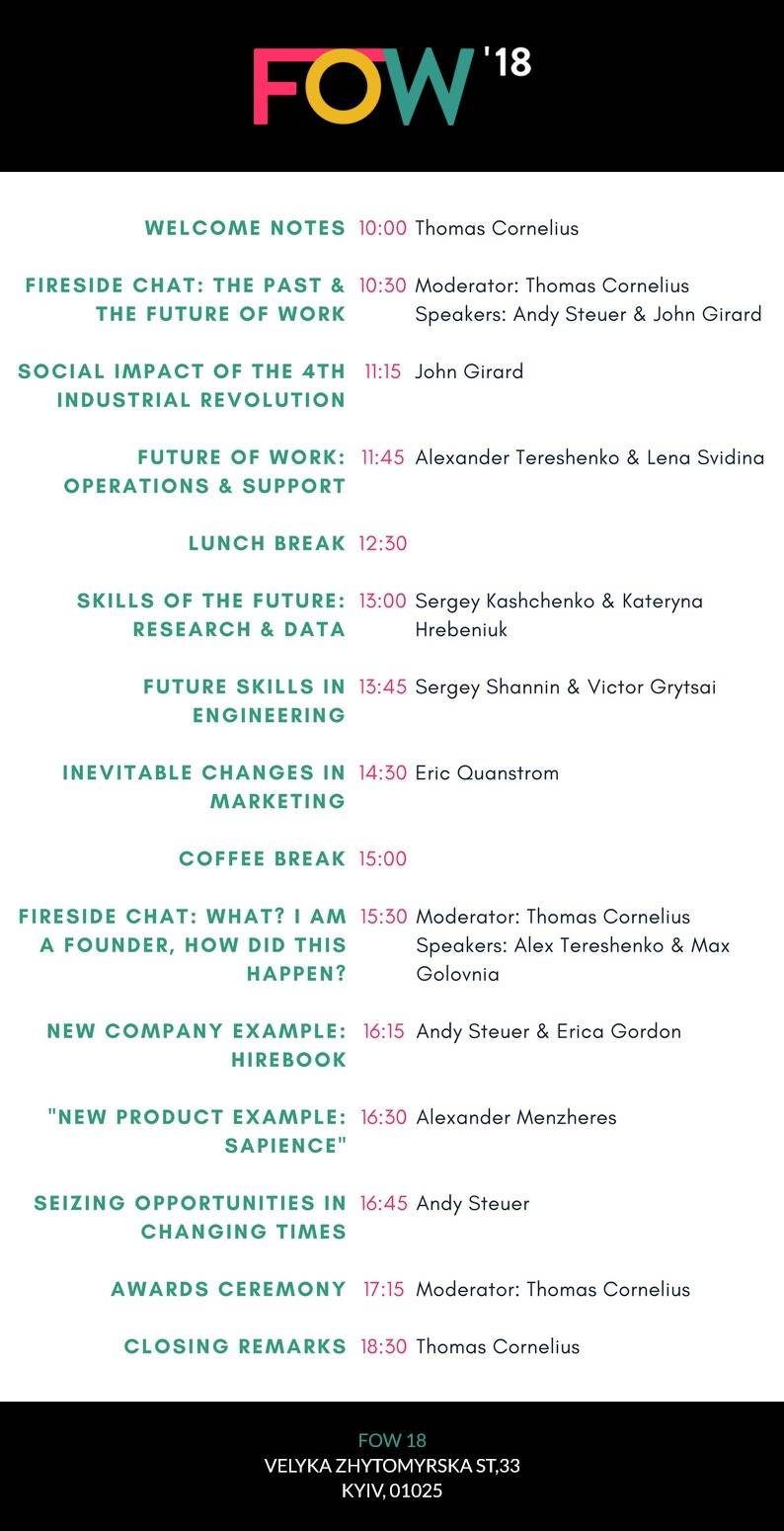 The rapid development of technologies is dramatically changing how our society is shaping a new environment for work. We are living in the era of the fourth industrial revolution. Its key features are the rise of artificial intelligence and automation of work. This era represents many challenges– and opportunities– to both businesses and employees.
Many optimists look fearlessly into the future when humans are no longer obliged to do manual nor low-skilled labor. The possibility for a society to invest more time in creative tasks is fascinating. Meanwhile, there are pessimists who are horrified by this idea. Their primary concern is the high probability of many people losing their jobs.
However, the realists see it in a very different way. Where several processes are automated, brand new jobs are born. That's the main idea CIENCE CEO, John Girard, will try to deliver to FOW18 participants.
In fact, this thought lies at the very core of our business. We provide the research and outbound prospecting services to our clients, which saves their money and time. This way, their sales teams can implement more complex and demanding tasks, including deal management, customer analysis, and planning.
The belief here is that human labor will effectively combine with computer automation. On one hand, there are things computers do better, such as calculations, data processing and implementation of micro-tasks. On the other side, humans are excellent in complex analysis, solving personal dilemmas, empathy, and social competencies.
Combining AI with a natural mind is how we provide the most efficient performance and the best results.
However, this new reality of work requires individuals to be ready to acquire new skills and to be open to new knowledge. If you aren't ready to learn throughout your entire life, you'll hardly succeed in the modern era of technology dominance.
Finally, the fourth industrial revolution demands that many businesses are flexible and ready to change their processes more rapidly than they do now. Is your company prepared for that? If it is, you'll be successful in the upcoming years. If it isn't, you'll need to change your ways.
Stay tuned for more updates about the Future of Work Conference 2018!
A Few (Related) Sales Posts
Your source for sales information