Top 7 B2B Sales Trends for 2023
There's no doubt that B2B sales is a dynamic industry with untapped potential for growth. According to Uncap, the value of B2B e-commerce during 2021 in the US was $6.7 trillion. Further research indicates that millennials make 73% of B2B buying decisions.
Clearly, the B2B audience is changing, and so should the sales and tactics that marketers deploy to stay ahead of the fierce competition. So how do you create a strong foothold in the market? By embracing these top seven B2B sales trends for 2023.
7 B2B Sales Trends to Follow in 2023
From leveraging artificial intelligence (AI) to creating customer-centric experiences, there are a number of innovative strategies businesses can employ to increase their sales performance. Follow these seven trends to maximize your sales efforts:
1. Sales meetings will take a digital turn.
With customers and businesses going remote on a global scale, your sales process is likely to expand beyond traditional, offline tactics. In other words, conducting one-on-one sales meetings will be replaced with remote meetings on social media platforms, website chat, etc. Gartner found that, after the COVID-19 pandemic, 83% of B2B buyers prefer ordering or paying through digital commerce.
Going forward, sales teams will increasingly have to innovate and engage in social selling. This includes sharing relevant content on social media, driving a personal connection with prospects online, establishing themselves as thought leaders on the diverse platforms where their customers are active, and utilizing user data to roll out targeted and customized campaigns.
2. Real-time, omnichannel support will be a priority.
According to an Accenture report, with more and more business buyers adopting digital touchpoints, B2B sellers are being tasked with answering questions at each stage of the buyer's journey and establishing capabilities to serve their customers' needs across every channel.
This makes sense as customers today don't like to be restricted to a single channel. Additionally, customers want to be able to use channels that empower them to reach brands instantly and effortlessly. This is where live chat software and chatbot come into play.
This is probably why Slack created its own chatbot version called Slackbot: to offer real-time support to customers and provide unparalleled customer service at the click of a button.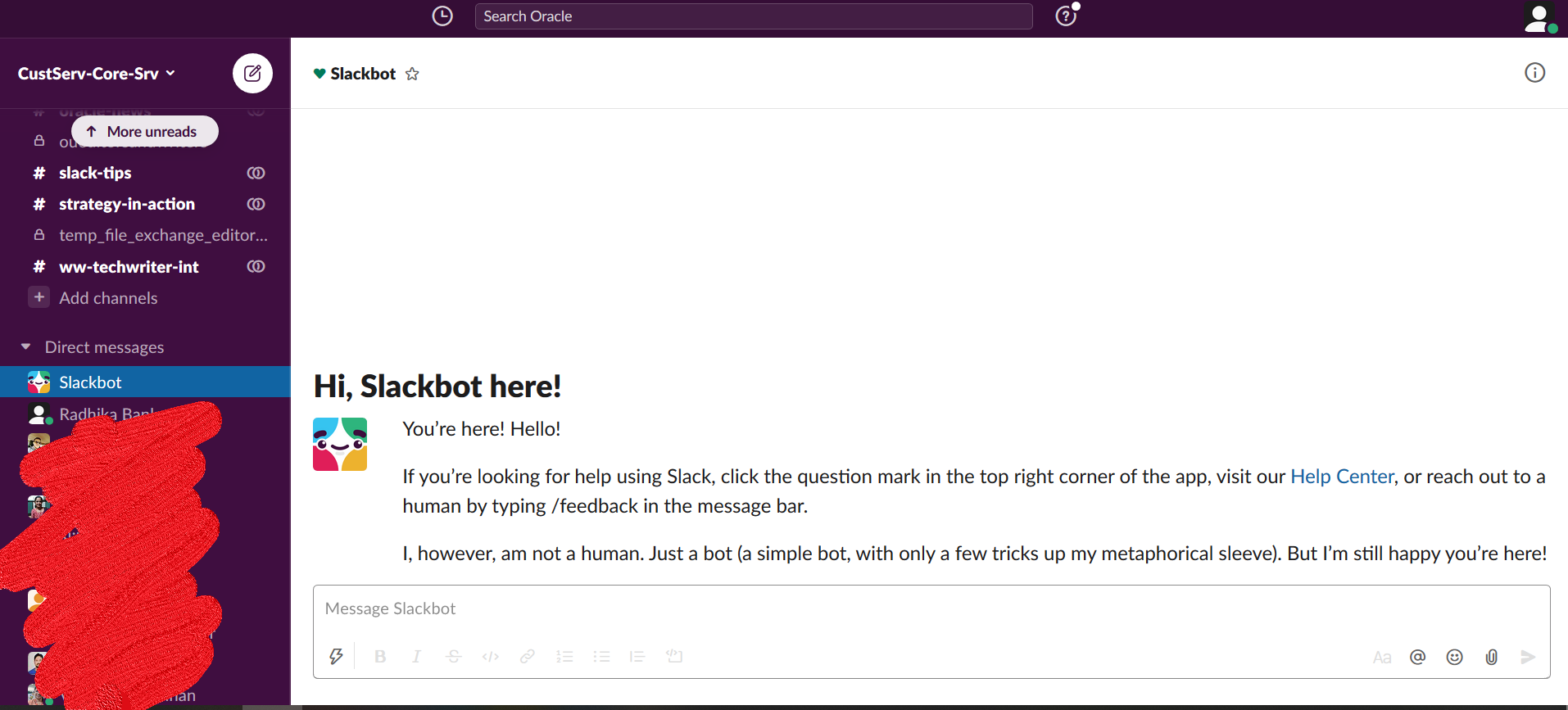 Additionally, using an automated tool such as a chatbot or a live chat feature allows your sales agents to capture user data quickly and efficiently while focusing on actually selling and enhancing the customer experience through increased personalization.
3. Sales strategies will need to factor in customer security and privacy concerns.
With the extent of digitalization transforming your customers' personal and professional lives, they are left constantly fearing for their security and privacy. According to Gartner, worldwide spending on security and risk management will grow 11.3% in 2023.
This is why B2B organizations need to step up their game when it comes to gaining the trust and loyalty of their customers. Take the example of Zoom, the communications technology company, which saw a surge of millions of users overnight in the initial months of the COVID-19 pandemic. The company faced a lot of flak over incidents of Zoom bombing and privacy scandals, leaving users scared to use it.
To tackle the problem, the company initiated a ninety-day plan, which resulted in the addition of over one hundred new features. In fact, the CEO put up a blog that outlined the various efforts the firm took to ward off the security and privacy challenges: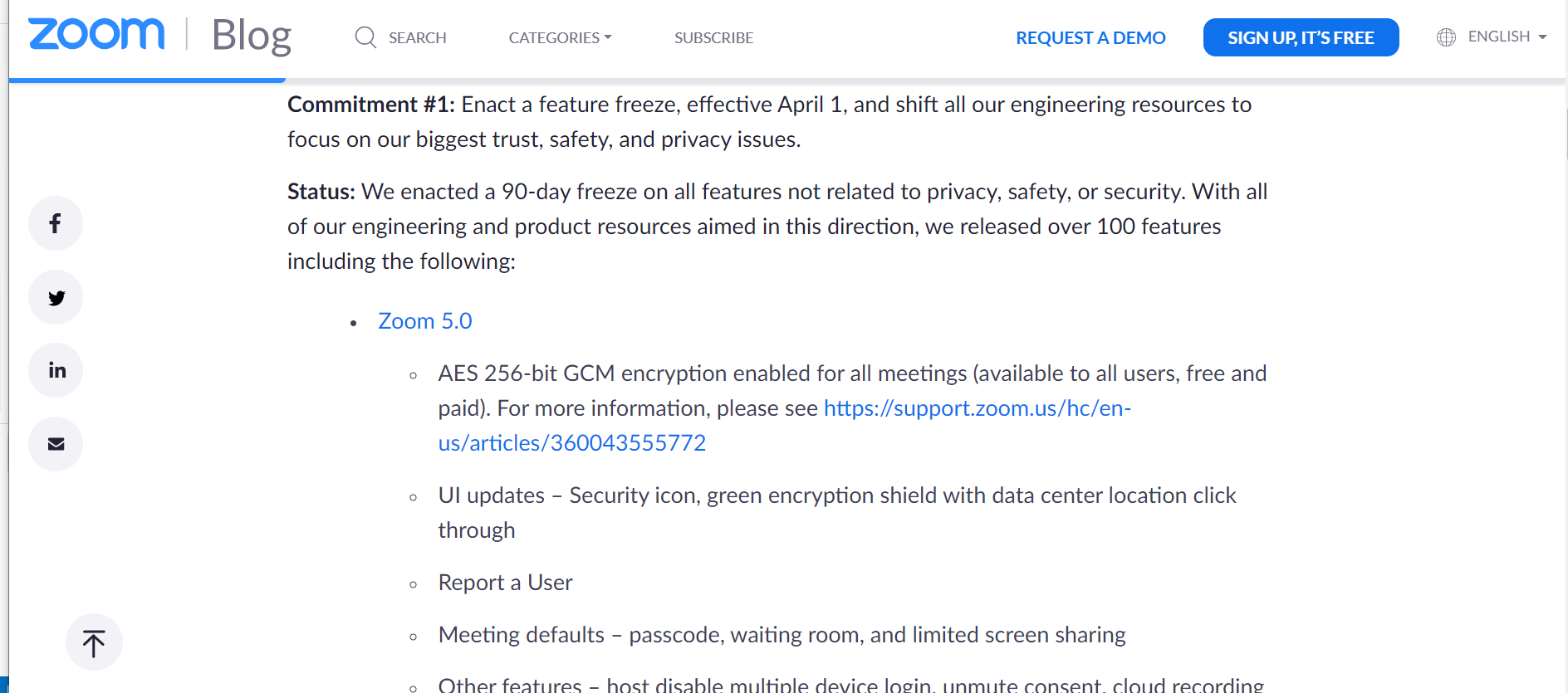 Source: blog.zoom.us
The point to drive home is this: B2B companies need to think of innovative ways to integrate honesty and openness into their sales practice.
One sure-footed way of doing this would be by partnering with like-minded businesses who share the passion for creating a safe and secure environment—one that diligently protects their customer's privacy and security at all costs.
4. AI integration in sales for a personalized customer experience will become more mainstream.
As in the B2C space, customized and curated experiences are leading the way for B2B customers. Whether it's a small company or a big corporation, a B2B company, or a B2C organization, customers expect businesses to understand and preempt their needs by providing a deeply personalized experience through and through.
In fact, according to a Salesforce survey, 73% of business buyers say they expect companies to understand their unique needs and expectations. This is where AI can truly shine.
From B2B sales lead generation software and data analytics to machine learning and marketing automation, there are varied kinds of technologies paving the way for high-quality sales.
Monday.com is an interesting case in point. To cater to its increasingly remote user base, the brand built a dedicated page on "Remote Work," complete with all the necessary resources, videos, and tips:
That's not all. The brand also empowers customers to proactively reach out to the company if they have any questions and, in the process, masters the art of personalized customer support from start to finish: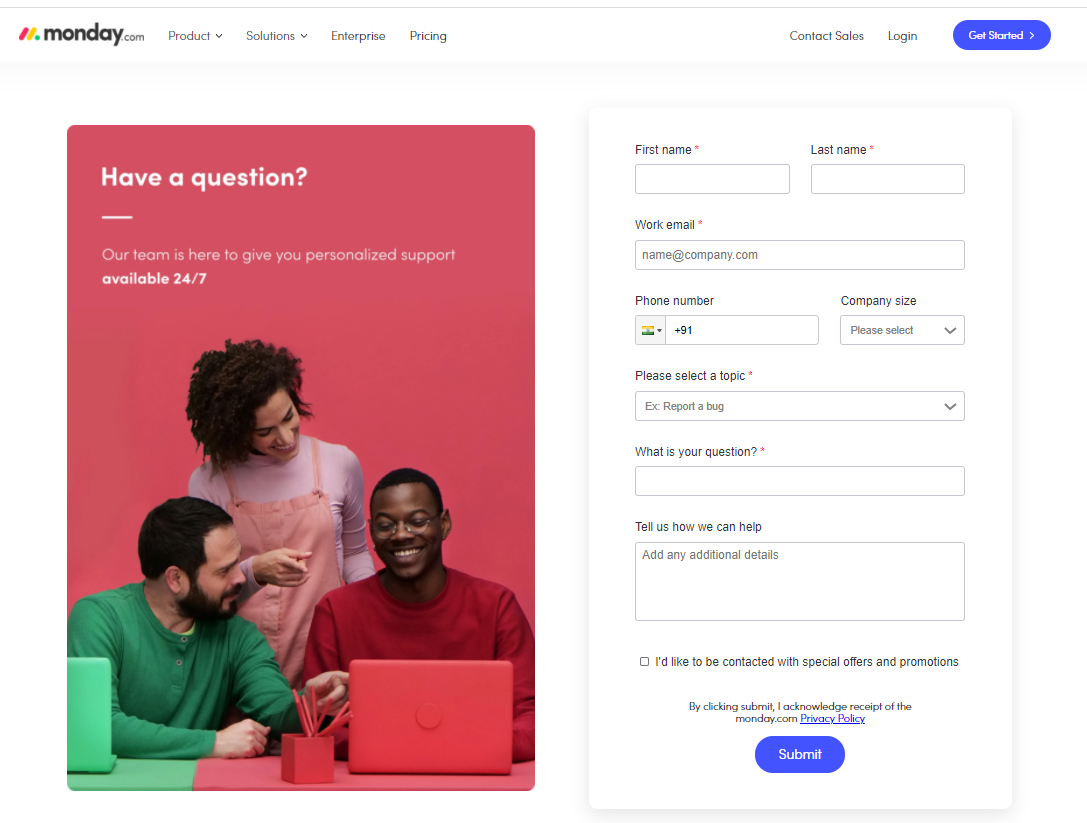 Source: monday.com
5. Account-based marketing will gain traction with an increased focus on alignment with marketing and sales.
Account-based marketing (ABM) is a type of multichannel campaign that is going to gain immense popularity in 2023. Why? Because if done well, it can seamlessly align your sales and marketing efforts. Plus, research indicates that 71% of B2B marketers intend to boost their ABM spend in 2023.
Here's a quick run-through of how ABM can help agents close deals faster and with greater accuracy:
Helps identify the best-fit accounts and zero in on the ideal customer profile
Helps target primary decision-makers and nurture relevant prospects, leading to an

accelerated sales process

Allows teams to deliver

personalized messages

, thereby enhancing the overall customer experience and boosting brand loyalty
Reduces churn due to increased brand loyalty
Increases chances of upselling, thereby boosting revenues
Lowers costs by catering to the customer's needs quickly and shortening the sales cycle
Here's an example of an ABM marketing campaign that's executed with perfection:
Robin, a company that sells conference room scheduling software and tools, decided to curate beautifully designed images of office spaces from their current list of clients and share them on social media: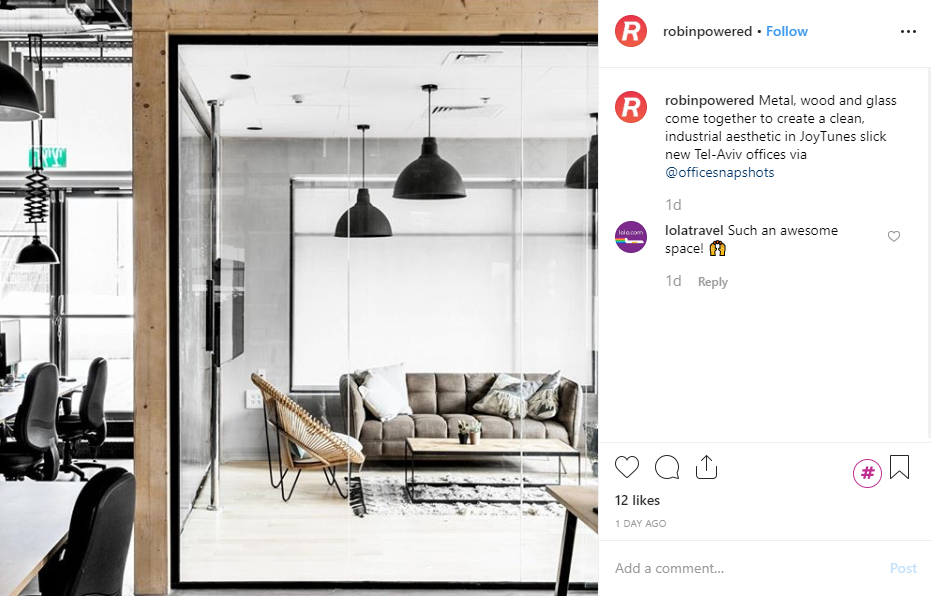 Source: instagram.com/robinpowered
6. Sales data reporting will benefit from a unified view of the customer's needs.
It's no secret that even in the world of B2B, data reigns supreme. With customers opting to communicate with brands across channels, devices, and geographies, tracking their needs and requirements can become an uphill task.
Enter customer data platforms (CDPs). These platforms will serve as every B2B marketer's best friend, diligently and accurately handling their customer's data in real time while providing a holistic, 360-degree view of their leads and existing customers. Additionally, the tool will be able to provide real-time sales data reports and insights that keep the customers' interests front and center.
Finally, since all the data will be stored in a centralized platform, the sales and marketing efforts are bound to become more cohesive and seamless.
7. The B2B conversion funnel will become more customer-centric.
One of the biggest trends that will emerge in 2023 will be the shift in the focus of a B2B conversion funnel from the point of view of a salesperson to increased customer-centricity.
In other words, instead of tracking your sales agent's action (think: proposal sent, lead qualified, appointment done, etc.), B2B organizations will be monitoring the customer's actions in the sales funnel stages (read: budget and deadline allocated, buyer persona identified, etc.). Below is an example of a customer-centric sales funnel for inspiration: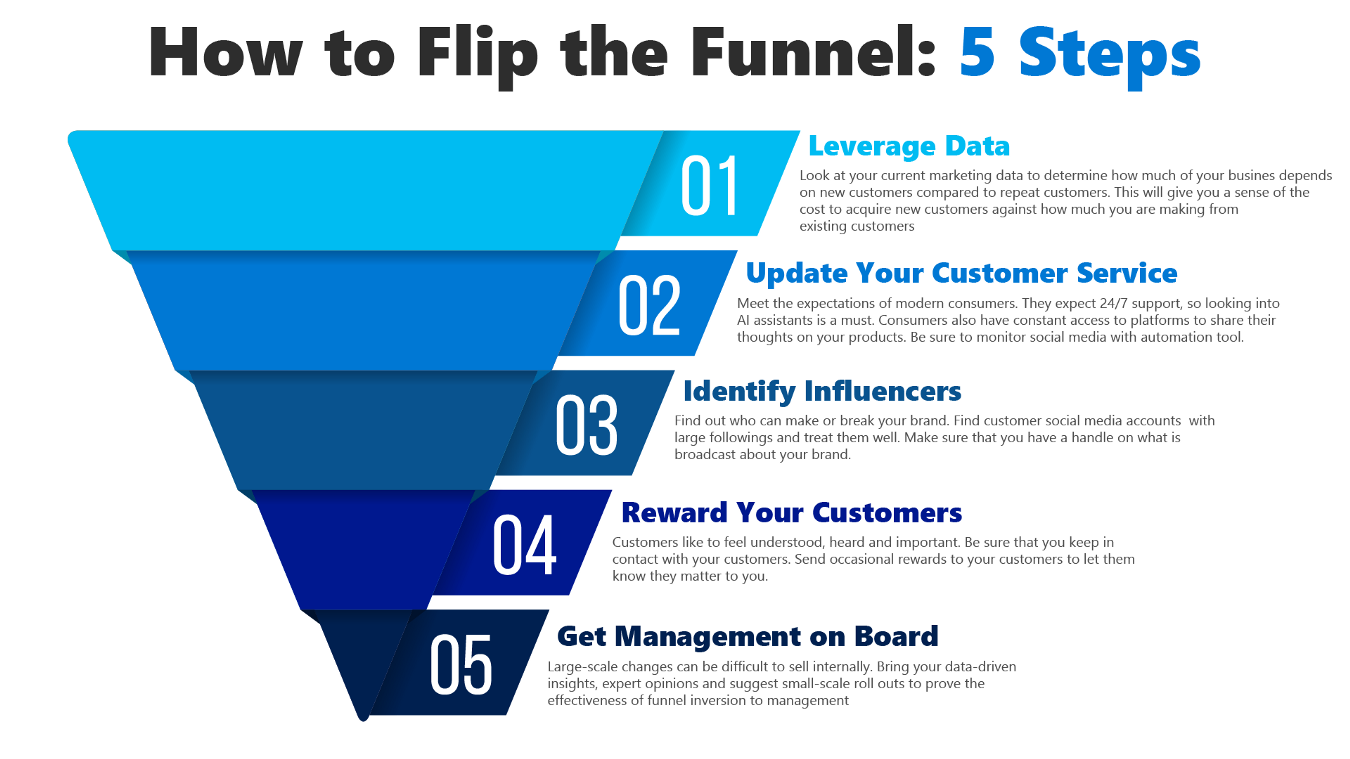 Source: medium.com
Long story short, the moment B2B brands start putting themselves in the customer's shoes and embracing the latter's thinking process, the opportunities to customize and digitize the customer experience across the sales stages will explode.
The Future of B2B Sales
In essence, the B2B sales domain is undergoing a drastic change in terms of how the buyers are buying, how the sellers are selling, and how companies are operating on the whole.
The coming year is going to be a big year for B2B sales trends. The future of sales promises to be digitally driven, with customer-centricity at its heart. Businesses should adopt cutting-edge technologies and keep up with the latest trends and innovations. It's critical to be prepared to embrace the upcoming changes. By doing so, marketers can effectively boost sales and reach their target audience in 2023.
A Few (Related) Sales Posts
Your source for sales information