Top Tips for Speeding Up the B2B Sales Cycle
Closing a deal isn't an easy task by definition, but closing it as a part of the B2B process is that much trickier. A survey of 886 sales leaders revealed that while it takes four months for 74.6% of businesses to sell to new business clients, a whopping 46.4% confessed that this process can take well over seven months in some cases.
If you dive deeper, these numbers will make more sense; there are simply too many decision-makers involved that have to have their say before the deal is done and dusted. But how do you make sure the process doesn't stretch beyond the time limits of normal? And more importantly, how do you eliminate the risk of your potential clients changing their minds in the process?
Once your product offering is in good shape and your target audience is identified, the selling process shouldn't be too over-the-top complicated. You've already got your fundamentals that combine the business's primary elements on top of which you'll be able to build when the time to expand comes.
For the time being, however, it's your job to define the pathway for the product's sales cycle and get crafty with techniques that would help speed it up. You will also need to determine the following:
How will the market be exposed to your product?
How long will it take for them to purchase your product?
What outside factors will affect your sales cycle?
Before elaborating on these questions, let's establish what a B2B sales cycle entails.
B2B Sales Cycle
To put it simply, it's a guided sequence of steps created to ease the process of converting potential clients → leads → into customers → sales. It has encountered significant changes over the years, but the main concept of leading people in the direction of your product remained the same. Here's the visual representation of its current state in the twenty-first century:

Source: Datananas
The evolution was grand, and it was bound to change the way businesses were approaching selling. The process started looking like this:
Establishing the sales cycle elements
A clearly established sales cycle is the foundation for all that comes afterward. Combining micro-elements that affect each step of the cycle should reflect your business's primary selling goals and help you stay on top of your game even when things go south. Whether its elements consist of the typical prospect-connect-qualify-present-close sequence or not, it's important that you stick to them long term so that there's always a point of reference to come back to when you need it.
Creating a clear path to reach customers
Depending on your product offering and target audience, the process of reaching out to your prospects will differ. Factors like age, gender, income, demographics, and geolocation will dictate what channels—social media, landing pages, or the traditional radio and television—will be used for not only sparking an interest in prospects but also making them want to find out more about your product or service.
There is no shortage of marketing tactics (like UGC Marketing) that could lure even the pickiest of customers, so do your research and be ready to adjust it if the market requires it.
Streamlining the sales process
At last, you can start tracking customer behaviors and tweaking your customer acquisition processes as you go and see your conversion rates skyrocket. This can be done by building worthwhile customer relationships and tracking your support team's success rates in the process. Mastering each platform you're advertising and selling on should also be a priority for you; it will help identify the weak and the strong spots that are either hindering or facilitating sales.
5 Steps to Speed Up the B2B Sales Cycle
And while the aforementioned approach works, it's not always, if ever, sufficient for achieving the desired sales KPIs—at least not for companies that have already been active members of the industry they're in for a prolonged period of time. Here's where the need to speed up the process becomes urgent. You are now facing the challenge of meeting your quarterly (or yearly) targets without sacrificing the integrity of the business.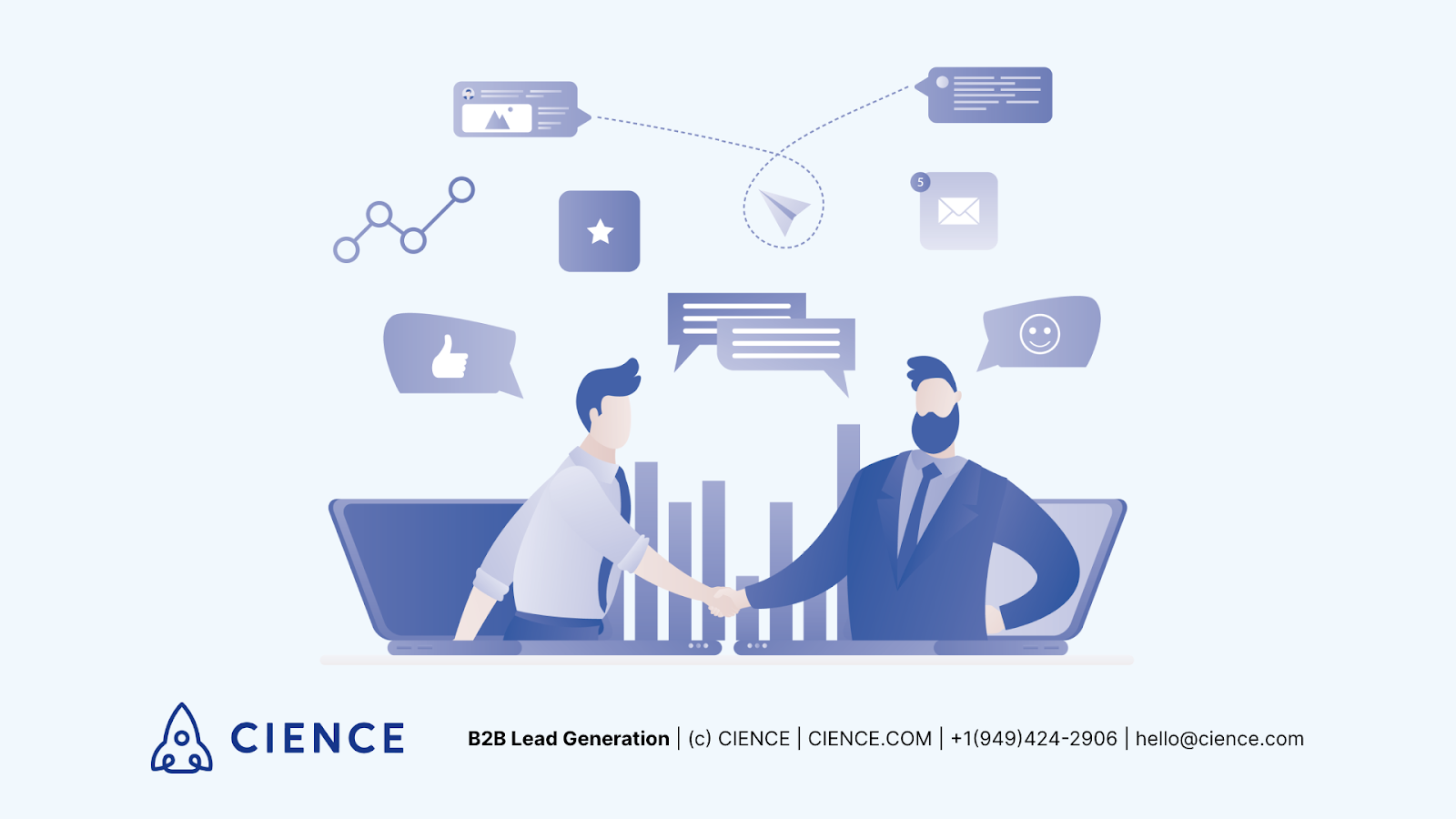 In order to mitigate the risks of losing potential customers and perhaps even exceed the pre-defined objectives, adopt the next five sales acceleration strategies:
1. Plan to target qualified leads only.
Generating leads isn't rocket science, but generating the leads that will stick around is a whole other ball game. Many businesses don't pay attention to the quality of their leads, and this can become a huge limitation to what they can achieve over time. In fact, it was found that 61% of B2B marketers give the green light to the sales team with the leads they scored out of which the mere 27% is the "right" type of leads. Just think about how wasteful this is from both time and budget perspectives.

To change the narrative of these statistics, consider integrating a tried and tested customer relationship management (CRM) software that can help identify the qualified leads and toss out the odd ones. It will take charge of finding the right customer and potentially free up your time for dealing with other stages of the sales cycle.
2. Cultivate the leads that are iffy about your product just yet.
Not everyone will reach the final stage of your sales cycle, and that's okay. There can be plenty of reasons why the qualified leads didn't quite "make it," like landing page pollution and insufficient help from the staff. But there's no use to dwell on them. Instead, consider storing them all in a separate Excel sheet and coming up with the most suitable lead nurturing practices to turn them into customers.

Prompt follow-ups, limited-time offers, and personalized social media messages are just a few of the ways to hook them on the value your product provides.
3. Make use of social proof when appropriate (and inappropriate).
In the overly connected digital world of today, it's only natural that people expect more than just an appealing deal. They want a guarantee that your product is the one they won't regret choosing over a dozen similar ones.
How do you give them the proof they need? Post reviews on your website and social media channels. Don't shy away from user-generated content (UGC). Make sure Trustpilot, Google, and Yelp feature positive feedback about your company from your loyal customers.
Get your customers to create short videos about their experience with your product. Use every opportunity available to showcase the value you've provided your customers with and you'll be golden.
4. Entice with time-limited offers.
Even the most stubborn leads like a good sale. Don't take our word for it—Victoria's Secret with their "Today Offers" and LOFT with their "Mystery Flash" sale (and every other company on the planet) know it from experience. These sales tactics increase the impulse to make the purchase and, as a result, turns a hesitant prospect into a customer in an instant.
Here's a tip: If you sell a service, you can send your lead an email with two-day access to it that is reminiscent of a free trial but is less risky.
5. Automate everything that can be automated.
You've heard it right—it's never a bad idea to automate every process that can be automated and focus on the money-making operations that require manual labor instead. This includes automated lead generation, email follow-ups, chatbots, and live chat. You can employ a CRM platform that will do the majority of these tasks for you or burden your team with dedicating some time setting it all up for the effortless sales cycle in the future—the choice is yours.
Get Your Sales Cycle on the Right Track
There is no right or wrong way to accelerate your sales cycle—anything goes when you find the strategy that works for your business. But figuring out where the gaps are and how to fill them can put you on the right track of not only speeding up the process but also receiving more satisfied customers.
Keep in mind that it might take some time to detect what can be done to the B2B sales pipeline for it to finally strike the way you want it to. This means engaging in some trial and error that will eventually lead to the bullet-proof system that will save your company people, time, and money resources.
A Few (Related) Sales Posts
Your source for sales information