7 Sales Email Follow-Up Strategies That Actually Work
It's easy to get discouraged when you get refused or silenced in response to the work you do. In sales, it's a part of the job not all can handle. An email gets lost, the prospect is too busy to answer, the budget is already set, or something else goes in the wrong direction. It seems easier to give up; however, when you want to succeed in sales, persistence is key.
Just think about it: According to Statista, more than 333 billion emails are sent every day now, and this number is set to rise to more than 376 billion in just three years. How easy is it to get ahold of your prospects on the first try among that noise? Exactly. One knock on the door won't be enough.

To get on the radar of your ideal customer, you have to carefully plan, personalize, and have an email follow-up strategy in place. Let's go through some sales strategies to find the best ones for your business.
How to Write a Follow-up Email
Most of the leads are not ready to buy when they first meet you. They need a personal approach, nurturing, and some, maybe even a little push. Sales follow-up statistics report that when you send a first follow-up email after no response, your reply rates can go up 40%.
And when you follow up with web leads within five minutes of a response, you are nine times more likely to engage with them immediately.
Given the importance of persistent email follow-up cadences, how do you write a follow-up email to make it worthwhile? Here are the best tips to reach your prospects:
1. Be consistent but not predictable.
Can we agree—the reason why salespeople don't follow up is they don't want to sound too clingy or too desperate. Maybe it's a fear thing; no one likes to feel rejected. You probably think that if the prospect didn't reply to the first email, they are simply not interested in what you reached out to them about.
Spoiler alert: It's not always true. Maybe this is an opportunity to do some research on you. An estimated 60% of buyers want sales assistance during the consideration stage when they have already googled your product and your competitors. But if they're at the awareness stage, they're still gathering info and getting familiar with you and your company.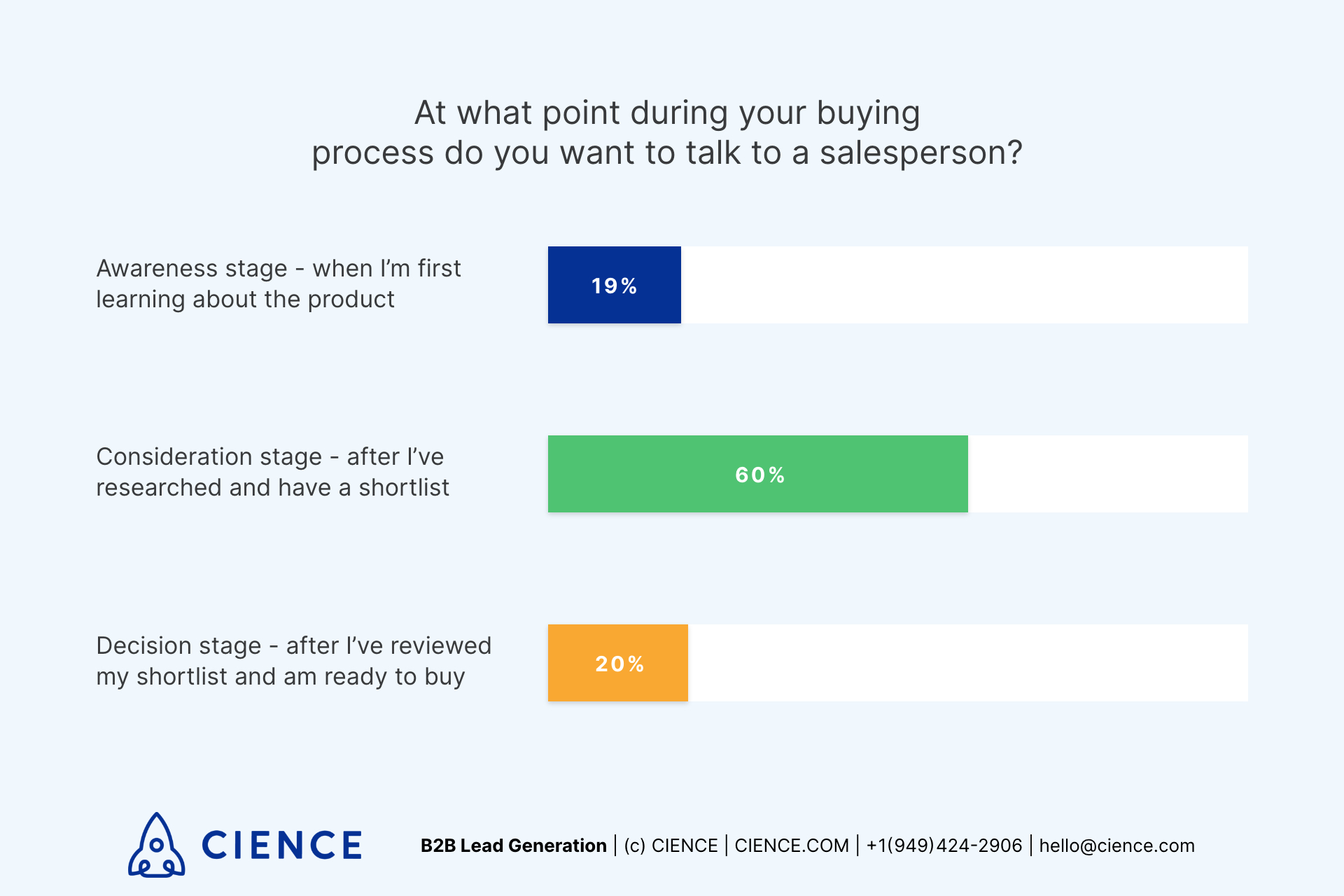 Most follow-up emails are sent to the buyers when they are still in the awareness stage (unless they've already heard about your company).
Only by sending repeated follow-ups can you ensure that your potential customers are thinking of you when they are ready to purchase. Note, this doesn't mean spamming them three times a day with a reminder but instead following up with timely messages that ask relevant questions and provide value.
A two-to-three-day gap in a sales follow-up campaign works best. This doesn't apply to canceled invitations and missed calls. Here's a general email follow-up structure that works:
Try this timetable or adjust to what makes sense for your prospects.
2. Use your secret weapon tactics.
Sales follow-ups can be done in lots of different ways. Given the recent COVID-19 situation and now more people working remotely, in-person tactics don't work anymore.
So, what's left for us? Boring emails and annoying phone calls? Absolutely not. By using some imagination, you'll find a unique way to approach your prospects.
Instead of sending a simple follow-up email template, pepper in personalized content or videos depending on the account. Time spent on personalized sales follow-ups will pay for itself several times over.
Another secret weapon is to use social media actively. We should all accept the advantages of living in a digitalized world, and LinkedIn is one of the best ways to follow up with customers.
LinkedIn engagement is a double-edged sword, though, as being too "sales-y" is a turnoff, but being too opaque means a denied connection. Strike the right balance and try to be helpful and personable.
It doesn't necessarily have to be a message with another follow-up email template. Even a good comment can grab a prospect's attention if it's done right.
Here is a follow-up email example of a comment sent to a prospective client by a CIENCE SDR: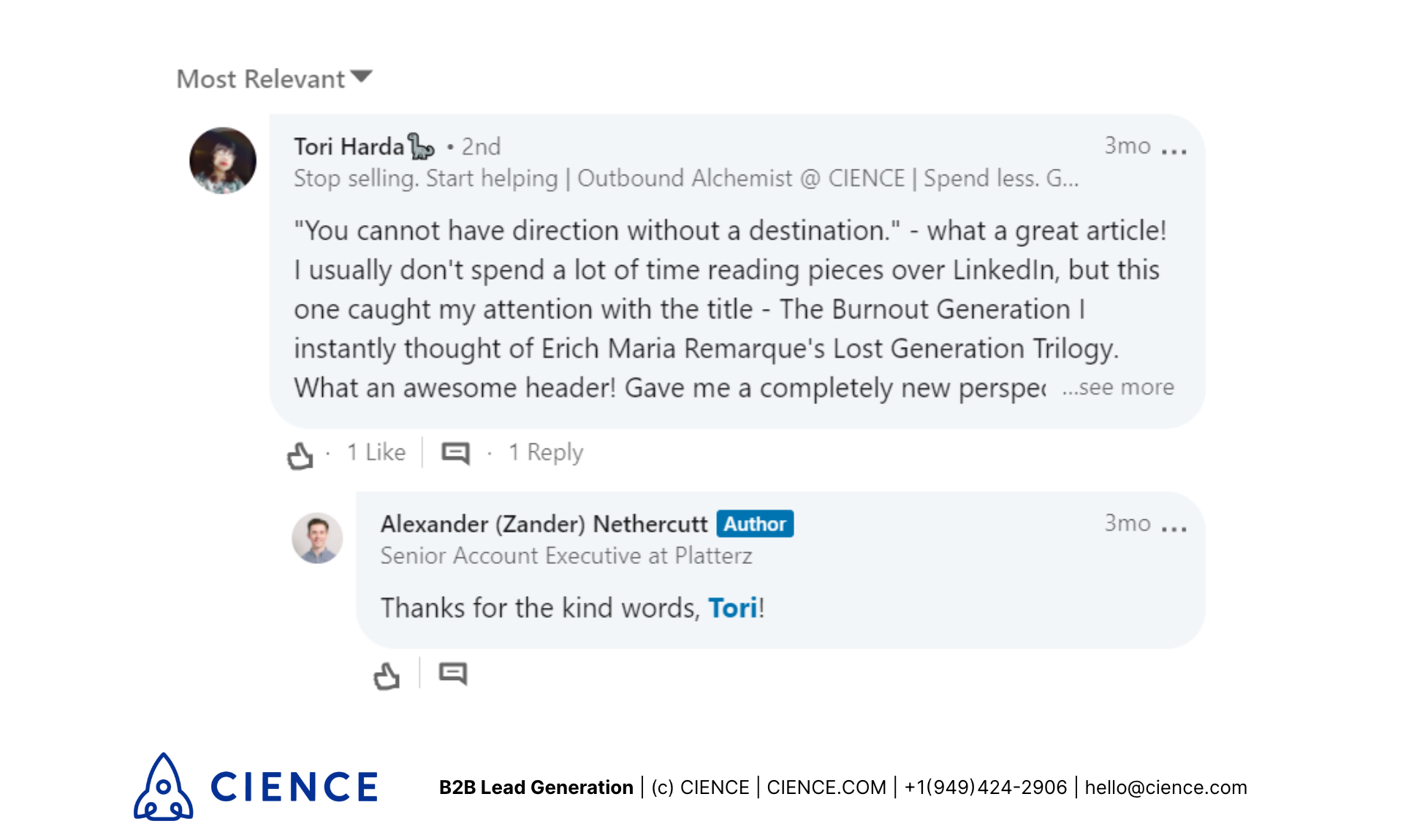 This approach is quite casual but very effective.
3. Use the "bon appétit" approach.
Talking about creativity, one of the best sales follow-up emails is the so-called "bon appétit" strategy. Behind the délicieuse name is a simple concept—reaching out to the recipient during their lunchtime to wish them a good meal!
This strategy works best on those prospects who weren't initially on the main lead lists. This includes contacts from auto-replies, new people from direct referrals, etc.
Basically, you send an email follow-up to a prospect between 12 p.m. and 1:00 p.m in their time zone (or when most people have lunchtime). The subject line should be something casual and simple, like in this follow-up email example: "What's for lunch, Ben?" or "Bon Appétit, John!" or "Are you around for lunch?" etc.
The opening line and email body should be written in the same casual style:
Hey! Can we schedule a consultation this week? I know I'm probably catching you during lunchtime so let me know when works best for you. Bon Appétit!
See how using this method in this follow-up email sample turned out to be the right time: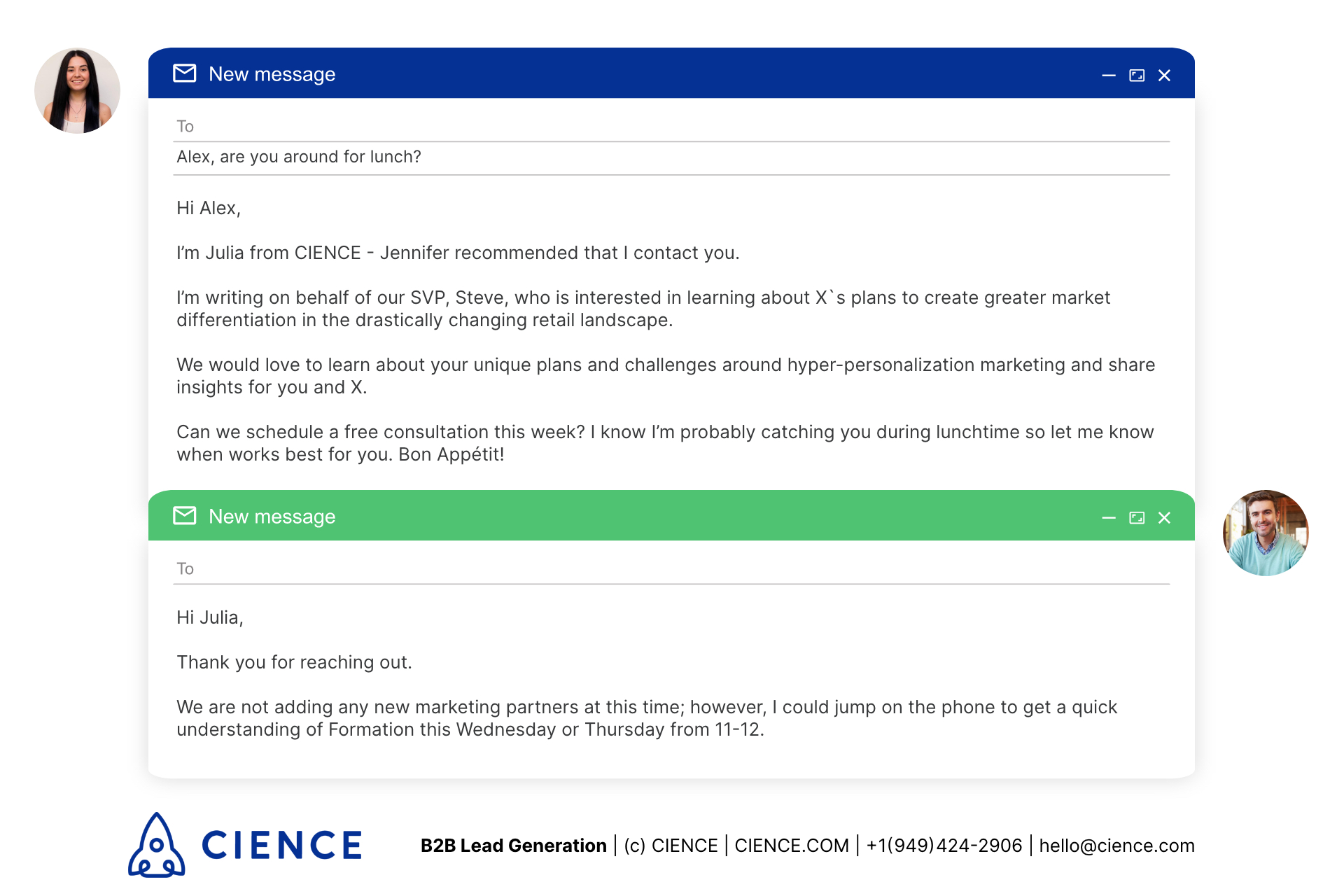 4. Give the prospect as much time as needed.
Every product has its own sales cycle and every buyer is on their own buyer's timeline. Not only knowing how to follow up on a sales lead but when is an important part of the process. Some leads are ready to purchase right away; others need weeks or even months for research.
However, it doesn't mean they are not worth waiting for. One persistent prospector stayed in touch for four months (with LinkedIn likes, casual follow-ups, and weeks between contact) before landing a fifteen-minute call that turned into a one-hour demo a few days later.
If the prospect tells you to contact him in a week, month, or year, you should simply do that. Your goal as a salesperson is to be there as long as needed and add value to the dialog rather than annoy the person. Those in sales who master the skills of mindful invisibility while helpful in their follow-ups are typically rewarded in the long run.
The situation "Follow up me in X months" happens to SDRs quite often. But don't neglect a lead just because they didn't buy right away from a previous email. Instead, be patient and persistent.
If this happens to you, use this sales follow-up email sample with a call to action: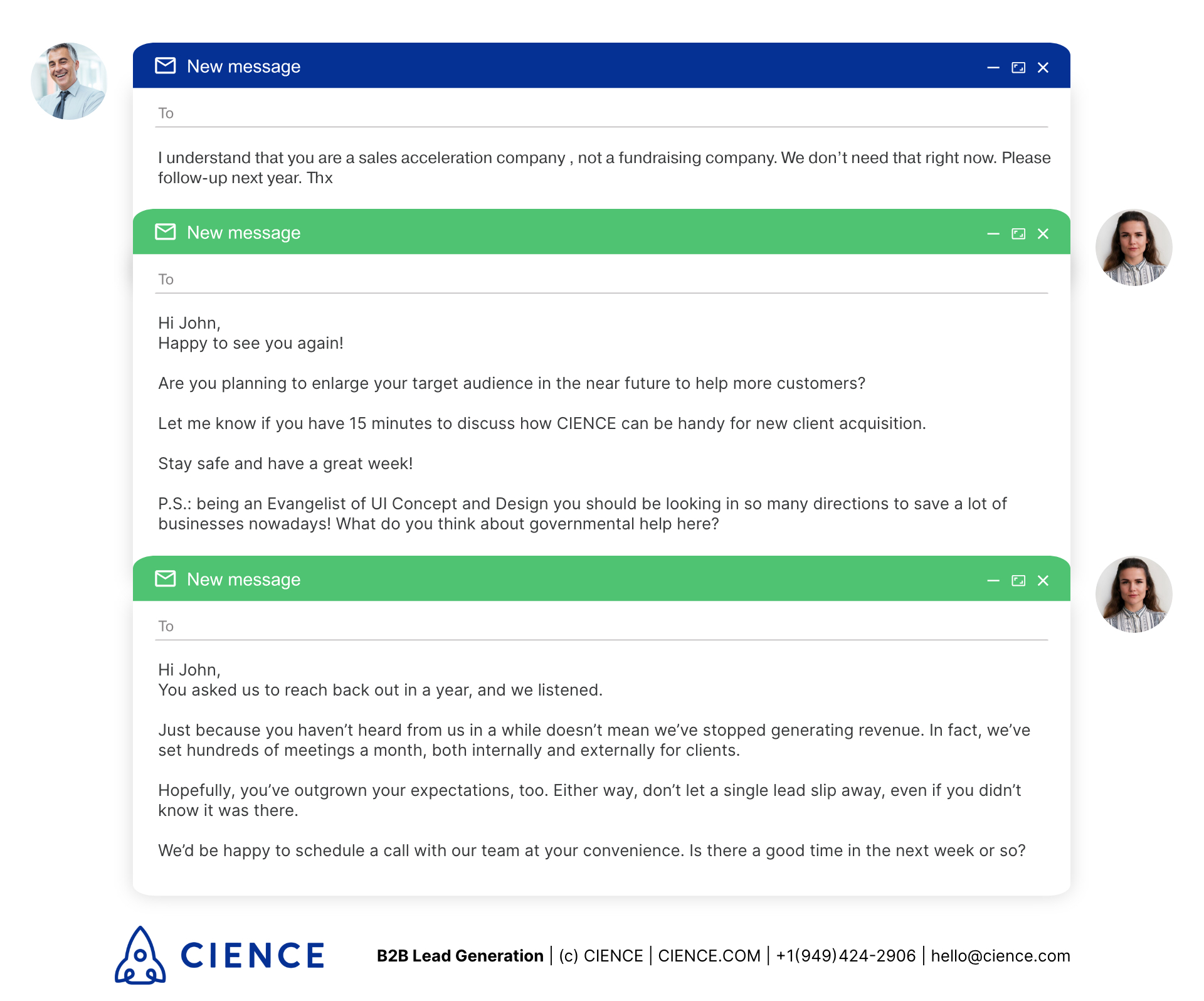 Note: However, when you do get a response, try to answer as fast as possible. Sales email follow-up statistics claim that following up with web leads within 5 minutes makes you 9 times more likely to engage with them.
5. Focus on the prospect's needs.
This might sound quite simple, but we see too many follow-up emails that are devoid of value and personalization. While writing an email follow-up, remember that there should be a balance between discussing your prospect's needs and promoting your product.
Understand and clearly express how you could benefit your prospect's company. Do a little research (OK, a lot!), find some interesting articles and data, decide if the prospect responds better to logic or emotion, and use it to connect and convert.
This follow-up email sample message from a CIENCE SDR:
6. Measure, evaluate, and analyze.
Unfortunately, there is no perfect formula for a sales follow-up email template that will be equally effective with all clients. There are so many factors that influence it, like the length of your subject line, the number of questions you've posed, or which emojis you used (if any). In fact, did you know that almost half of the email recipients open their emails based on the subject line alone?
Therefore, to hit the best numbers, you have to find out what works best for you. But How? For instance, if we talk about cold email follow-up, A/B testing does its job perfectly. The idea is to send, let's say, one-thousand emails, half of which with one subject line, and a half with another. Afterward, you can use an email marketing software to analyze which formula was more successful, which one had the best open rate or response rate, and use that one going forward.
Here's how we did it in the follow-up email example: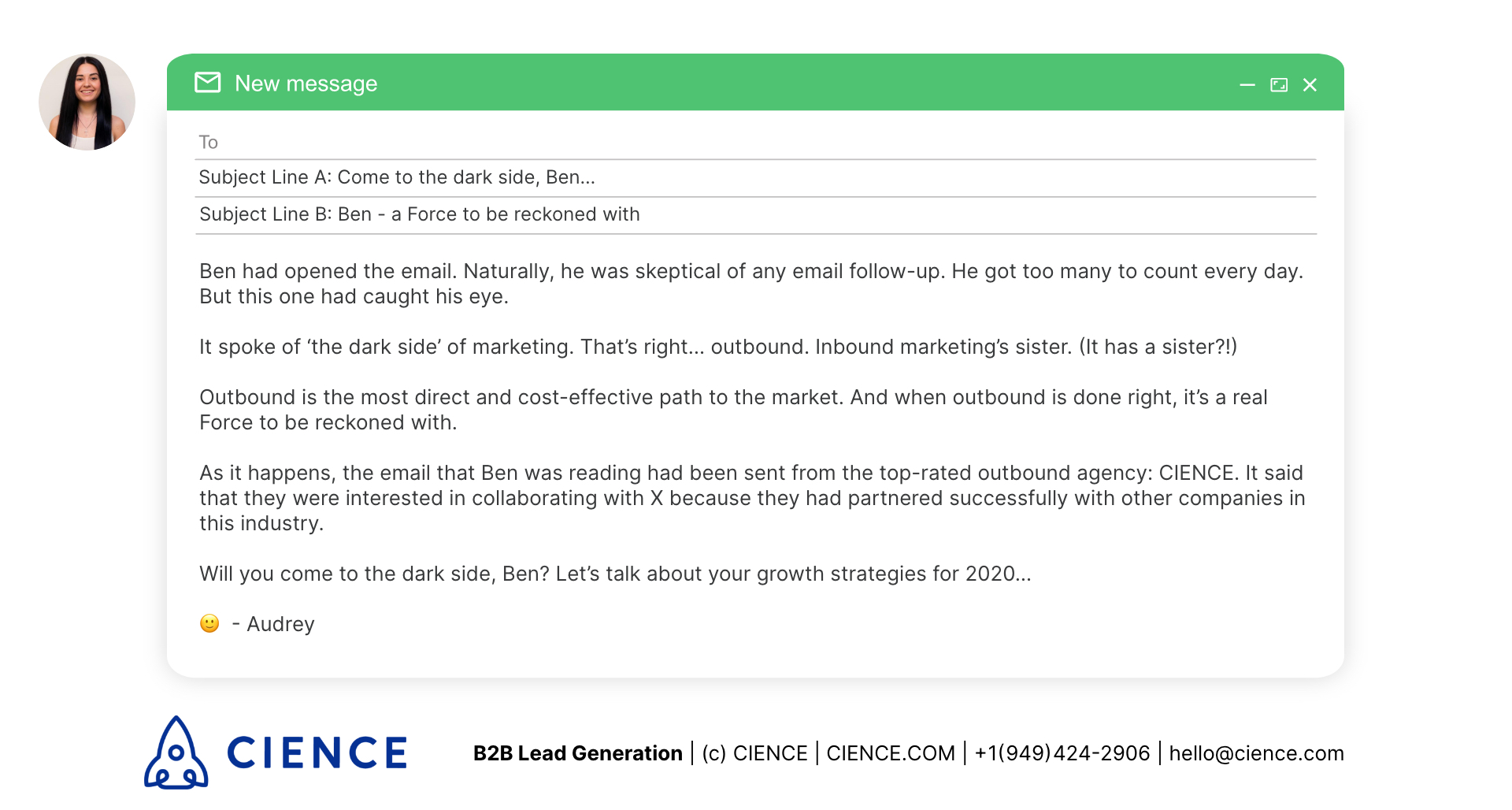 The last sales email follow-up you send to a prospect is just as important as the first one. There is always a slight chance that sometime in the future, this person will be looking for the services you provide. And the first thing they'll do is skim through their contact and vendor list.
So, don't shut the door after leaving the room. Leave it open a crack and give your prospect a chance for a future conversation, just like this polite follow-up email does.
Boost Your Sales with Email Follow-Ups
It may seem like an easy way to do things: Just call or email once, wait for a response, and if get none, move on. When in fact, such an approach will cost you a lot of money.
It's not overly challenging to use email follow-ups to boost performance—you just have to believe in yourself and try out some different tactics to find the ones that work for you. Once a proper email follow-up strategy is in place, it can get your potential clients to notice you, give you an advantage over the competitors, boost your KPIs, and increase your overall sales.
A Few (Related) Sales Posts
Your source for sales information