B2B Sales Email Guide: How to Nail a Cold Email Campaign
Some ways of communication come and go, but B2B email is here to stay. Businesses use cold email outreach as an efficient way to reach existing, new, and potential customers.
According to a study by Content Marketing Institute, 77% of B2B companies use an email marketing newsletter as part of their content marketing strategy.
That same research confirms that 87% of B2B marketers say email marketing is a tactic that is critical to their success.
Email wins over social because it can deliver a personalized message, which helps increase customer engagement and therefore bring you a larger profit.
If you've ever been a receiver of a poorly constructed cold email, then you have witnessed a lost opportunity to work with you.
So what is a sales email and how can you transform it into the most effective marketing tool? Use this B2B sales email guide to find your answers.
Table of Contents
I. B2B Sales Email Basics

III. Top-Quality B2B Sales Email Content
IV. Pop-up Questions During the Campaign
V. Reply Handling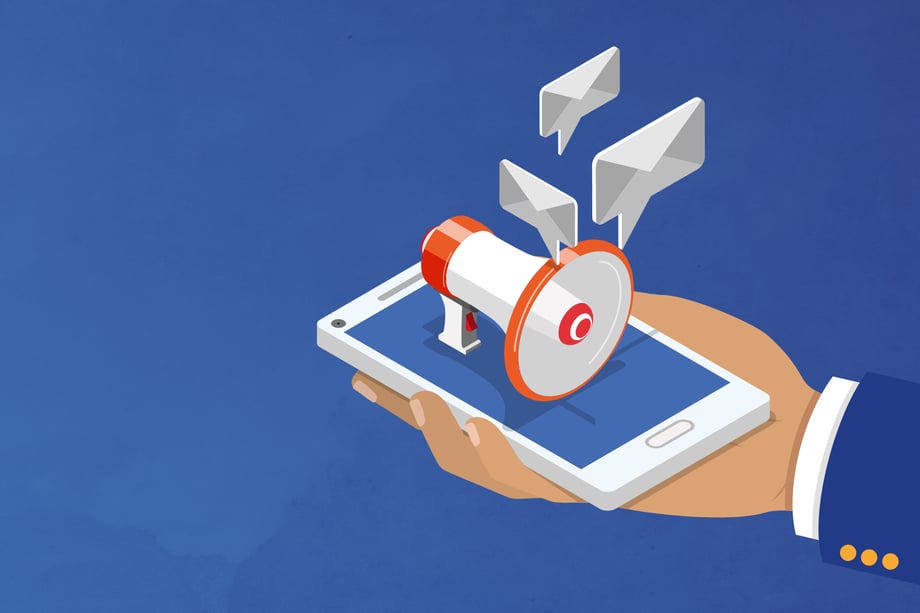 B2B Sales Email Basics
What is a cold email?
A cold email is an initial email that is sent to a recipient without prior contact in order to start business conversations.
It's similar to cold calling but much less intrusive. Emails do not interrupt your business life that much.
Joshua Feinberg, CMO at Vic.ai refers to interruption via social spamming as harassment, which is why you should know that cold emailing is not spam. There is a great difference between bulk product emails and targeted ones. The aim of the latter is to get into a business conversation with a specific prospect, rather than to promote a service to everyone at the same time.
Cold emails in 2022
According to Statista, 319 billion emails were sent and received each day in 2021, but the figure is expected to increase to over 333 billion daily emails in 2022. Can you make your prospects stop and read, and—more importantly— interact with you?
Sure. To win this, you have to adapt. Continue to collect relevant data about your prospects, target your audience, and personalize outreach to get results. Outbound strategies in 2021 were heavily focused on human-to-human interactions, and 2022 won't be any different. In fact, 30% of marketers worldwide cite email marketing as still having the highest ROI.
Email Campaign Marathon: Ready, Steady, Go!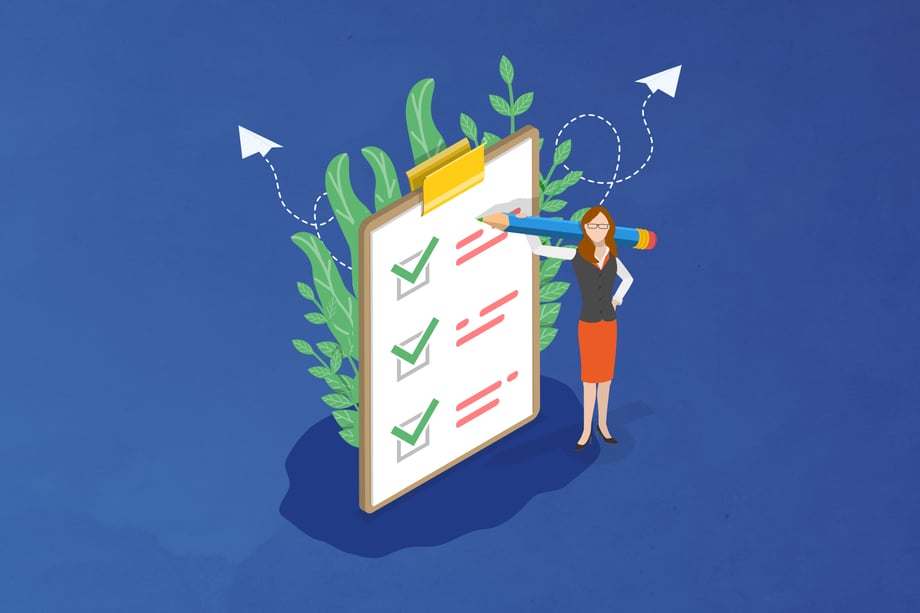 Data meet ICP, ICP meet data
The ideal customer profile (ICP) is a categorical description of accounts expected to become the company's most valuable customers. These are companies that would benefit immensely from your offering and provide you with significant value in exchange.
The ICP is the foundation of your sales and marketing altogether. Your ICP should focus on relevant characteristics of your target accounts such as:
Industry/vertical
Annual revenue
Geography
Size of customer base
Employee headcount
Budget
Technology used
Level of organization maturity


To create an ICP, collect data from your existing customers and insights from key stakeholders, and then analyze it. This data will provide a clear picture of who is using your services. Hone in on what made these clients come to you in the first place—that will be the foundation of your ICP.
Data collection
In order to grow, you have to gain new leads for your pipeline. According to a Ruler Analytics 2021 report, 37% of marketing agencies representatives state that high-quality lead generation is one of their biggest challenges.
And although there are plenty of services that can provide you with a pre-generated contact list, there is nothing more accurate than building data sets from scratch.
This starts by entering the ICP into the database as a filter that will define your perfect leads. Next, with cutting-edge technology, you can begin to precisely target your ideal prospects.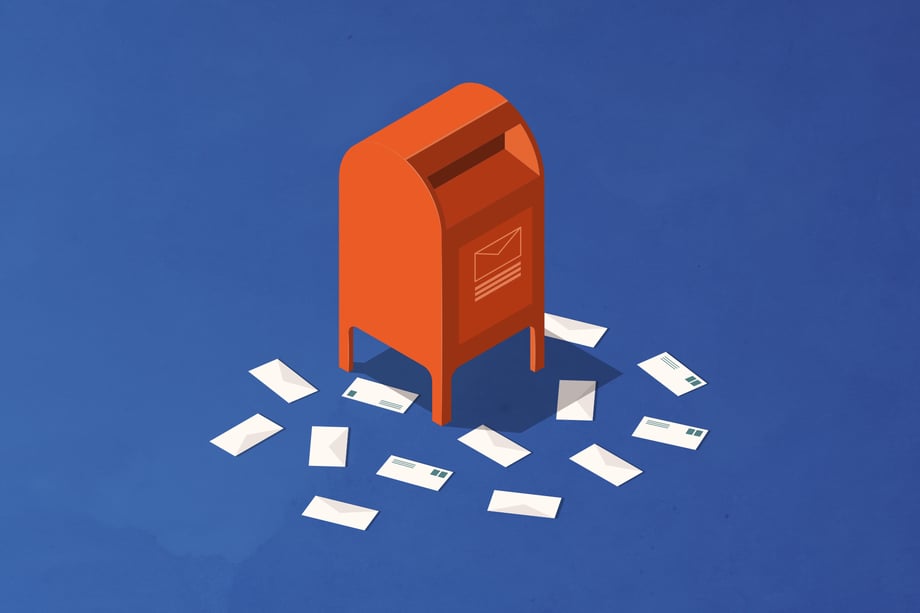 Crafting your cold email strategy
You've got yourself a basket full of ICP qualities and conducted the research, but do you go straight into writing sales emails now? Nope, you have some more planning ahead. Waves, their frequency, and cadence.
Having a multi-waved email campaign doesn't mean sending the same email multiple times. Rather, each wave should have a different subject line and relatively new content.
Typically sales email campaigns have from three to five waves, which is reasonable from a planning perspective. Your goal is to ensure that your content is timely, relevant, and consistent from the start of the first wave.
To reach that goal, you should decide on cadence and frequency. Although cadence and frequency are related terms, they describe different sides of email marketing. Frequency is the number of emails sent in a certain time period while cadence includes rhythm and timing (i.e., the amount of time between each of the emails as well as content and the receiver's audience).
While over-communicating is sometimes a good thing, it can hurt your B2B email campaign's results. When you send the same offer day after day to your contacts, they can easily send your sales emails to spam while they are scanning their inbox for something new and interesting. It is easy for them to ignore what has become repetitive or expected.
Frequency and, to a greater extent, cadence play a key role in capturing and retaining your recipient's attention.
In order to find the right cadence, you should map your customer's journey—all the touchpoints on your prospect's way to conversion. After understanding patterns of your customer's journey, you can project that into your future sales email cadence.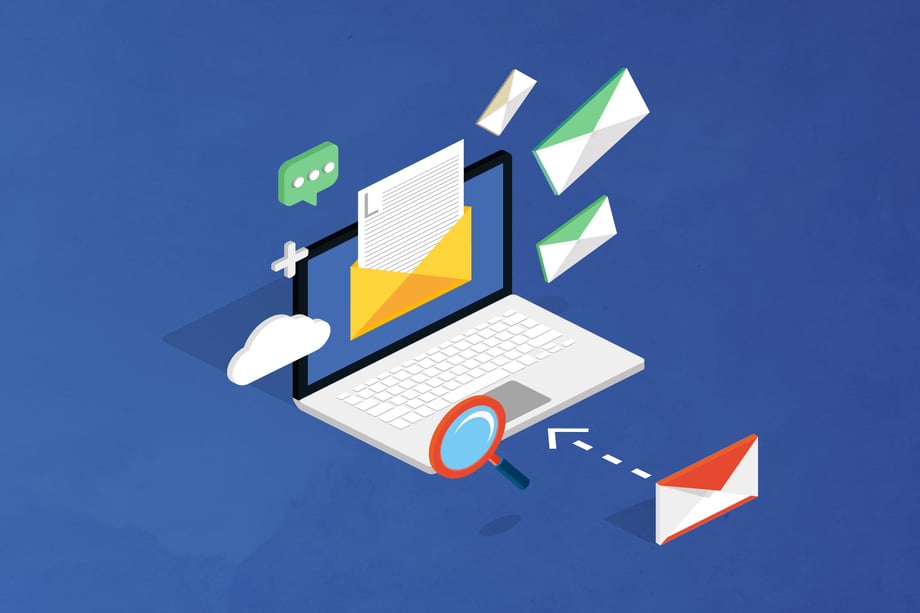 Segmentation
Email list segmentation is a technique that email marketers use to send highly targeted emails by dividing their list up into smaller groups, or "segments."
MailChimp.com pulled data from their users (who apply list segmentation) and discovered that segmented campaigns had open rates that were 14.31% higher, click rates that were 100.95% higher, and 9.37% lower unsubscribe rates than non-segmented campaigns.
Here are a few ways to segment your contacts:
Geographic area. Segmenting your contacts by geographic area will enable sending time-based messages. If your services are spread all over the place, then you probably should sort out your contacts by time zones so that each of the prospects will get your good sales email during the workday.

You can implement it for advertising regional promotions or with the help of location-specific content, draw the attention, and offer a personalized experience.
Demographics. This is a method of segmenting customers based on their statistical characteristics. Demographic segmentation groups customers based on factors like business size (either by the number of employees or annual revenue) or even technologies used by the targeted companies. Finding this information is important though fairly inexpensive.
Customer awareness.

This means dividing your target audience based on their product or industry acumen. It offers you to tailor your campaign toward a lead's specific needs. Customer awareness looks specifically at whether a company acknowledges the problem that your product/service solves.



For example, a sophisticated target customer for CIENCE would be the one that already leverages sales processes by themselves or with the help of a competitor.
Email testing: scene one, take one
Different parts of your email campaign impact your recipient's reaction to it; therefore, make sure to get results that will make a difference to your business through testing your cold emails. Your further decisions on the email campaign will be based on data rather than intuition. Insights that you get from it will result in creating more effective sales emails, consequently providing you with higher rates of engagement, sales, and revenue.
A/B testing, or split testing, is a simple principle of testing the original version of an email compared to another version. Just like in a scientific approach, you will have the control group and the experimental one. The experimental (or variant) group will have only one difference from the control group—it can be a subject line, a CTA (call to action) button, design, or time of email delivery. You can split your test on any element of your cold email but just one at a time.
Before testing, find the reason for it: the problem, reason behind it, the solution, and measurement: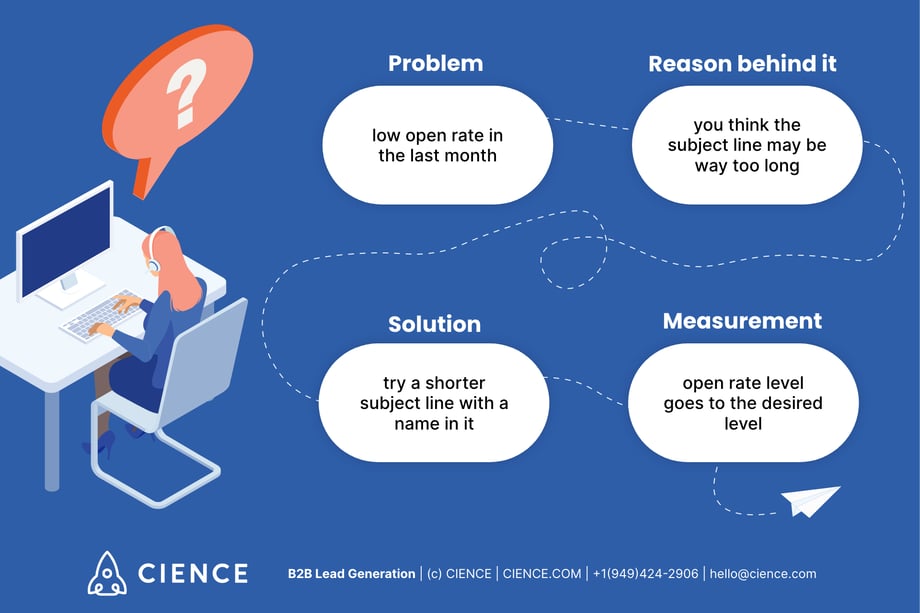 Successful A/B testing can bring a 50.7% increase in the average revenue per unique visitor for e-commerce sites. About 30% of companies test the CTA, 20% pay attention to the headlines, 10% look at the layout, and 8% test design as their priorities. What should you test? You can choose anything, but here are a few to consider:
Subject lines. Try changing size, format, color, or even the content. Play on curiosity, humor, or pain points. Try being straightforward or personal. According to copyblogger.com, on average, eight out of ten people will read headline copy, but only two out of ten will read the rest.
Email body. You can change content by adding some wording or cutting the size. Increase the level of personalization and add some sentences specific to the industry. You can use the FOMO (fear of missing out) technique to enhance your click rate.
Layout. Experiment with the position of images, style, or template itself. That will help you with the mobile accessibility of your sales email. According to Litmus, by the end of 2020, 43.5% of all emails were opened and read on mobile devices.
CTA (call to action). Pursue changing one variable in your CTA formula: placement + color + text = action. CTAs can also be customized for a visitor based on their location, language, or anything else. In fact, according to HubSpot.com, personalized CTAs convert 202% better than default versions.
Top-Quality B2B Sales Email Content
In the B2B market, a prospect who you have never contacted before must have a good reason to engage in a conversation with your company. That's why in the body of a cold email, you should be able to answer these three questions as soon as they open your message:
Why me? Why do you want to reach out to this person? For example, your company provides hiring services. You notice a number of openings at their website or another source; your choice would be to contact HR or a business development manager and suggest your services to them. Obvious, right? Maybe to you, but your prospect has never heard of you and they should know what this email is in reference to.
Why this product/service? This is your time to shine. You can share the value you can bring to your prospect. For example, your data system has access to all kinds of CV resources or your services are way cheaper than hiring a new team of recruiters. How is your company better than competitors? Show your credibility and gain trust, addressing your prospects' pain points.
Why now? Easy. You can answer that question based on the reason you've contacted them. In our example, new hiring shows you that your service can be just in time for that company. Or, if you provide services on lead generation, there's always a place to grow and gain new revenue.
How to write email copy that sells
Any sales email consists of five parts: subject, opening line, sales pitch, closing line, and signature.
But each of them can be upgraded on the scale of efficiency: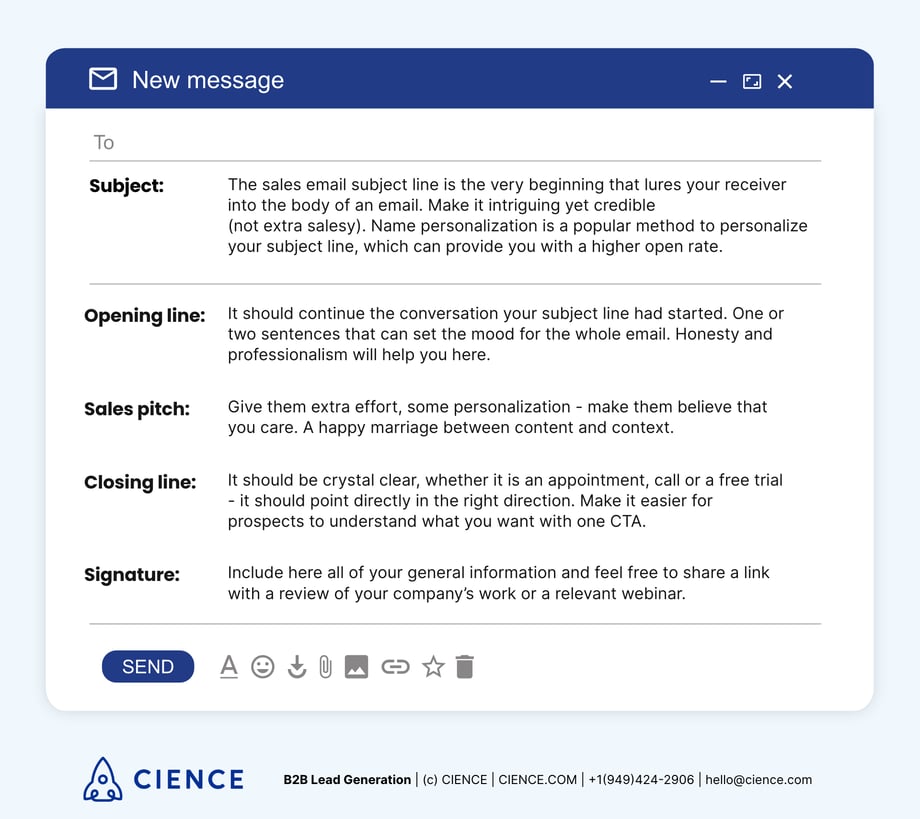 Characteristics of a great email
Short and simple. Your prospect will get lost in a five-page-long list of all the reasons for a sales conversation. Make it accessible by appropriate size and one or two value props to keep your receiver from getting confused.
Not selfish. A lot of cold emails fail by being too egocentric. "Me" is a word you should avoid spamming with. You should talk about your company's features in the context of value for the customer.
Personalized. Though B2B is all about in-between business communication, it doesn't mean it should be robot-like. There is a person behind the monitor and a personal touch won't hurt.
Take a deeper look into email templates by exploring CIENCE's experience on the good, bad and ugly cold emails.
Importance of email personalization
Personalization is an email marketing technique that aims to make cold emails feel individually crafted by using publicly available data of recipients. It crosses its path with segmentation and can be present in any part of the email. Your personalization will define whether you will stand out or not.
Personalization is now integral to the customer journey. It's a key driver of brand loyalty, and 80% of customers are more likely to make a purchase from a brand that provides personalized experiences.
Personalization tools

Buyer persona. Studying buyer personas helps you understand your prospects better to build stronger communication. It is a roadmap to help you navigate through a variety of communication styles.
Interactive content. The design of your email impacts how the information inside will be taken. Interactive content is one of the lead generation trends of 2021, and video will stay in the future of email marketing campaigns. Some brands have seen eight times improvement in click-through rates with a personalized video versus standard outbound email campaigns.
Segmentation. By forming smaller groups of your contacts, you can send highly targeted sales emails and personalize based on a category that formed your group.
CIENCE Tools for Personalization
We find these resources invaluable when researching prospects. They are listed below in order of how frequently we use them: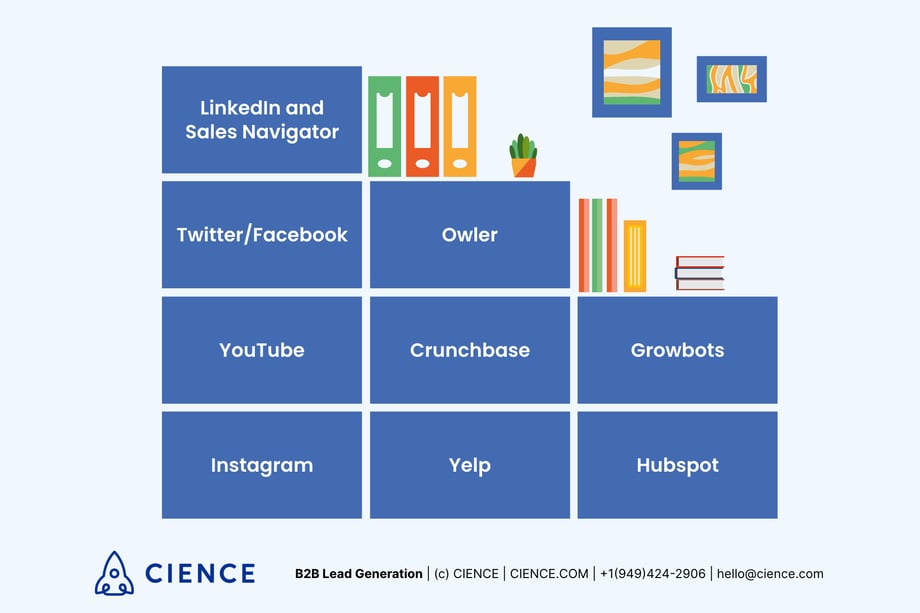 Tips for email personalization
Get creative.

Name p

ersonalization is good but used commonly, so to really get the attention of your prospect, you must use more than a name. Try video content, GIFs, or memes, and find information to hit the right note wherever you can. Surprise is a good emotion for sales because it's a strong neuro alert that tells us that something is important about this moment and we can't help but pay attention.
Know the difference between personal and inappropriate. It's easy to overstep boundaries and invade someone's personal life. We recommend using information available on multiple sources and shared with informed consent. Articles, LinkedIn information, recommendations, and news on the web are appropriate. Email personalization based on tagged photos from family members' Instagram accounts is inappropriate.

Don't forget about GDPR (general data protection regulation) compliance. It concerns all EU member states as well as entities and organizations outside the EU when processing the data of its subjects. Always have an "Unsubscribe" option for your recipients as a safety measure.
Be persistent. A lot of SDRs make the mistake of giving up on a lead too quickly. Getting no response from the first wave of sales emails can have a number of reasons besides "not interested." Because they're busy people, your prospects may have forgotten to get back to you. And if you actually get a "not interested" response, we suggest asking for feedback on why.

Use this chance to state your value one more time or get insight into why the offer you provide is not relevant to your contact. This way, you can adjust your research afterward. You don't have to stalk them, but a multi-wave outreach is a reasonable thing to do.
Have a follow-up strategy. Dedicate time to coming up with a no-response strategy, but don't spend too much time crafting a unique message for each person who doesn't respond, especially considering that most will fall into one of a few types. You have better things to do.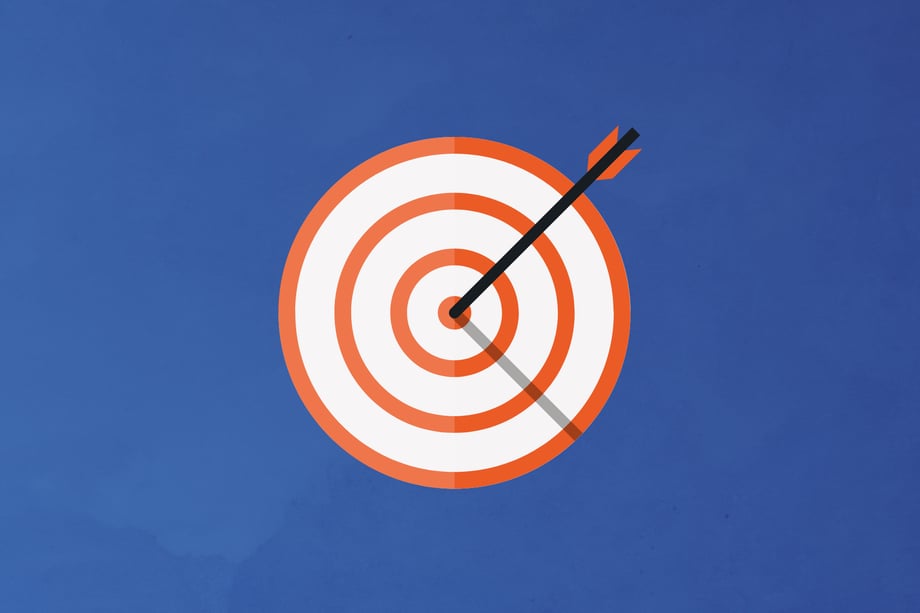 Subject lines
The subject line is the first thing that your contact sees when receiving an email from you. At this point, a recipient makes the decision to open your email or ignore it. To stand out from tons of messages in your prospect's inbox, you have to be concise. Make it short, credible, and show some value, but most importantly—personalize. According to CampaignMonitor, emails with personalized subject lines are 26% more likely to be opened.
Characteristics of a good subject line
Compact. Reading emails on your phone is extremely common these days. When your subject line is too long, it's shown partially, so it cannot fully convey what you mean. We recommend keeping your subject lines forty characters or fewer.
Grammatically correct. Bad grammar is eye-catching, and not in a good way. A grammatical error you make will be seen by dozens, if not hundreds, of people. We recommend using spell-check tools like Grammarly and proofreading your copy to prevent this from happening.
Not overloaded. Avoid extra punctuation and all-caps writing, which can be misinterpreted by your recipient. Dodge words that trigger spam filters. Not only can it bring in negative emotions connected with the sales profession, but it can also increase your bounce rate levels.
Personalized. Segmentation grants you an opportunity to hit the right note. According to research from Harvard, when people talk about themselves, areas of the brain pertaining to motivation and rewards spring into action. Use tips for personalization we've mentioned earlier to succeed.
Relevant. Show a connection between you and the recipient and bring value into the conversation. According to our research, the subject lines which address the specific needs of the prospects or the problems they face tend to have a higher open rate.

For instance, according to Hubspot, the "Have you tried [restaurant in prospect's town]?" subject line got an insanely high open rate. It is relevant to a prospect due to the location.
Being creative with your subject lines is good as long as it is appropriate. There are way too many subject lines that may have overstepped a bit. Check out strange, hilarious, and even creepy subject lines that were dropped in our mailboxes.
Sales email call-to-action
A call to action (CTA) is a piece of content that is designed to encourage the reader to take a certain action. It can be presented as a sentence, button, or image. Every sales email must include a CTA. It's the reason you're writing this email in the first place.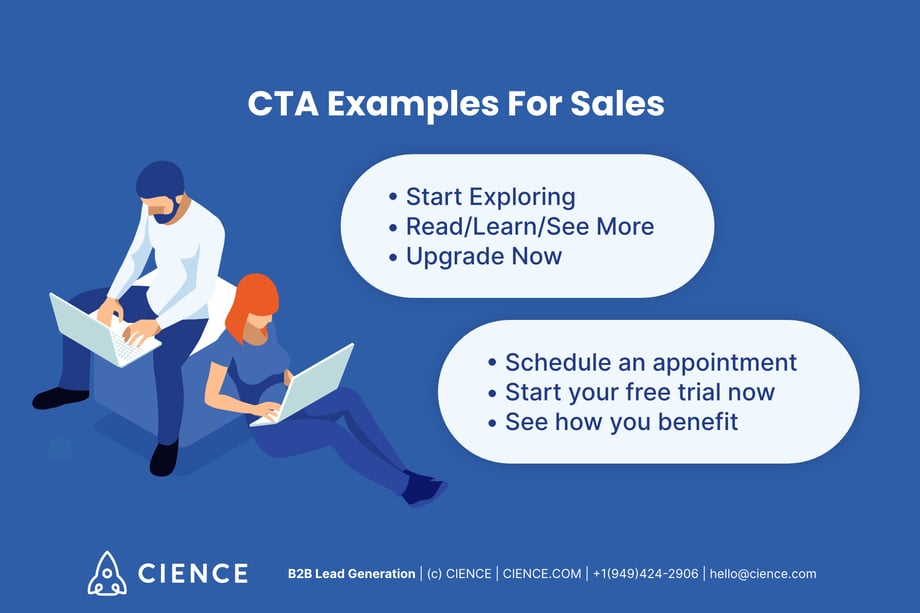 After your email is opened and content read, your contact will still be wondering, "What now?"

The CTA should be relevant to the content of your cold email. The goal can be different: download a playbook, subscribe to a newsletter, buy something, or schedule a meeting/call. The CTA will help you achieve this.
Your CTA is important because it is a tipping point where your prospect becomes a lead—it fulfills the action that you want them to take. Here are some questions to consider:
How many CTAs do I put in my cold email? One will be enough. Otherwise, your reader can get overwhelmed.


Where should I place it?

It will make sense to put it at the end of your email as a conclusion.

How do I design my CTA?

It's up to you. You can highlight it, create a button, create a banner, play with the size, or use plain text. According to CampaignMonitor, using a button rather than a hyperlink can increase conversion rates by as much as 28%.
The CTA should be contained within the body of your sales email and the content inside it.
What words do I use for my CTA? This is your winning formula:

Landing pages
The landing page has the goal of moving your prospects down the sales funnel. Create a custom landing page for every campaign you execute. It should contain:
Unified messaging
Custom CTA
Analytics—whatever you want
For example, your email campaign about apples shouldn't transfer you to a web page about oranges.
Landing pages are crucial for any email campaign; they show the effectiveness of your campaign and drive conversions.
For instance, when CIENCE crafted a landing page for Own The Room, it resulted in 8.04% conversion rates and two additional appointments per month on average.
The landing page we designed for Propio gained 1.75% conversion rates and a bonus of 1.25 appointments per month on average.

Tips from our content writers
When it comes to writing email copy—especially cold email copy—there are some fundamental tips each email should always have at least 99 percent of the time:
Customize, customize, customize. Each sales email should always be personalized and relevant to the person it's going to. Whenever someone opens an email, they're subconsciously wondering: "Why me? Why now? Why should I care?" If you hope to get their attention, you'll need to answer those questions and personalization is a great first step in the right direction.
Grab attention with your subject line. There are a few elements in your subject line that play particularly well: using the prospect's name, company, job title, and a numerical figure directly related to their pain point—something they would have a particular interest in. If you can mimic the voice of the company and you're speaking their language, then you're on the right track.
Don't be so uptight. Yes, it's true, you want to be professional. But you also need to seem like you have a pulse. At the end of the day, our prospects are human. Don't let them intimidate you.
Bring value to the table, always. Your prospects might be getting upward of 250 emails per day. So how do you cut through all of that white noise? Bring value but don't feature dump. It's a thing of the past, and honestly, we're glad it's over.
Leave a little mystery. Now, this one can be tricky. You want your prospect to understand what you're talking about, but you also don't want to bore them with all the tiny details. And honestly, that's not your job.
Your job is to get the meeting, not sell the product/service. Don't give it all away. Hit key points of interest and pull back on the rest. Leave the particulars to the person taking the meetings.
Make sure you have a CTA. It's important to make sure you have a call to action. Prospects need to be guided to where you want them to go, even if that's merely asking for feedback about why they're not interested.
Think openly but don't give them too many closed questions. This one can be tricky as well. You don't want to flood them with open-ended questions—that's just obnoxious. When you ask them "Can we schedule a time to chat about this?" chances are you'll get something along the lines of "no," "not interested," "no need," or "go away."
However, if you reframe your question to something like "How does having a chat around (value prop) sound?", all of a sudden, the chances to open up a discussion will greatly increase. Will you still get a "no," "not interested," or "go away?" response? Of course. Thousands of times over. But when you open yourself up to a conversation, you'll experience a higher rate of success.
Some words are more damaging than others. When it comes to spam, proceed with caution. Stay away from common spam triggers to attract your prospect. Another great resource is www.emailcopychecker.com. Just copy and paste your copy into it, and if there are spam words, they'll show up in yellow. But it's all about "wordsmithing." Find a way to say what you need to say, without saying it the same way the rest of the world does.
Pop-up Questions During the Campaign
What is the best time to send a cold email?
According to GetResponse 2019 Email Marketing Benchmarks Report, there are two slots of time with the highest open rates that you can aim for and one that won't work:
Campaign Monitor's 2020 Email Benchmark Report states that Monday is the day with the highest open rate. For your second wave, we suggest Tuesday or Wednesday, which have the second-highest open rate.
Tips for best timing
Be dynamic.

A/B testing is the way to find out what is best. Try varying days and time slots until you find the one that works for your cold email campaign. You may expect the highest open rate on Tuesday, but your sales email can behave unpredictably.
Avoid weekends. Avoid sending cold emails on the weekends. Though some salespeople say there is less competition, we don't know for sure who is working and who's not. Your effort can go to waste or even make your recipient angry.

Know your time zones.

Adjust delivery time to your audience's time zone. Email automation software will help with that. For instance, in Hubspot, you can create different send-out sequences to match your time zone needs.

How long should I wait before following up?
Once again, it should be tailored up to you and your leads. There can be millions of variations for sequence gaps. Most resources suggest waiting 24 to 72 hours to follow up. For our own (non-client) projects, we use a 48-hour gap before following up.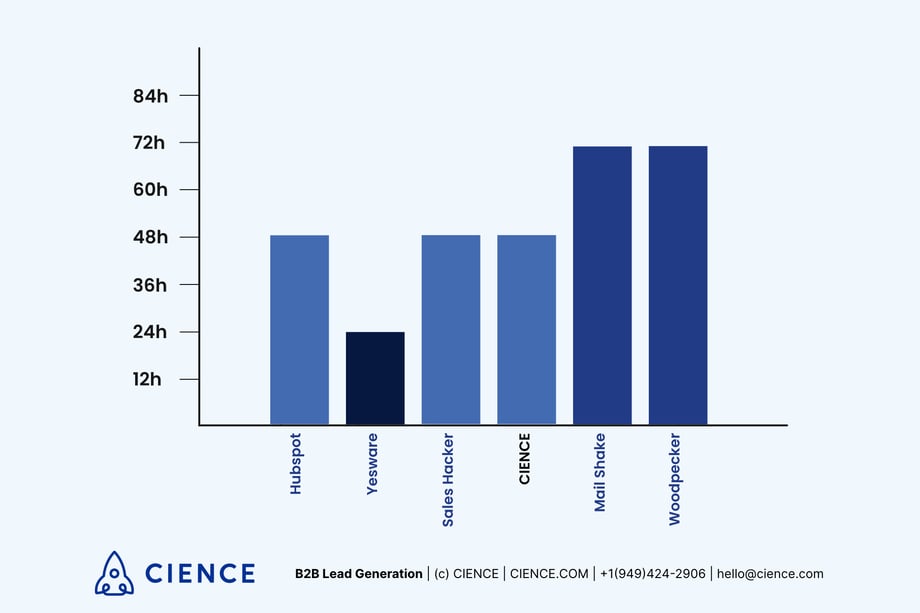 Tips on writing a good follow-up sales email
Don't forget your CTA. Remember what your initial goal is. What if your contact opens this follow-up email and barely any mention on how you can help them and no call to action. Your best-case scenario is that the prospect gets confused and unemotionally unsubscribed; your worst-case scenario is that your email will be filed away for public shaming.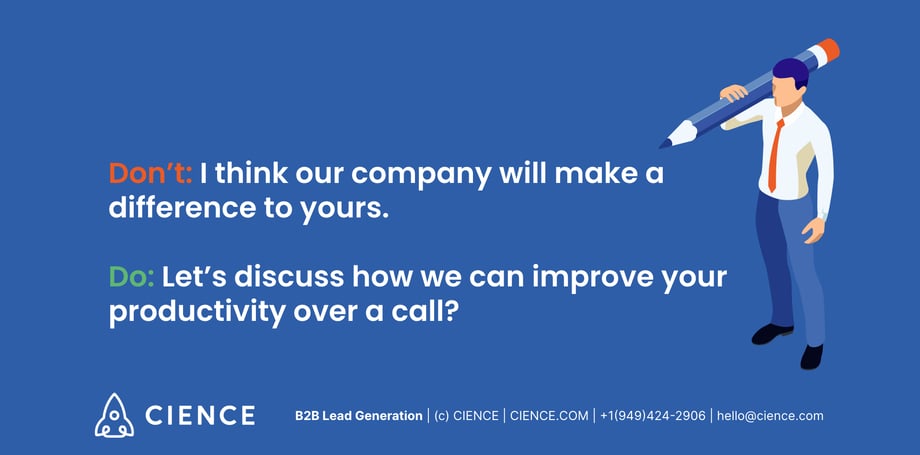 Don't copy-paste. Put yourself in your reader's shoes. If you received five absolutely identical emails from one sender, you would send them to spam. Play with your content, CTAs, and subject lines. Use this as another opportunity to prove you have something valuable to bring to the conversation.
You have to actually try. It's simply senseless to follow up just to follow up. With a bit of luck, you may get some positive responses. But to achieve success, luck is not enough. Personalize. Bring content and context together, remember?

For the context part, it might be worth gently reminding your prospect that you're following up in regard to your last email. Add some content that is worth replying to and bam—that's bringing some value, baby!
Follow-up email subject line
The first cold email subject line in a follow-up is critically important. Here are a few techniques you can apply:

Leading toward the goal
Playful
Easy-breezy
Impressed
Resourceful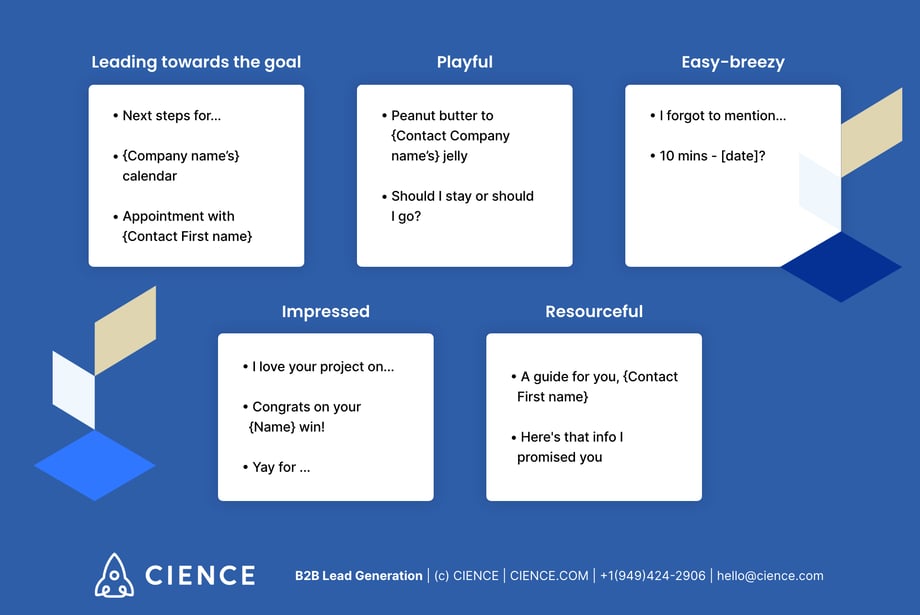 What cold email software should you choose?
The market is packed with options. When making a choice, take special features into consideration: What does this email automation software offer that others don't? Consider your budget and specific needs.
Among all the options possible, here are some top performers:
Why does email deliverability matter?
Email deliverability is not important—it's vital. All of the efforts you invested in your cold B2B email campaign can go to waste if your sales email bounces or goes into spam purgatory. An email is bounced when it cannot reach the recipient's mailbox and gets redirected back to the sender. Bounces happen—it's okay.
Bounces are mostly about contact list health, but spam filters are a bit trickier.Read more on bounce rate, the two types of bounces, and most importantly, how to prevent email bounces from happening.
Tracking done right
There is a certain set of metrics that show how your sales email campaign is performing:
Open rate. This is the percentage of opened emails in a certain sales email campaign. What is a good B2B email open rate? It depends on a variety of reasons, including industry, your target list, and time of delivery. Check out the ways to improve your open rate levels.
Response rate. This measures how many people responded to an email campaign. The response rate shows how effective your cold outreach was and helps improve your future campaigns so you can achieve a better return on investment (ROI).
Click-through-rate (CTR)
The CTR is the ratio of clicks on links in an email to the number of successful email deliveries. Combined with other email metrics, it measures the effectiveness of a given cold email campaign. According to ActiveCampaign, the average email CTR is 1% to 5%.
Conversion rate. The conversion rate is the ratio of people who completed a given action (often the action your CTA is promoting) to those who have not. It is used both for making financial predictions and monitoring your pipeline's health, as well as the work of your team.

Reply Handling
Types of responses and how to handle them

How to respond to a sales rejection email
A negative response is not the end of the world. It's not a problem; it's an opportunity. You've caught your prospect's attention and have opened up a dialogue. This is your shot to find the reason why your contact is objecting to meeting with you. Let's look at a few examples of how we handle these responses.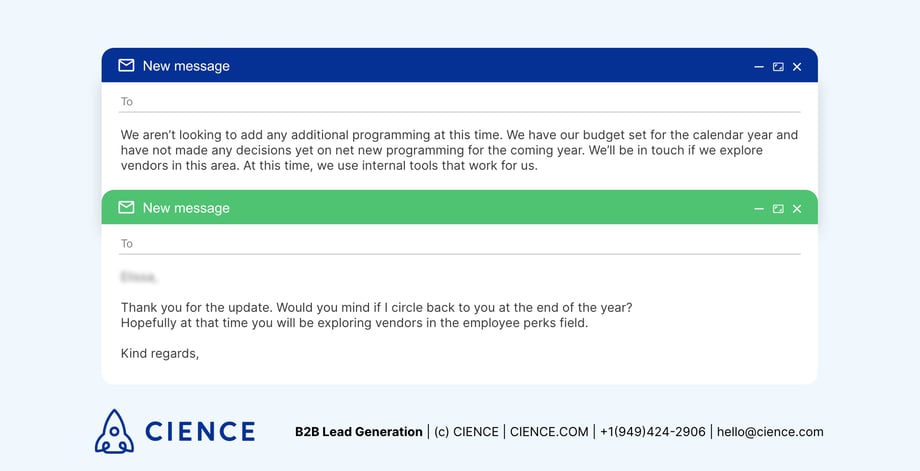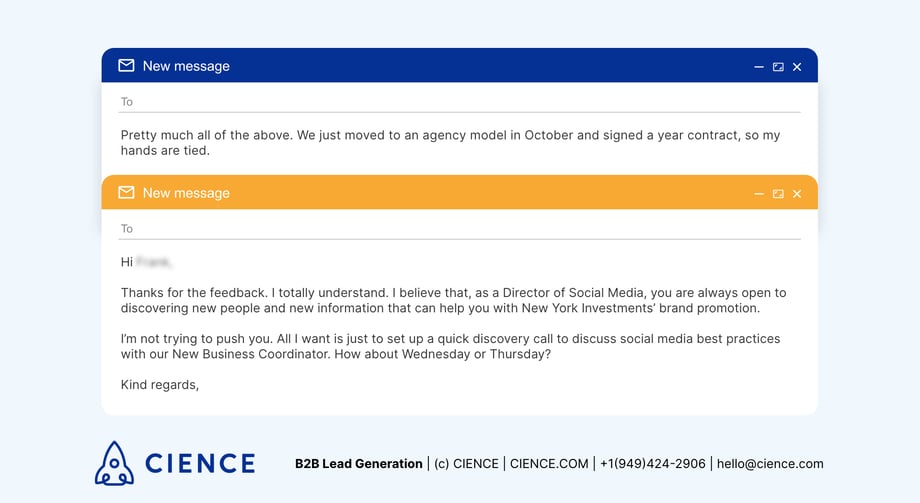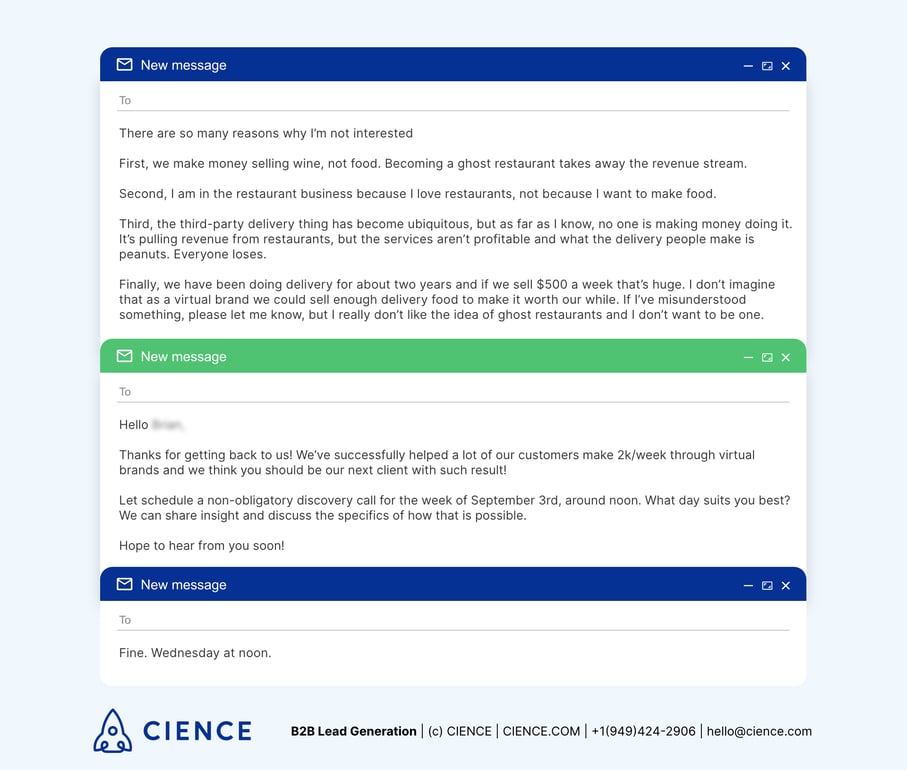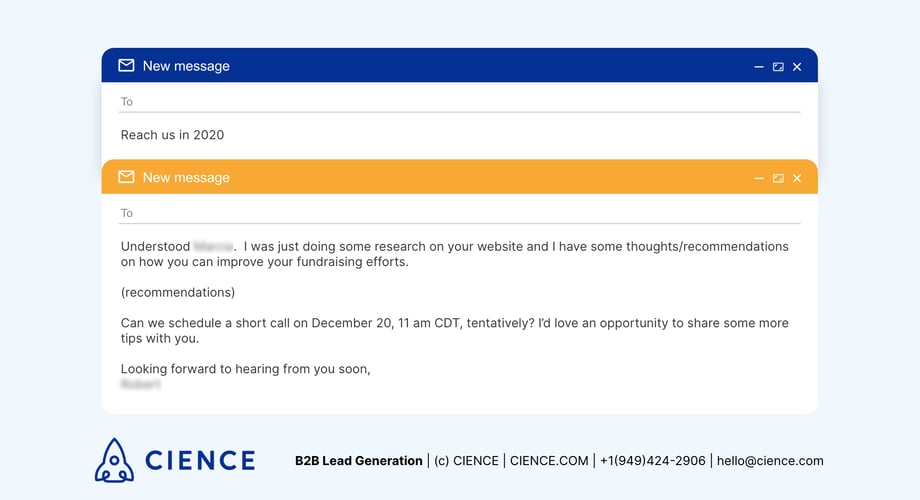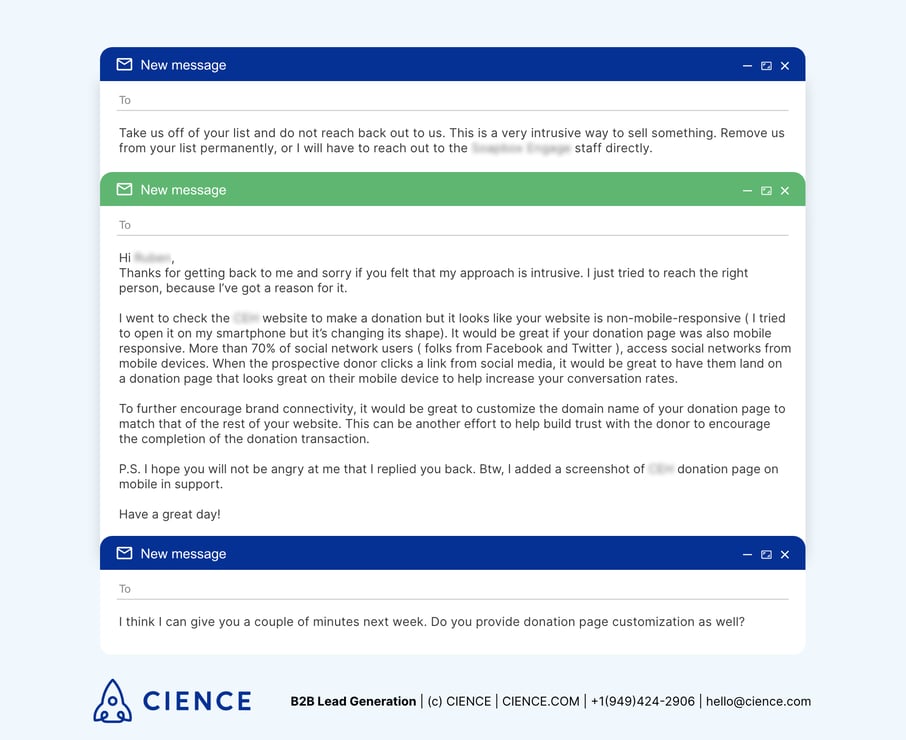 Success Stories
INBOUND
INBOUND is an annual event for marketers, salespeople, and customer success pros that takes place in Boston, MA. We have been going to INBOUND since 2018 to connect with potential new customers.
Our strategy for INBOUND '19 was based on our previous experience at the conference, as well as handling many similar projects in the past. We have mastered the sales development approach when it comes to booking meetings at conferences.
We started reaching out to attendees in late July. We find that starting the process early yields better results. With such high-octane networking that goes on at an event like INBOUND, booking meetings early was key. Previous experience also dictates that the more attendees you're reaching out to, the earlier you should start.
The process began, as it always does, with research. As the INBOUND attendee list grew, we were able to leverage that information to find specific leads to reach out to. We targeted our campaign to two segments of the conference: those who are Hubspot partners like CIENCE and the general admission attendees.
When reaching out to Hubspot partners, our messaging was more relaxed and conversational, and none of our emails included a direct CTA like "Let's book a meeting." They were more about sharing insights and talking about strategy.
Non-partners were sent a cold email with simpler and more direct messaging, like "When are you free to talk?" and "Are you a coffee drinker?" that worked well to engage them in conversations. Both groups received emails with the conference name and/or location in the title, as we found this yields a great open rate.
Since we started reaching out months in advance, and we like our prospect to hear from us every two to three days, attendees went through three to six wave cadences to ensure that we had their attention up to the day before INBOUND was held.
As with all our campaigns, we personalized each email sent with relevant information from the prospect's site, LinkedIn profile, etc. We know this works to catch the prospect's attention because even refusals will sometimes be phrased like "Not right for us, but good job on personalizing the email," or "Great copy, but not the right time."
In total, we booked 123 meetings at the conference. This includes 88 appointments booked before the event, 8 appointments booked during the conference, and 27 post-event Zoom meetings for prospects who expressed interest in talking to us thanks to our post-event outreach.
The in-person meetings at the conference were held by Eric Quanstrom, CMO; Michael Maynes, VP of Sales; Cody Schmidt, a Sales Exec; and Nick Wesoky, an Account Manager. Each leaned on a singular message—bringing you here, to this meeting, is the business we're in. We were able to catch your attention and bring you here, as well as book enough meetings to talk to prospects all day as a team of four people. Now think of what we can do for your business.
It worked! To date, we have converted eight of those meetings into closed deals.
Here's how Michael Maynes, VP of sales, characterizes the experience:
The results were great considering we struggled with location changes and last-minute messaging. Also, we had a lot of reschedules. This is very typical. One surprising note: We originally estimated a shorter sales cycle because we met people face to face; however, it was the inverse. It's trending a little longer than a standard outbound approach. We concluded that the first meeting was a "hello, get to know you" and the second meeting was a re-introduction of CIENCE over Zoom. That re-introduction could be considered a second Disco, hence the longer sales cycle.

Real-life sales emails victories
Here are some of our most successful sales emails that landed meeting with qualified prospects: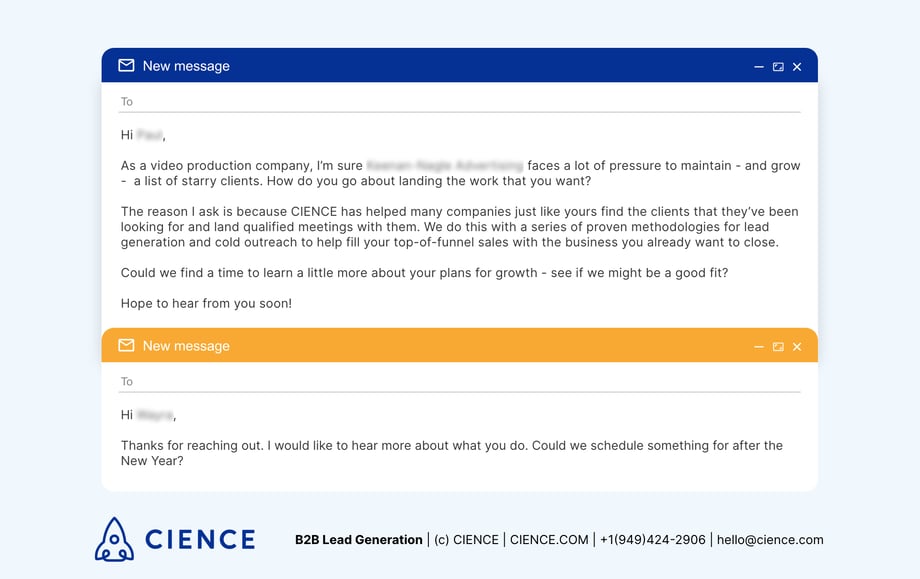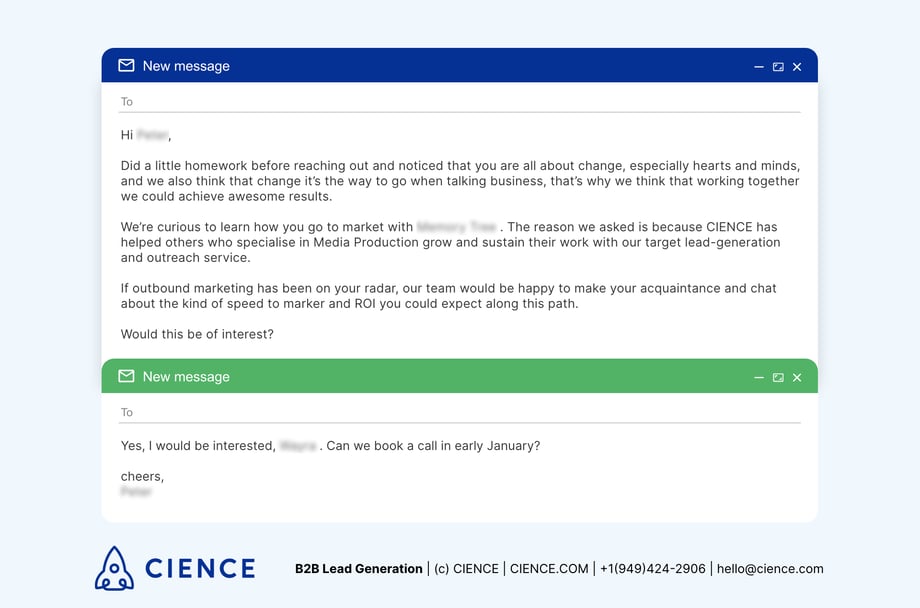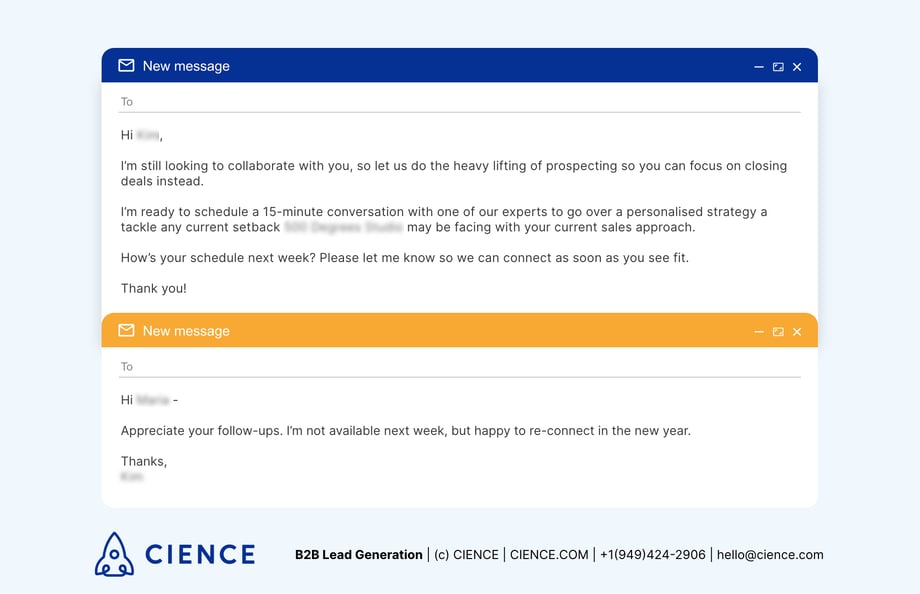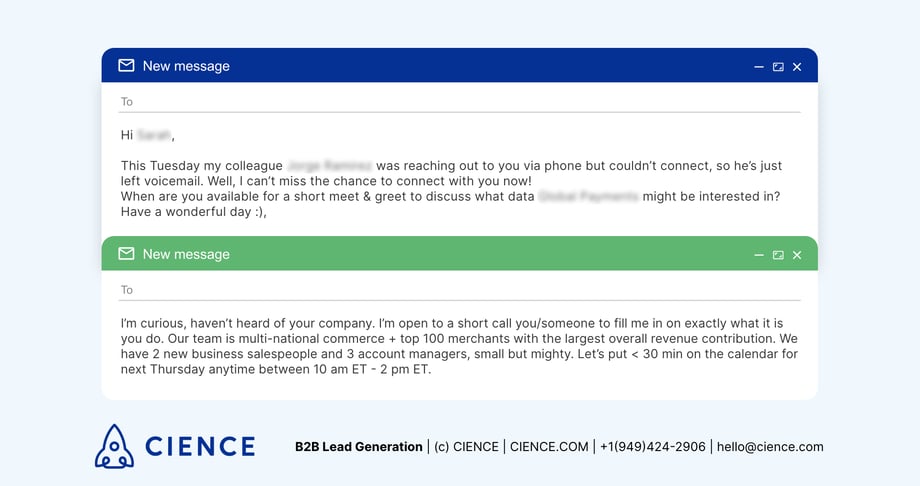 Master Your Future Cold Email Campaigns
Cold email campaigns are worth all the money, time, and effort you invest in them. When done right, they can provide explosive growth to your revenue. Email is also the least intrusive way of delivering personalized sales messages to a large audience. To be successful, remember to stay away from low-quality contact lists and craft every part of your email according to the goals of your campaign.
We are certain that cold emailing outreach is not going anywhere, anytime soon. Human-to-human conversation is the only proven way to sell, and the cold email is the crucial first step in opening up those lines of communication.


A Few (Related) Sales Posts
Your source for sales information