How Interactive Content Can Boost Your Lead Generation
Interactive Content – A Shoe That Fits All
Interactive content is like pizza. It comes in various shapes and sizes, it can have any topping in the world. But at the end of it, we like pizza, don't we?
Similarly, interactive content, no matter where you use it, which kind of content you use, works well. This is because interactive content is engaging and adds value to your customers.
Interactive content generates 2x more conversions than passive content does. Customers are more eager to give out personal information when using interactive content. Thus, leading to lead generation.
How Does Interactive Content Help Generate Leads?
Interactive content is more effective in generating leads than static content. Here's why.
1. Engagement
Over 75% of marketers believe that interactive content grabs the attention of website visitors. In an era of such a short attention span, interactive content sure can catch your eye. It engages you and gets you involved. It consists of activities like answering questions, making choices, and giving preferences that make it all the more interesting. This encourages users to share information more readily.
2. Value-Based
Interactive content has something to give in return. It educates the customer and gives them the information they need. For example, a Savings Goal Calculator could be used by a bank to help its clients. Whether companies or individuals, they can use this calculator to find out how much they should save in a month to achieve their annual goals.
3. Easy Data Collection
There are various interactive content tools that allow you to create the same. These tools also allow you to analyze the data and draw conclusions from it. Interactive content facilitates an easy way to collect this data and use it to your benefit. For instance, if you create a makeup product recommendation quiz, you can collect the user's information like the skin type, the complexion of your skin and allergies (if they have any). All of this information can then be used to send more targeted offers.
4. Educates The Audience
Interactive content is also a great way to educate your audience without long-form posts and blogs. You can use calculators and quizzes to educate them about your brand much more. This improves their experience and increases the likeliness of them giving out lead information through the interactive content piece.
Calculators, Quizzes, And Much More
Here are some amazing content types that you can use for your lead generation process:
1. Calculators
Interactive calculators are an efficient and cost-effective way of gathering information. They help users to solve complicated questions in a simple way. They add value to your leads in exchange for contact information. For example, you are a construction company. You can develop construction quotes for offices, houses, etc. to help your prospective customers. They will get an idea of their potential cost before dealing with you. Moreover, you will also be able to segment your leads based on the information you get. You can build calculators to calculate mortgage payments, meeting costs, employee productivity, etc.
Have a look at the ROI calculator used by CIENCE. Companies could input their details and get an idea of their return even before they decided to engage with CIENCE. This is an indicator of confidence that develops loyalty within prospective customer companies.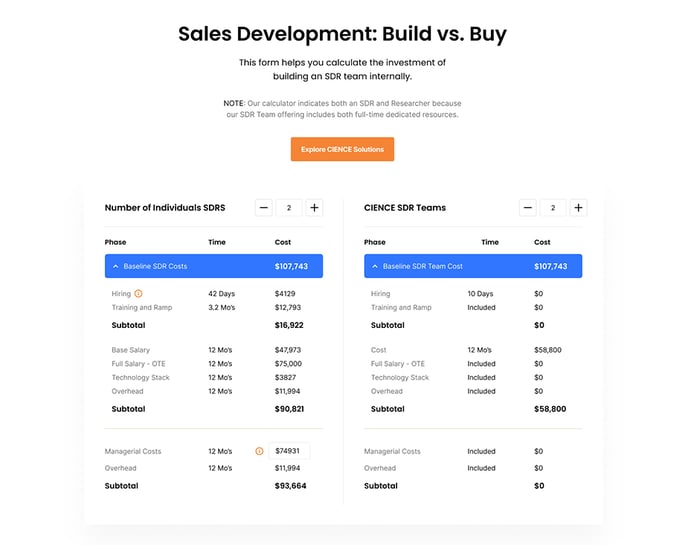 2. Outcome Quizzes
Don't you want to know what kind of pasta you are? Or which 90s rock song goes with your personality? Well yeah, quizzes are fun for sure. But they're also a great way to generate tonnes of leads to boost your business. A marketing company can use a quiz like, 'Which Marketing Tool Is Perfect For You?' in order to educate their customers better. They can target different companies with different plans based on their preferences and choices.
Here's a quiz used by Staples, the popular office supplies company. They used a quiz for 'How Strong Is Your Brand?' They use the quiz to ask companies questions about their understanding of their own brand. They can curate their pitches for these companies accordingly. They can also engage in other co-marketing ventures. Moreover, based on results, the company can also target customers with specific products and increase their sales. This improves brand recognition as well.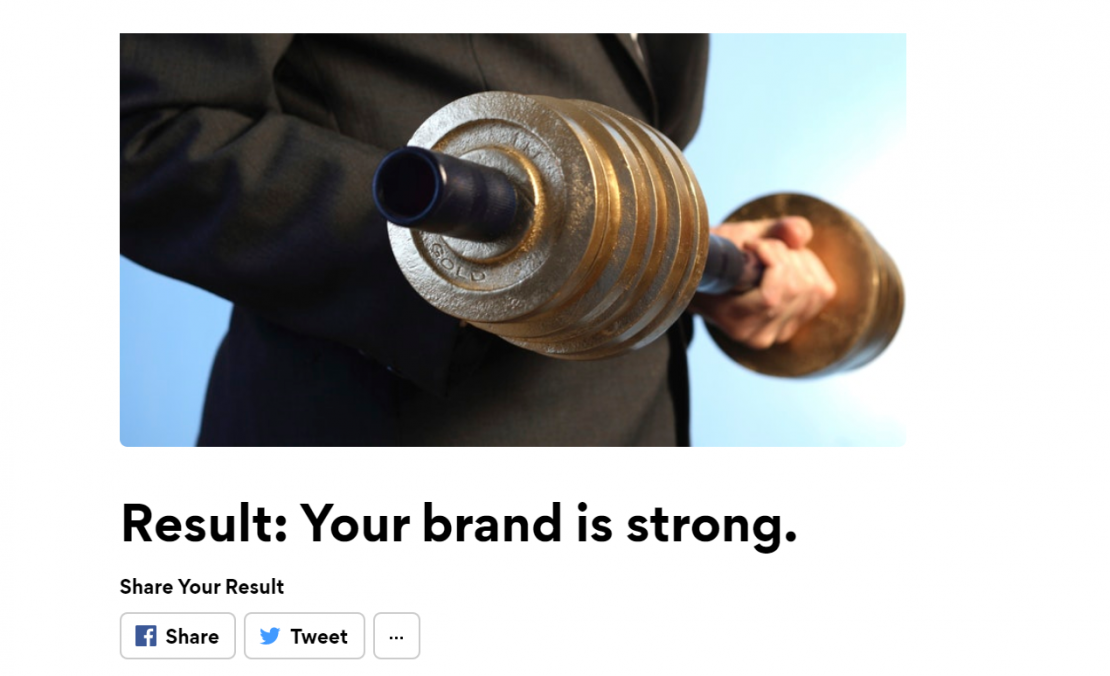 3. Assessments
Nobody likes tests and exams, true. But interactive assessments aren't your everyday basics. They're a great interactive content type that provides scores on the basis of how you answer questions. They're a fun way of educating your leads and customers. With assessments, users have the fun of knowing where they stand vis-a-vis other users. This directly increases the social proof of your interactive assessment.
In fact, there are various industries that can use assessments to get an idea of what their prospective customers know and what they can offer them. Companies can use online assessment for qualifying their clients. For example, an assessment titled 'How Much Do You Know About Our Software?' is a great way for companies to pursue the right B2B clients. Or a marketing company could also use an assessment to check if you're a Facebook Marketing Expert! You don't only gather leads from these assessments but can also make them various offers depending upon their results.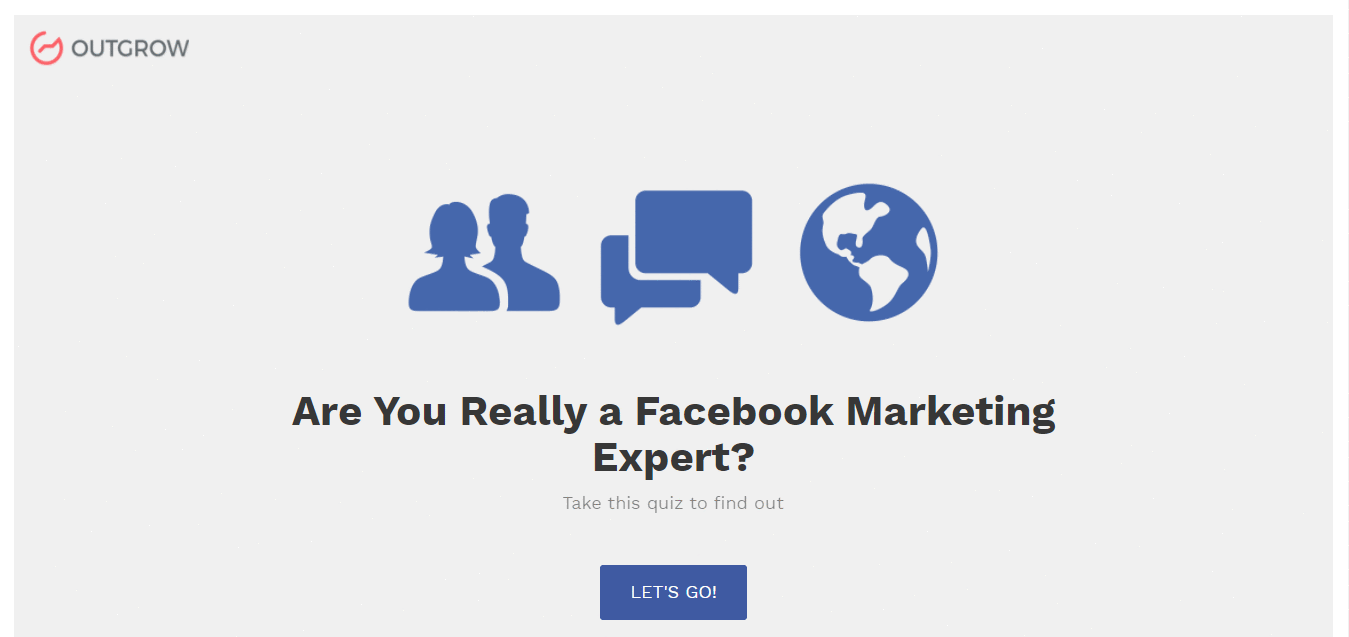 4. Surveys And Polls
Surveys are one of the most cost-efficient ways of generating leads. People love offering their opinions and giving feedback. And surveys are a great type of content for gathering a lot of data in very little time and with very little effort. They receive a huge amount of social engagement. And moreover, they are great for capturing lead information. Polls, similar to surveys, work in the same way. Polls are more helpful when one is trying to gather information on a single point.
The best thing about surveys and polls is their universality. They can be used in any industry, any company. Companies can also use surveys for 'Target Market Analysis' to understand their customers better. Businesses are about people and feedback is the last, but the most important part. Polls can also be used by retail industries to get to know their consumers' choices and preferences in order to customize their own products.
5. Giveaways And Contests
Who knew getting gifts was so easy? Well, when marketers came up with the concept of giveaways and contests, they definitely did. Big names and brands have used the technique of the giveaway and contest to generate leads, promote brands, increase loyalty and engagement. This interactive content is a great way of getting your customers to know you and also generate trust towards your product. It is a quick and effective way of recovering from low sales and low activity periods. Here's an example of a contest that was hosted by Hootsuite a while back.
Hootsuite is a popular social media management platform provider. They ran a photo content for their clients called "I Work From Here". Users had to download the Hootsuite app and share an image of where and how they worked with the audience. The contest was able to generate a huge number of leads for Hootsuite. Moreover, they were also able to add a personal factor to their client stories. There are additionally multiple hootsuite alternatives available to perform similar tasks with a different or same approach.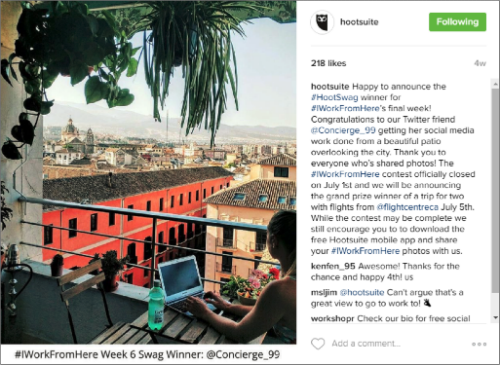 Conclusion
These were some great interactive content types that you can use to generate leads for your business and give it a boost. These experiences are fun for customers and useful for you at the same time. They save you money, they save you time. Can you think of a better combination? Well, except for interactive content and lead generation.
A Few (Related) Sales Posts
Your source for sales information