10 Best Cold Email Templates for B2B Sales Prospecting
Creating a cold email template is a technique that most marketers try to master. A good cold email needs to include a subject line that piques the prospect's interest, a length that makes sense, and a call to action (CTA) that could lead the reader further down the sales funnel.
According to Cognism, 85% of decision-makers will respond to cold outreach. This means that reaching out to cold leads through email marketing can bring about a lot more revenue down the line.
But achieving this level of success requires a thorough understanding of what components make up the perfect B2B cold email template, including knowing your audience, understanding your value proposition, adding personalization, and more.
In this article, we will delve into these elements with examples to help you master the art of crafting a successful cold email template.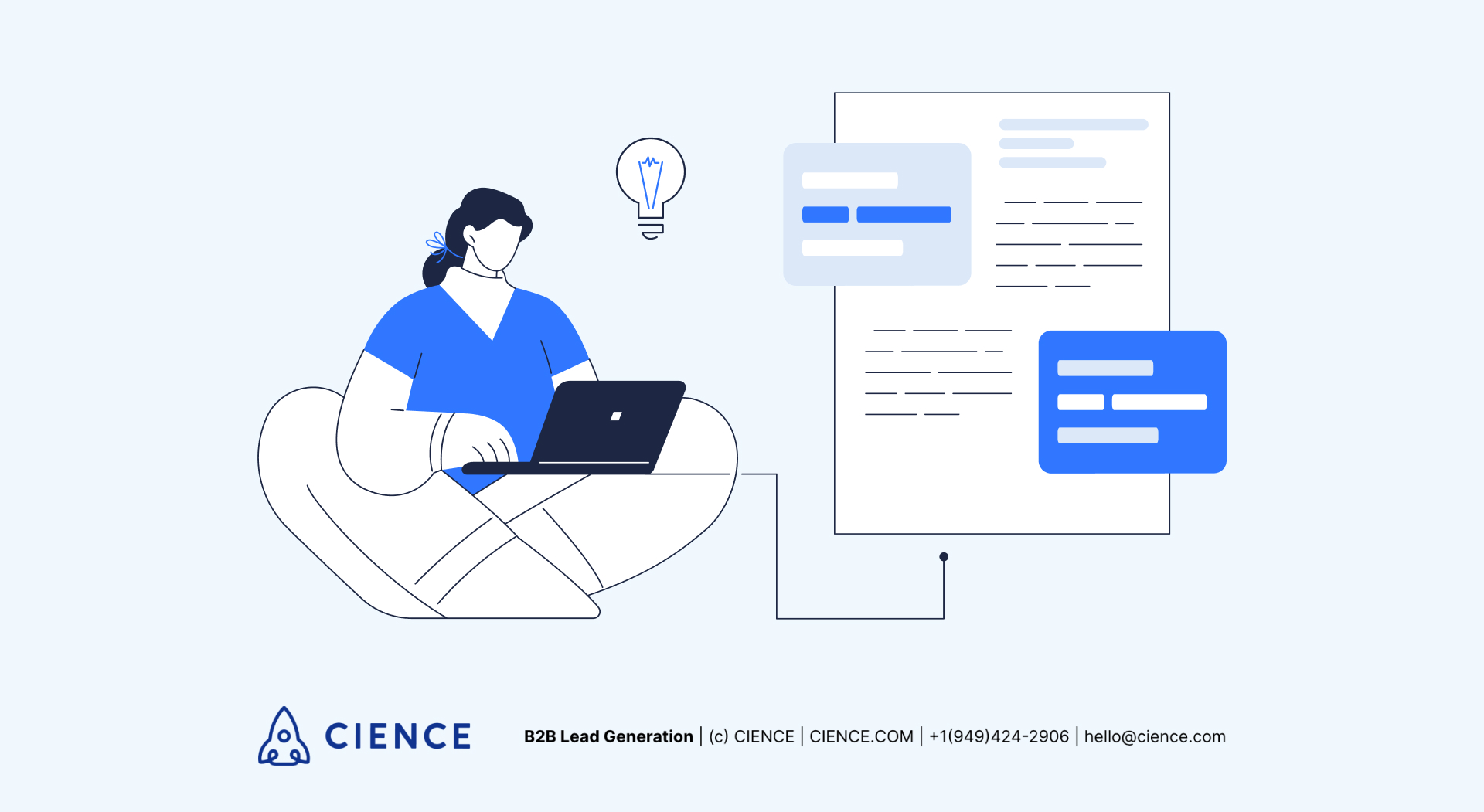 10 Best Cold Email Templates for 2023
When it comes to B2B cold emailing, the subject line is your first course of action in grabbing the recipient's attention and encouraging them to open the email. In fact, 47% of recipients decide whether to open an email based on the subject line alone.
However, it's important to note that a compelling subject line alone isn't enough to convert a B2B lead into a paying customer—that's where you'll need to dazzle them with your best cold email and encourage them to take action.
Let's take a look at ten of the most effective cold email templates for B2B sales prospecting to make those conversions happen.
1. Use automation for your cold email campaign

s.
Creating cold outreach emails and sending them individually to each B2B decision-maker can be time-consuming and create unnecessary friction. And let's not forget the human error component.
To create meaningful cold B2B email marketing campaigns, you'll need an AI platform that can detect human behavior on your website and save you time and resources by allowing you to create fully customized cold B2B email templates.
Since B2B marketers are not AI machines and there are many details that can fall through the cracks, it would be in your best interest to invest in an email marketing automation platform that can carry all the features you'll need.
To pick out the type of lead generation software that meets your needs, think of some basics. The best bulk email service providers carry tools that boost personalization, segmentation, and can target users by analyzing their behavior on your website.
So, let's assume that a user has checked out a free demo of your B2B SaaS product. You can entice them with a template like the following:
This template allows you to hyper-personalize your marketing message and attract high-quality leads by simply mentioning a real user action on your website. This shows a brand that spends time analyzing user behavior and understanding what makes its prospects tick, which will boost your open rates.
2. Create a unique offer.
Why would your B2B cold email be a hit among the decision-makers and leads that you need to entice if not due to its unique offer?
Cold prospecting email templates must grab the user's attention immediately and give the reader a reason to reply. Give your prospects a reason to respond, and a simple call to action. The best way to do this is to keep your message focused on why you are reaching out and what you are offering.
Mentioning your past success with another client they've heard of makes this offer seem more realistic and attainable. Include relevant numbers and statistics to make your offer even more exciting.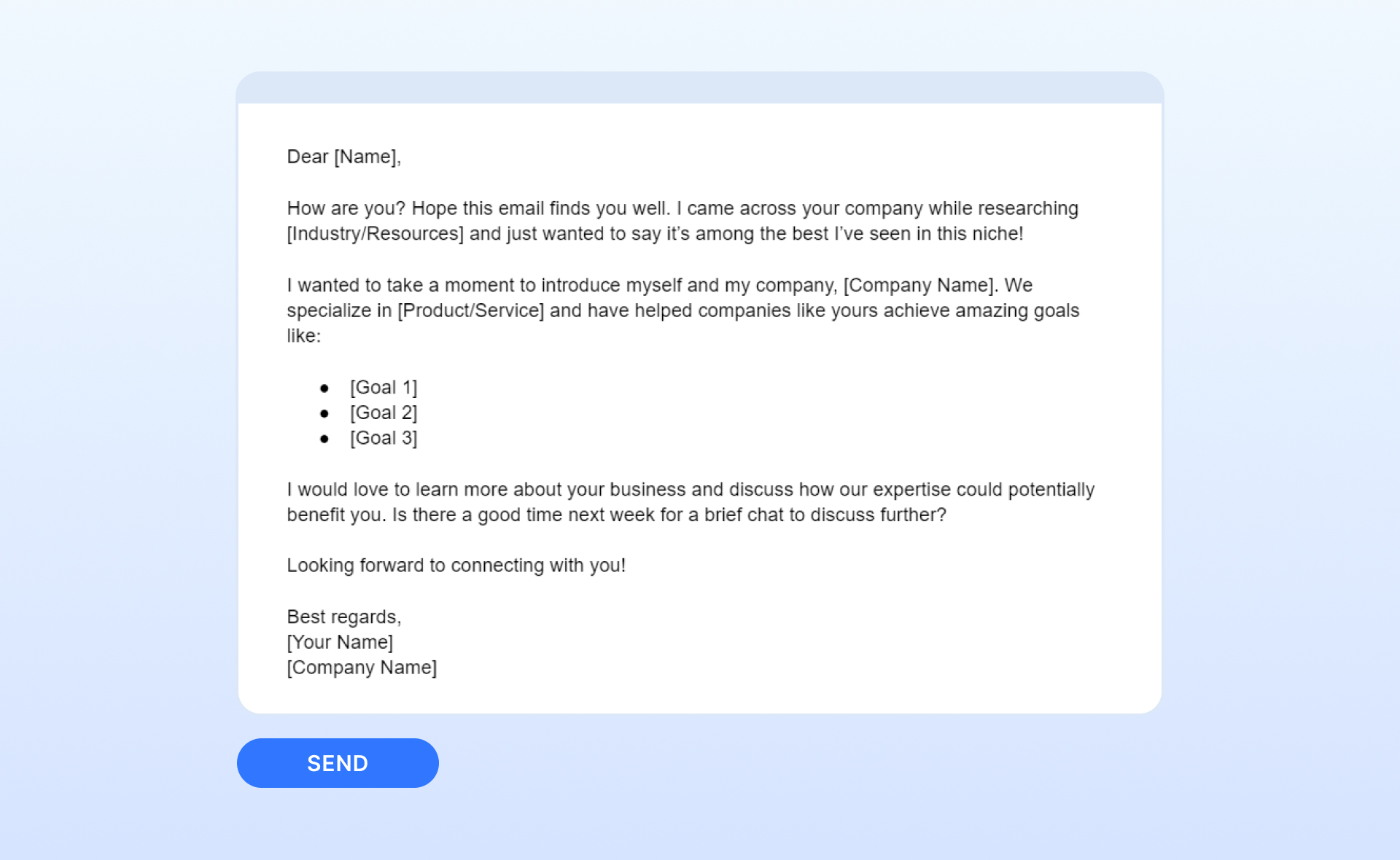 Notice how this B2B cold email example reads as if the users know each other, or they've met at some point in the past, and the sender is interested in chatting with them and not selling them anything. Talk about a mutual connection.
This is the type of copy you need—not too formal, not too many clichés, just content that makes sense and provides a solution.
Make sure to be clear and concise when mentioning the goals you're going to help the recipient with. This, of course, means that you need to understand the segment you're contacting and look into your sales data before addressing any pain points and goals.
Your buyer persona will help you understand the type of solution you need to provide. Before sending the message, read it one last time to ensure there are no mistakes, and that your cold email template is, in fact, not cold at all.
4. Don't forget to use a compliment.
This type of cold email strategy may seem like the human approach, but they're different in one key aspect: Using a compliment gives you an additional opportunity to show how much you understand the business of your lead, not to mention that it showcases how knowledgeable you are about their industry. Check out how this cold email example works: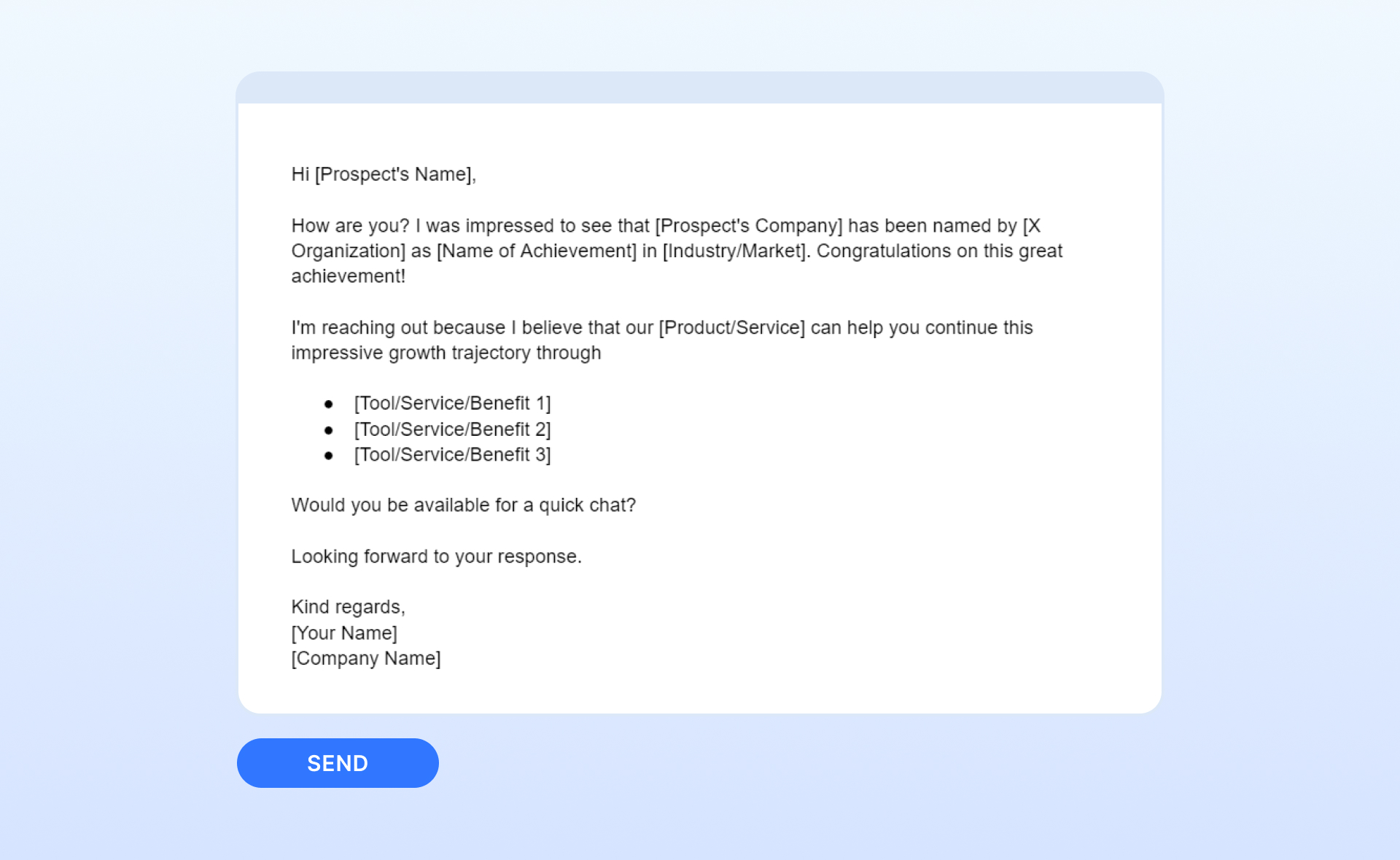 Offering a small compliment about the importance of their efforts can establish a more human-to-human connection between you and the recipient. After all, who doesn't want to receive praise for their accomplishments?
That's how you connect. A heartfelt compliment shows that you've done your research and that you appreciate the brand and its achievements. This can help you build a positive relationship and, eventually, rapport with the prospect.
Of course, your B2B cold email template shouldn't use compliments as a manipulation tactic. These should be genuine and specific to your recipient. Instead of using it as a lead capture tactic, take your time to do your research.
If, for example, you're trying to capture a lead with an innovative digital marketing eye, and this lead has been named "Digital Marketing Expert of the Year" for a second time, mention that. Don't drop a generic compliment. Show that you made some effort instead.
5. Use your competitors as leverage.
This is one of the most ambitious email tactics, but it's also one of the best cold email examples if you do it correctly. Mentioning a competitor in a cold email template can be a highly effective move, as many B2B companies don't realize there are limitations to the tools they use.
This is how you can contact your prospect and highlight your products and benefits using this cold sales email example: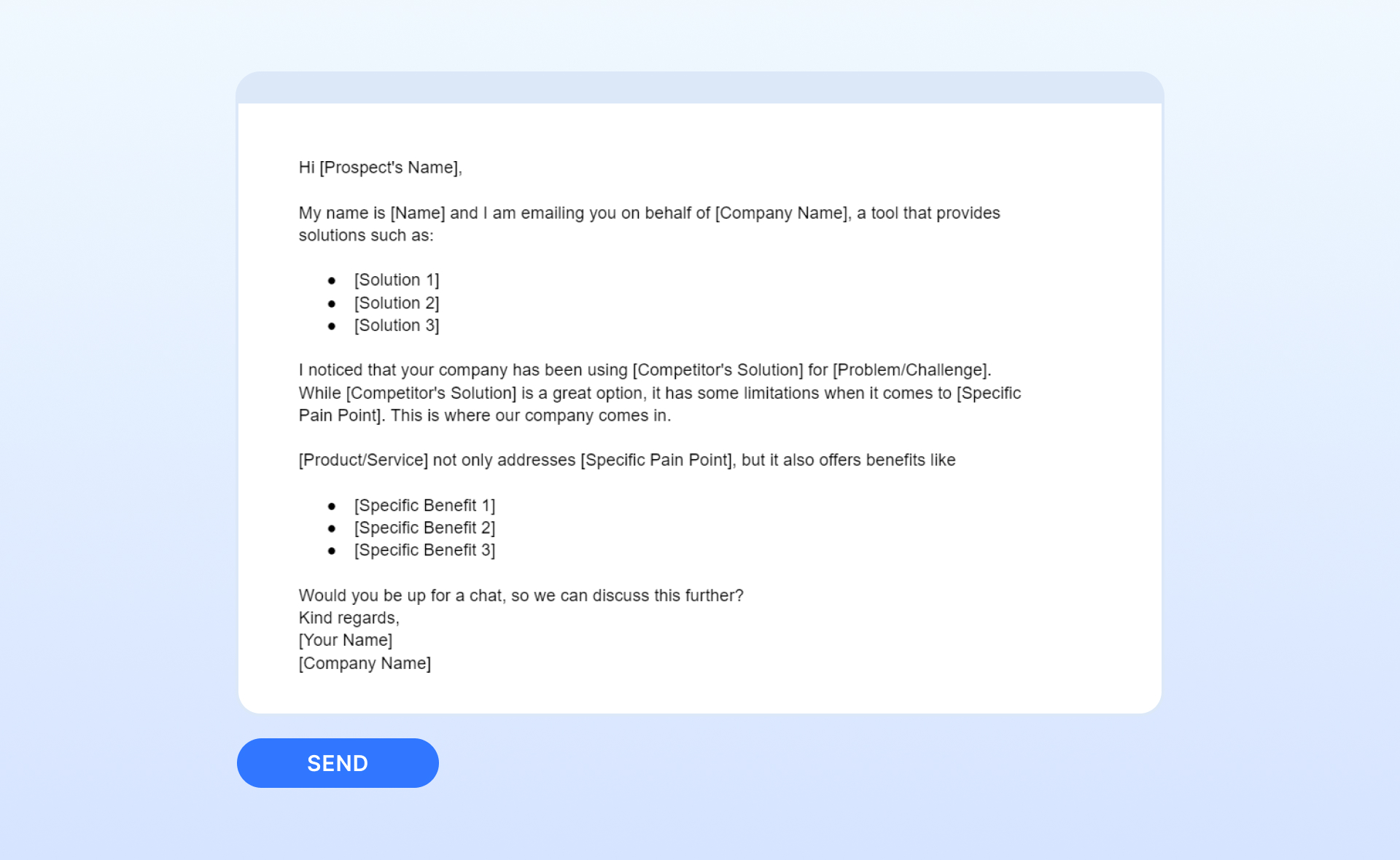 Notice how the competitor's solution is mentioned? When using a competitor's tool to promote yours in a cold sales email template, you'll need to be as respectful as possible. Avoid pinpointing your solution as the best in the market, and use objective language.
Being objective is one of the best email tactics when you're writing a sales email template that B2B leads will love. After all, we all know how sales and lead prospecting work, and we're forever looking for tools that are more efficient and comprehensive.
Just make sure you don't talk up competitors too much nor make their tools seem like the worst products out there either, especially if your product's capabilities are, indeed, better.
6. Ask the right questions.
A B2B cold email doesn't need to look cold. You just need to ask the right questions and score a lot of small "Yes" responses before the lead reaches the CTA.
Asking a question that is relevant when creating the cold email outreach template you're going to use is a great way to engage the prospect and encourage them to respond to your email.
Like this: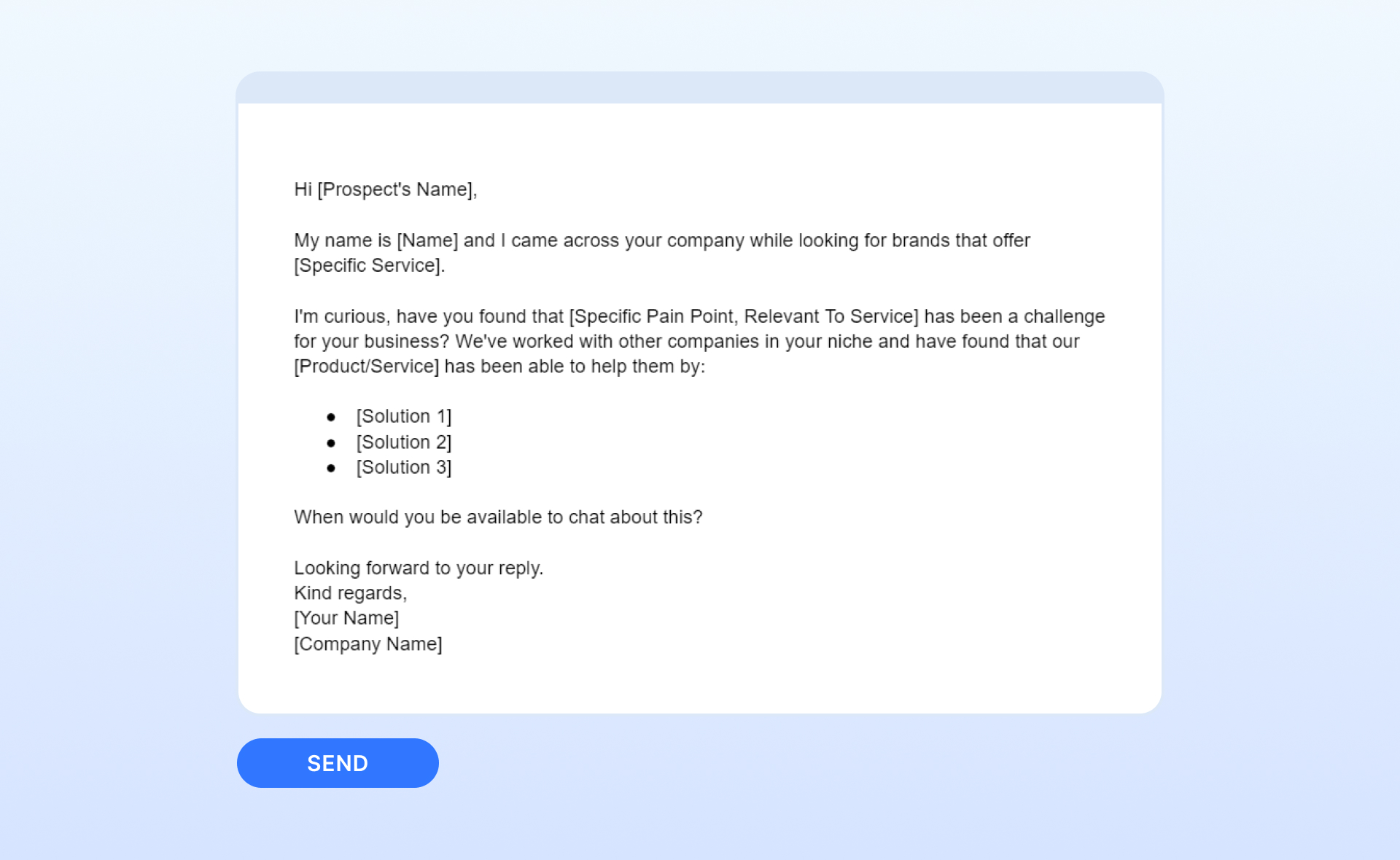 As you can see, the question presented in this B2B cold email template is relevant and specific to the prospect and their position in the company you're reaching out to. Don't be too generic—general questions could be meant for all the leads you're targeting, but it won't help you business-wise. Instead, focus on a specific pain point.
Relevant questions and targeted follow-up emails can help you engage with your prospects and boost your response rate by showcasing your professional status. Understanding their business and their individual needs is something that can go a long way.
Your question should be backed up by objective statements about your business development and how you can help their brand grow just by using your product or service. Show them the challenge and then offer a solution so you can strengthen your cold email outreach campaign.
7. Utilize product demos for your template.
The product demo could be viewed as the first small goal after you send your B2B cold email. It's a fantastic way to showcase your solution in action and provide tangible answers to the recipient's questions.
However, a product demo cold email in a B2B setting can be seen as an approach that is too salesy. This is why your business should send out this email after a prospect has already shown interest in your demo: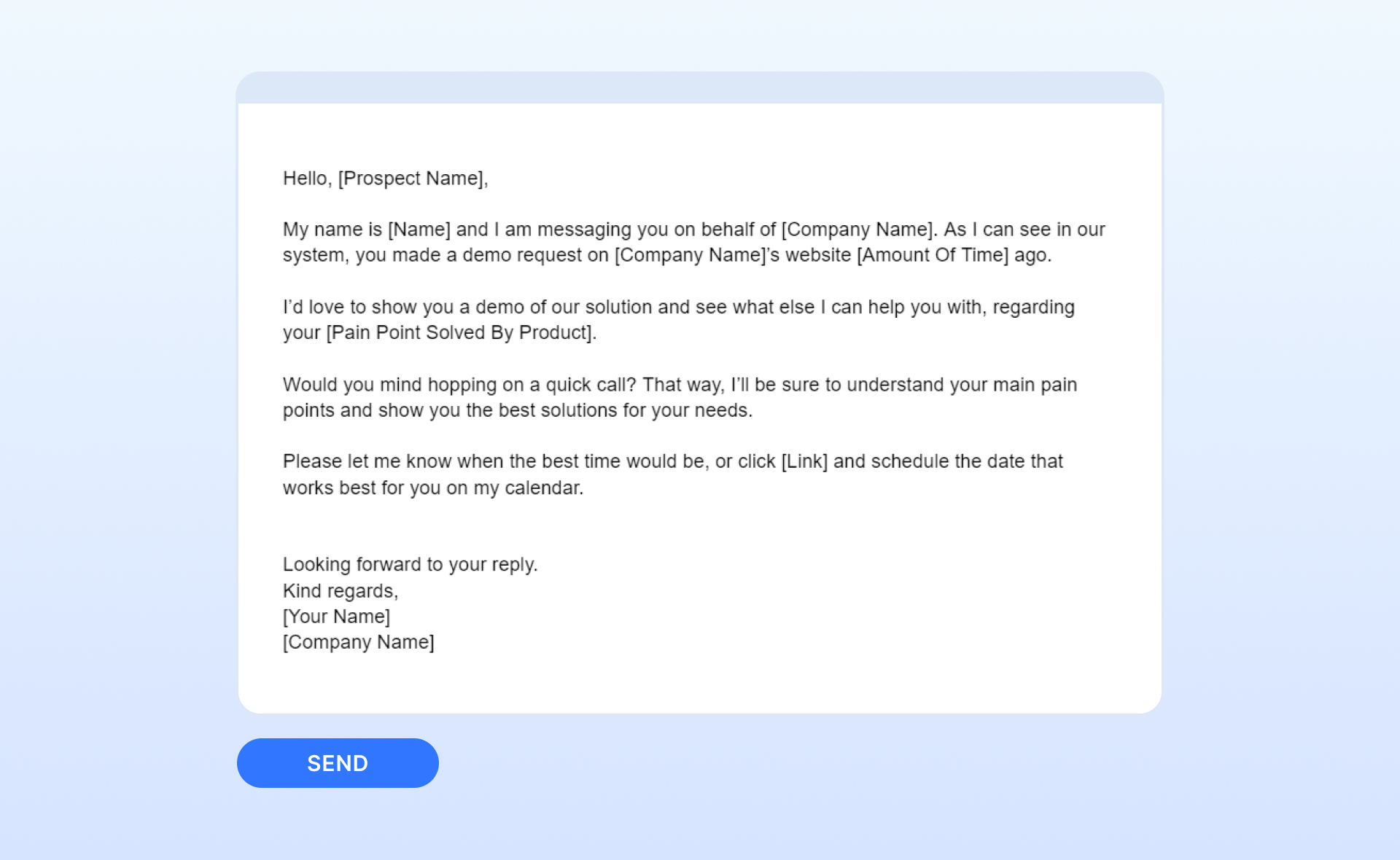 It's simple, inviting, and offers the best solutions to a problem right away. This cold outreach email template is considered a "triggered email." It uses a specific action to your website that will be met with a response.
Doing so will help you grab attention and showcase your willingness to understand the business needs of the recipient while being personal and personalized.
The email template above ends with a specific and clear CTA that prompts the user to either respond or book a call with the sender, offers to discuss the matter further, and provides the interested party with the resources that are just right for their goal.
8. Offer a free resource.
A free resource can be a fantastic way to entice leads with your B2B sales email template. Free resources are an enticing icebreaker and can generate interest in your product or service by providing extra value to the recipient.
Of course, as with all cold prospecting email templates, ensuring that your email is not salesy and that the resource is indeed valuable and relevant to your target audience is essential. Here's how to do it: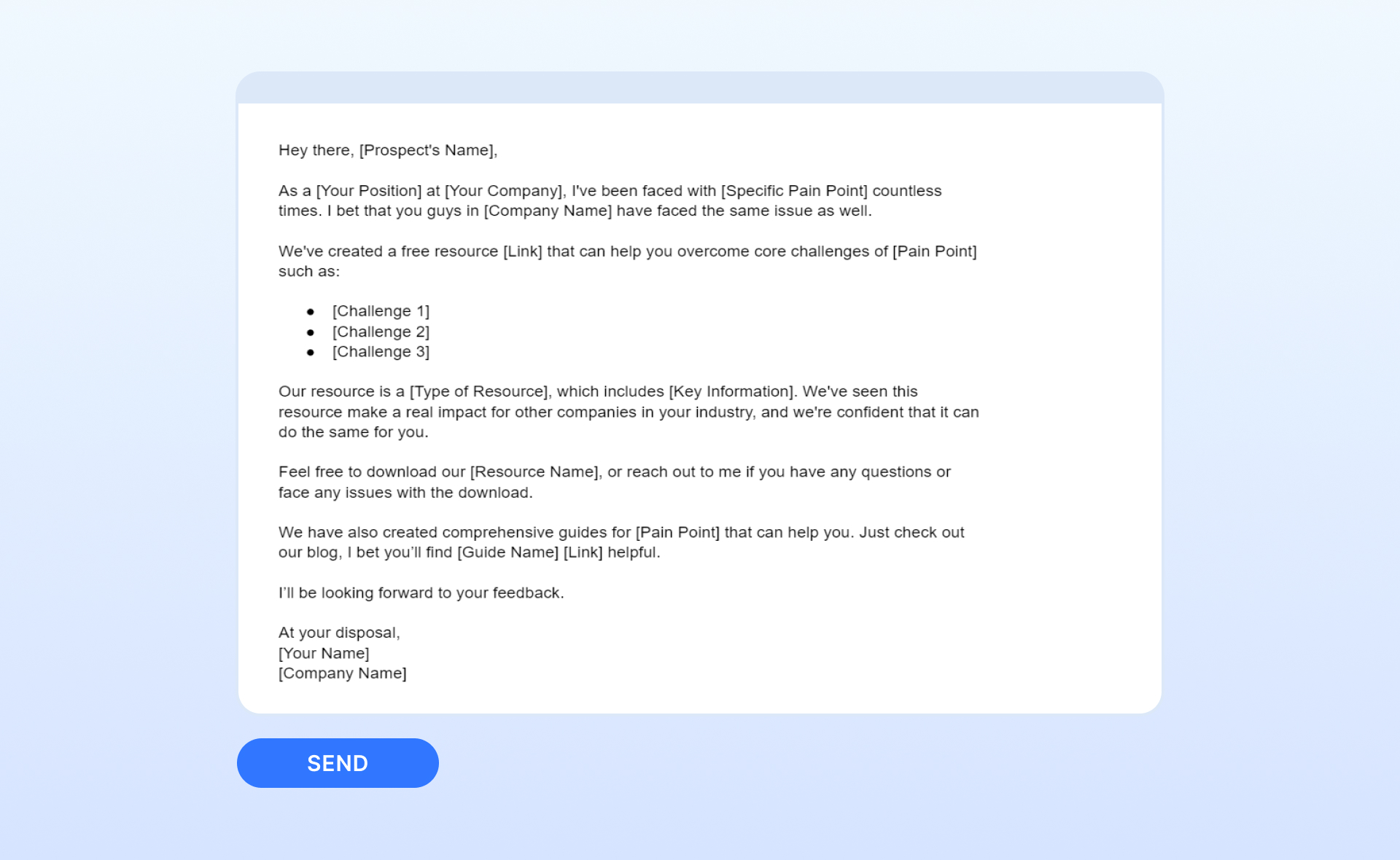 This is among the best B2B cold email templates because it promotes a free resource by having the sender place themselves in the recipient's position.
Another way to achieve this is to have someone in the same position to conduct outreach. For example, a customer support manager will understand the customer support team's pain points. This will make it easier for the resource to be spot-on and helpful.
If you're unsure about the right person to reach out to, you can start by engaging in some LinkedIn prospecting. Find the decision-maker you'd like to speak to and create the B2B cold email template that will establish credibility and help you hook the lead.
Your second step is to showcase your free resource and help the reader understand how this solves a specific problem in their niche. And since a little empathy can work wonders, show how your position—which is ideally similar to theirs—gave you all the necessary knowledge to create the resource.
Don't forget to highlight the problems this guide or blog post can help them overcome and provide a comprehensive CTA that will boost communication and brand engagement. In our example, the sender urges the reader to send some feedback on the resource.
This increases the likelihood of getting a reply to your email and starting a conversation that will ultimately help you build rapport.
9. Leverage social proof.
The best cold prospecting email templates use social proof. It's an effective way to build credibility within your B2B cold email and boost trust in your business by showcasing your success as something tangible.
In other words, social proof makes your product or service worth considering as seen in this template: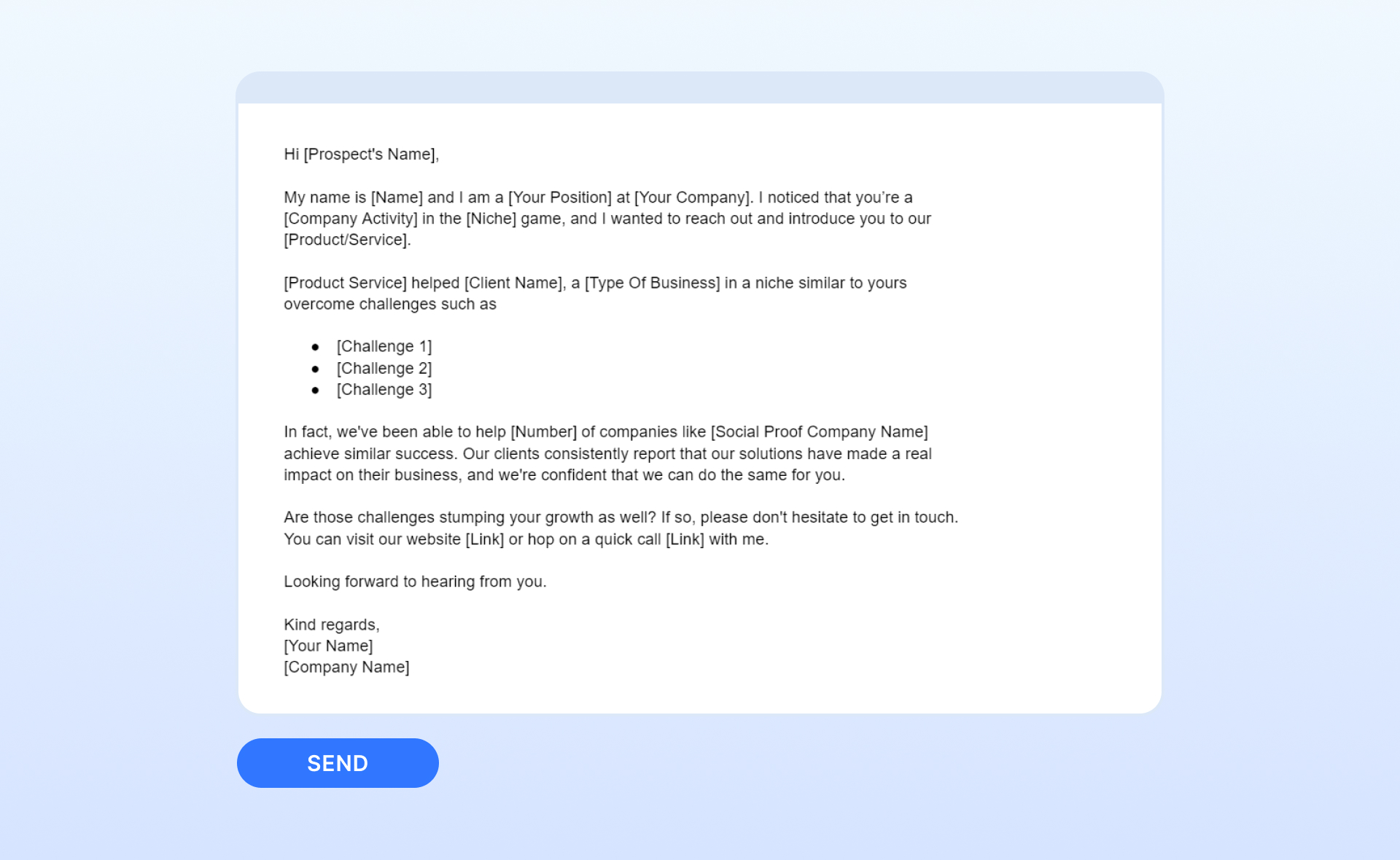 Starting with a small introduction and how your brand and your position relate to the problem at hand is essential. This will help the reader understand how you relate to the issue at hand and what your brand or company can provide. It establishes trust and can boost credibility.
Providing names of customers and their old pain points as examples can help you boost your efforts. You can include social proof in the form of case studies, a landing page with customer testimonials, or even convert your social media traffic to great testimonials by incorporating a net promoter score (NPS) form on your social media posts.
Again, highlighting the pain points your product or service solves is essential, and a clear CTA that encourages the recipient to take further action can make a huge difference.
Using social proof in a B2B cold email showcases a successful track record and shows how other clients have solved their business problems using your product or service. This increases the likelihood of generating new interested leads and boosting your bottom line in the long run.
10. Don't forget the AIDA method.
The AIDA method stands for: Attention Interest Desire Action. This method is widely used when it comes to marketing and sales messages, including your cold sales email template. The AIDA method is the most complete tool and can help you structure a sales email template so B2B leads will react to it. It can look like this:
This is an example of a B2B cold email template written using the AIDA method: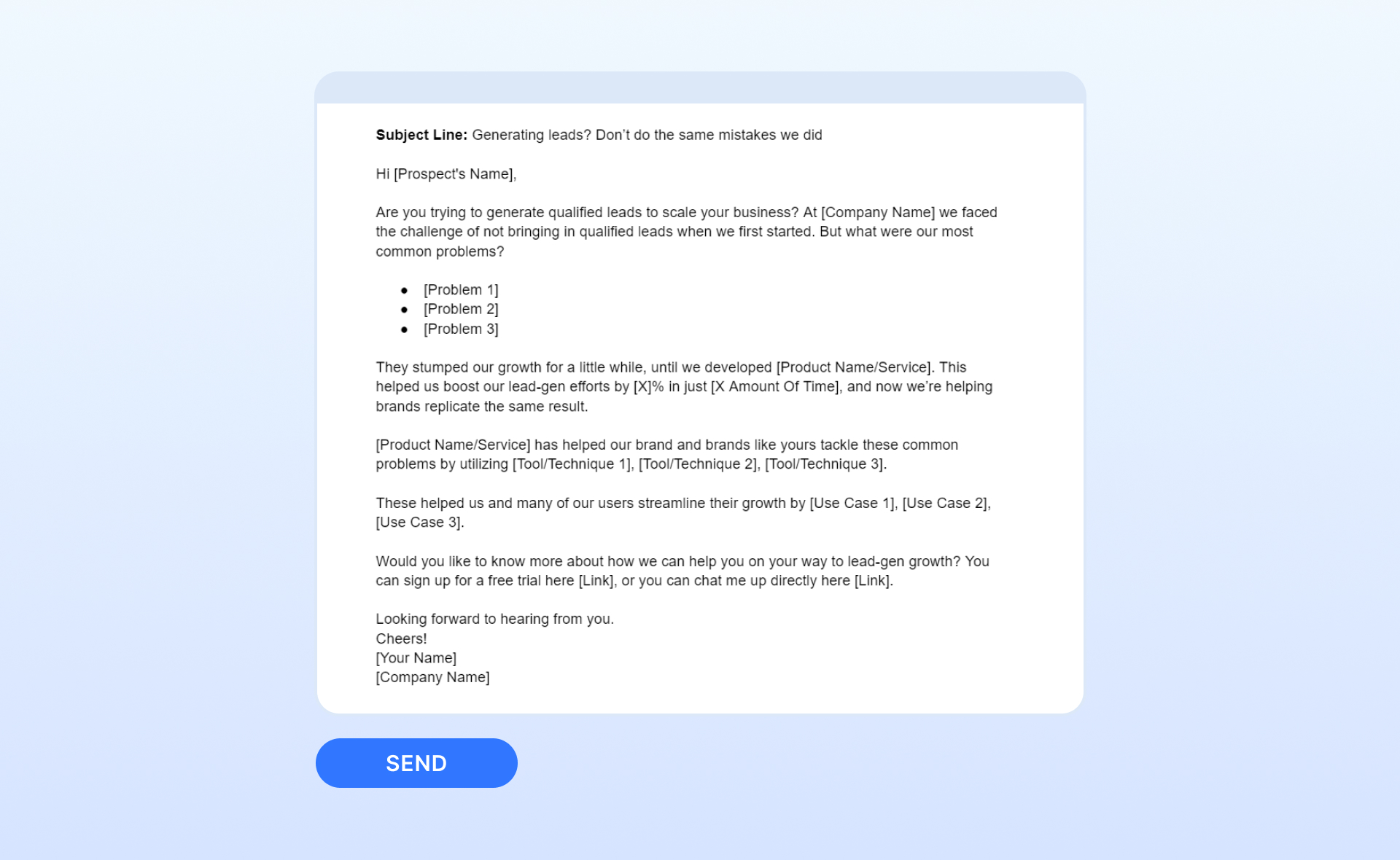 The subject line attracts attention by showcasing a real issue. Generating and capturing valuable leads that will build a healthy list, not falling into spam traps, and not wasting time and resources on non-qualified prospects can be a lengthy process that stumps business growth.
The body copy generates interest. What was the issue described in the subject line? What is more, how did the company solve it? Is the problem the same as the one the recipient is facing? By providing more information on these questions, you can hook the reader and make them think of their own issue.
The desire part comes next. "I want this product because it will help me solve the problem my brand is facing." Get your prospect's interest by showing real value. How did you solve the problem? What were the tools you utilized? Finally, how did this work out for you or your already-established clientele?
Finally, close off the email with the action part. Provide a CTA that will be clear and will feel like a natural continuation of your email's content. Invite them to access a free trial, or book a call with you.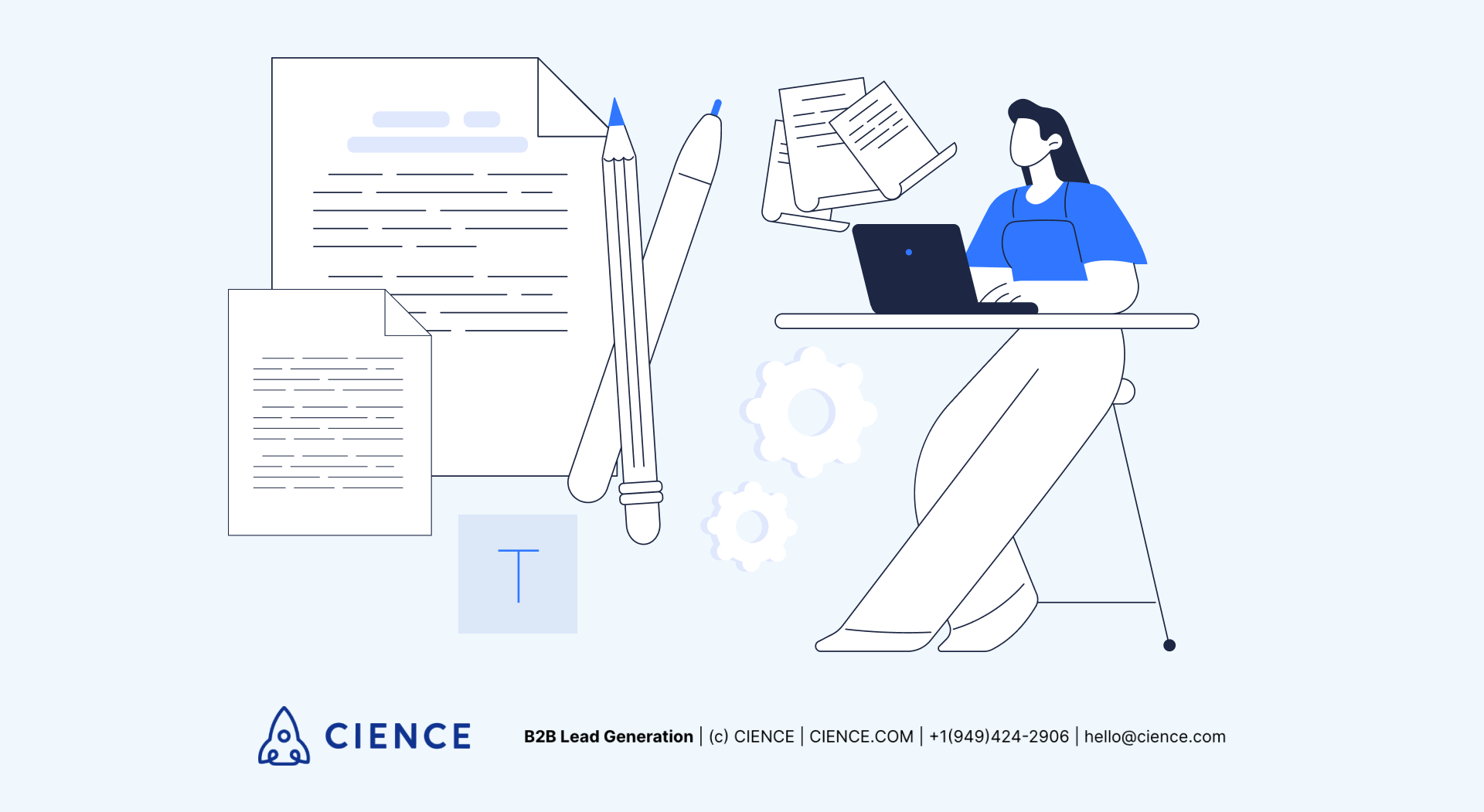 Boost Conversions with Your Best Cold Email Template
A B2B cold email template could be your golden ticket to generating good leads that will benefit your business down the line.
However, don't overdo it. When you send a B2B cold email, you need to personalize, optimize, test, and always send out a follow-up email. Sometimes things fall through the cracks, and you could be missing out on opportunities by not reaching out to the non-responders of your cold email template.
Your product or service could be amazing, and your cold sales email template could be just right, but always keep it simple. Complicated emails complicate the decision-making process. Stick to your main idea, add value, and tackle problems to boost your B2B cold email efforts.
A Few (Related) Sales Posts
Your source for sales information