The Ultimate Cold Calling Guide: Proven Tips & Techniques
If you've worked in marketing or sales over the past decade, then you've likely heard someone say: "Cold calling is dead." Yet, it's still one of the most viable options out there. According to a RAIN Group report, cold calling is very much alive among C-level and VP buyers who prefer this form of outreach as their first point of contact.
Cold calls are a crucial part of B2B sales, as it allows sales development representatives (SDRs) to quickly reach out to potential customers, qualify leads, and present their products and services in a meaningful way.
In this guide, we'll provide you with the essential cold calling tips and techniques to make the most of your cold calls. With the right approach, you'll be able to develop those key relationships and turn them into sales.
What Is Cold Calling in Sales?
In B2B outbound marketing, cold calling is a prospecting technique used to start business conversations with decision-makers over the phone. The goal is to raise awareness and ultimately set up appointments with potential buyers.
In the past, the main purpose of cold calls was closing deals. Today, the cold calling meaning in sales has evolved due to technology, channels of communication, supporting processes, and different goals.
Now, with longer sales cycles and more decision-makers in a single purchase, cold calls are used to identify qualified prospects and start conversations at the very top of the sales funnel.
The Importance of Cold Calling in Sales
Cold calling is a key component of B2B sales, allowing sales teams to proactively reach out to potential prospects and build long-lasting relationships.
Cold calls provide an opportunity to demonstrate the value of your product or service, understand your customer needs and challenges, build your customer base, and gain valuable market intelligence.
The key goals of modern B2B cold calling in sales include:
Collecting sales intel and market feedback
Qualifying leads
Increasing brand awareness about the company
Generating value for potential customers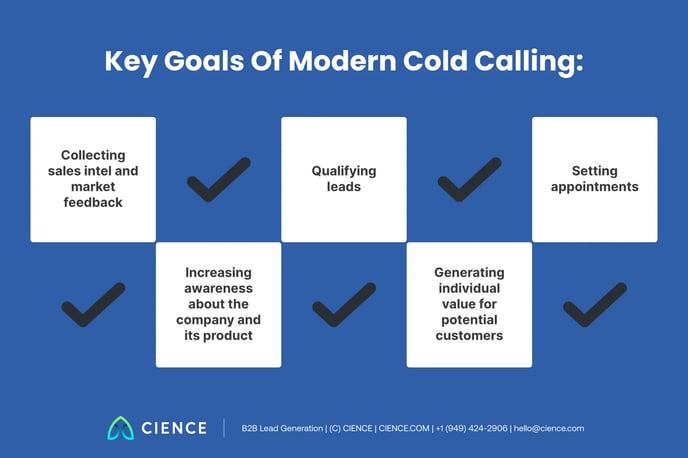 Cold calling techniques set the stage for further communication and serve as a good starting point to qualify prospects and set the tone.
Building Your Cold Calling Strategy
To create a cold calling strategy, you'll first need to start with an orchestrated outbound marketing plan in these steps:
Perform market research and client analysis.
Define your ideal customer profile (ICP) and

the

buyer persona (BP). These are the companies

best fit for your services and

the key attributes of the decision-makers.
Outline your unique value proposition based on your product and potential customer base.
Set a budget, time frames, goals, and KPIs.
Choose the channels you'll be using for outreach.
Outline the prospecting sequence.
Hire and train SDRs to perform cold calls and outreach.
Create personalized content (e.g., cold calls, emails, and social media).
Obtain a list of contacts that match the ICP.
Initiate the multichannel outreach.
Analyze the results and introduce changes to the process.
Keeping your call strategy compliant.
Cold Calling Scripts: Benefits and Tips
With a cold calling strategy in place, you'll next want to craft cold calling scripts to reach your target audience. These scripts should be designed to provide structure and guidance to the SDR while giving the potential customer a consistent experience. Cold calling scripts can help to:
1. Build a foundation for outreach
By using a cold calling script, sales teams can ensure they cover all the important points during their conversations to build a strong foundation for further outreach.
2. Give SDRs confidence
Cold calling scripts provide SDR callers with a clear and organized structure that helps them feel more confident and prepared when making calls.

3. Improve the customer experience
Cold calls provide SDRs with a conversation point and opportunities to build a better rapport with a potential client.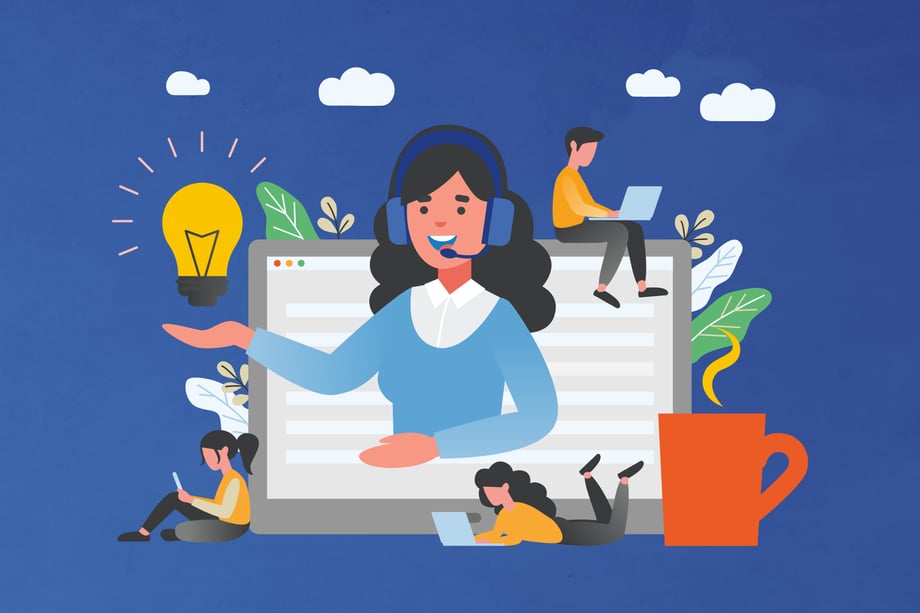 4. Apply logic
Cold calling scripts provide a logical structure for the conversation, allowing the SDR to speak confidently and efficiently. It also gives logic to different scenarios to yield more successful results.
5. Encourage active listening
Cold calling scripts encourage more listening and guidance for conversation. This allows sales reps to concentrate on the prospect's needs instead of dominating the call.
6. Achieve higher results.
According to Selling Signals, 82% of buyers agree to meet with sales reps who interact with them through cold calls. With a structured approach to cold calls, SDRs can be more prepared and focused, resulting in higher success rates and increased sales.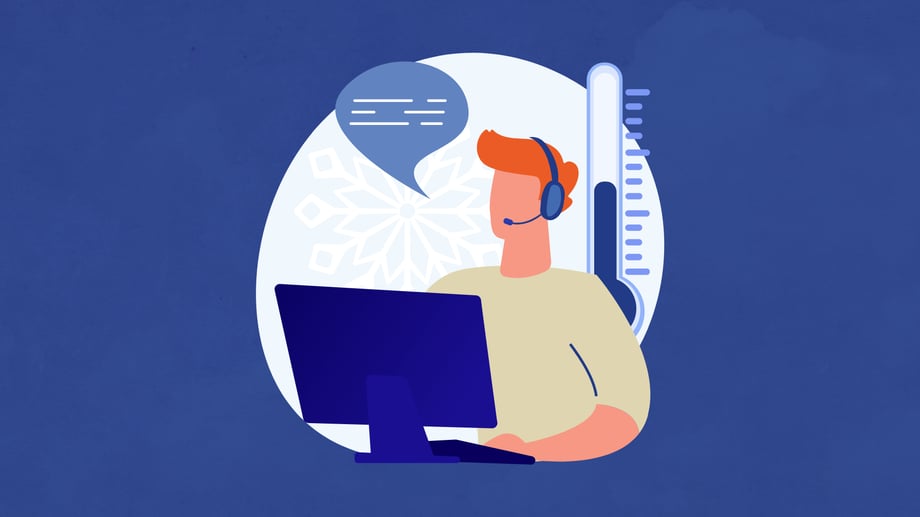 Elements of Cold Calling Scripts
A good sales script can make cold calls easier for reps and increase the efficiency of prospecting—a great outbound script will convert prospects and help teams hit their target goals.
Before you begin cold calling, be sure to define the ultimate purpose of your call (appointment, lead qualification, brand awareness, warming up, collecting sales intel, etc.). Use these elements when crafting your script:
1. Include a solid introduction to build rapport.
A good introduction should be human and helpful. Don't explain what your company does at the very beginning. Introducing yourself is essential. Pause and give the recipient time to recall who you are. You can add this part to your script.

While a copywriter can craft the body of the script, it's up to the individual SDR to build rapport. The best way to do this is to do some research beforehand and praise the prospect or their company for their achievements.

2. Provide a unique value proposition.
You should always offer your value proposition when reaching out, and make sure that it matches the actual buyer's needs. Focus on the one big thing that matters to them the most to create a seller-centric message that resonates with the buyer.
3. Prepare prequalifying questions.
Cold calls can provide important information about a company that your sales team can use. It is also a good way to check if the company is a good fit for your business. Know what prequalifying questions to ask and create an F&Q to guide you through it.

4. Demonstrate high-level value.
The value should be based on the prospect's answers to prequalifying questions. Use examples of the value you've provided to clients and incorporate this into your script to reference when the conversation calls for it.

5. Create a purposeful conclusion with next steps.
When a call nears the end, the worst thing an SDR can do is just hang up the phone. It's important to negotiate the next steps—either an appointment or a follow-up call or email (or both).
In addition, prepare your script with:
Answers to common objections
Content ready for several scenarios in the conversation
Be sure to analyze the script by listening to real prospecting conversations and identifying areas of improvement. Using AI tools for call analysis can reveal hidden insights in a non-biased way. Gong.io, for instance, identifies talk ratios, marks call stages through keywords, detects topics, and more.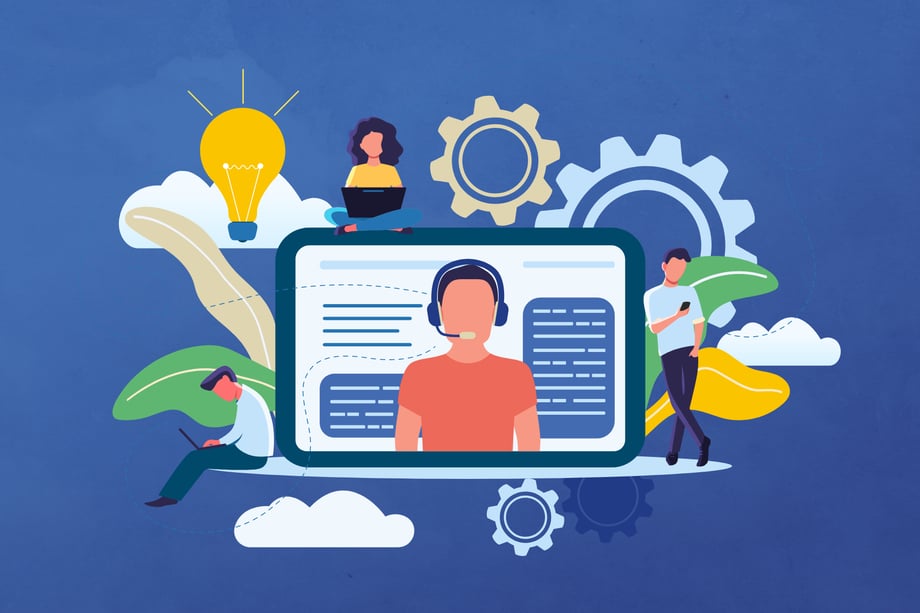 Voicemail scripts
A voicemail message is an essential part of any cold calling script. An SDR who doesn't have one, or hasn't practiced it, is at risk of delivering a very vague message. That's why, to avoid it, make sure that your cold calling script includes a voicemail script with these parts:
Introduction: Your name and company
Value proposition: The "you" message
Call to action: Appointment setting
Contact information: Repeat contact info
Follow-up: Specific plans to reach out again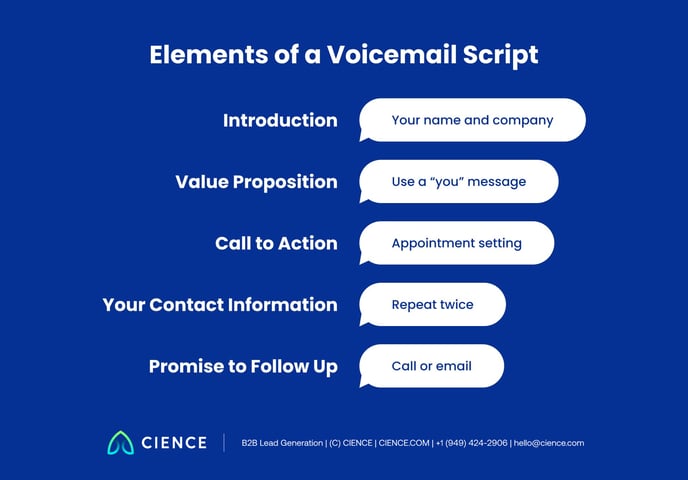 To make your voicemail more impactful, use the following cold calling techniques:
Be concise. Try to make the voicemail in less than twenty seconds and in a slow, calm voice.
Grab the prospect's attention. Use their name and their company. Leverage personalization where you can.
Use short sentences. Keep it simple and fun (when appropriate).
Focus on customer value. Avoid "me" messages and selling your services/products in the voicemail.
Avoid indefinite timeframes. Be precise with your follow-up.
Best Cold Calling: Tips & Techniques
When it comes to actually making cold calls, preparation is crucial. Before making the call, research the person you are calling and the business they represent.
Be sure you have your cold calling script ready, a list of prequalifying questions, tools for handling objections, and your next steps. Follow these "how-to" best tips for each stage of your call to ensure a successful outcome: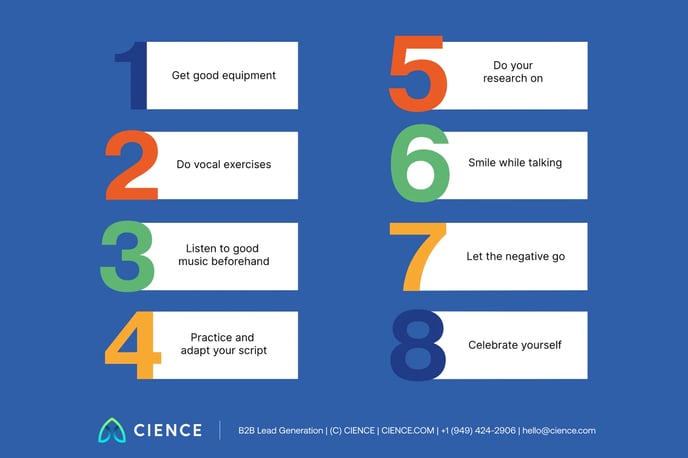 1. How to prepare for a cold call
Once you're ready to reach out, use these five ways to take control of the cold call before the conversation begins:
Keep the cold calling script in front of you. Good scripts provide a structure for a call and help with your execution.

Practice before a call.

Practicing your approach is the best way to boost your cold calling skills.

Do your research.

Spend five minutes browsing the LinkedIn profile and website (news, blog, etc.) to learn more about the prospect and their company.
Remember your value proposition. Remind yourself that you're there to help and deliver value.
Seek advice from other salespeople. Your colleagues can provide the best cold calling techniques and valuable insights on what works.
2. How to create prequalifying questions
There are several methodologies for creating prequalifying questions for cold calling in sales. One of the most popular includes NOTE, a buyer-centric, lead-qualifying method that enables you to learn more about a potential client and find the best fit for your business.
Use this methodology to craft your lead-qualification questions:
Need: Ask the prospect about the current situation and the desired one.
Opportunity: Question the prospect about problems that stand in the way of their goals and ask more about the greatest challenges.
Team: Learn more about the core members that can influence or be influenced by the purchase of your service.
Effect: Generate the value based on the questions above and discuss the expectations of your potential buyer.
3. How to handle sales objections
Rejection is a natural part of cold calling in sales and prospecting in general. And although sometimes "no" means "no," on most occasions, it's just a tactic decision-makers use to avoid talking to a sales rep.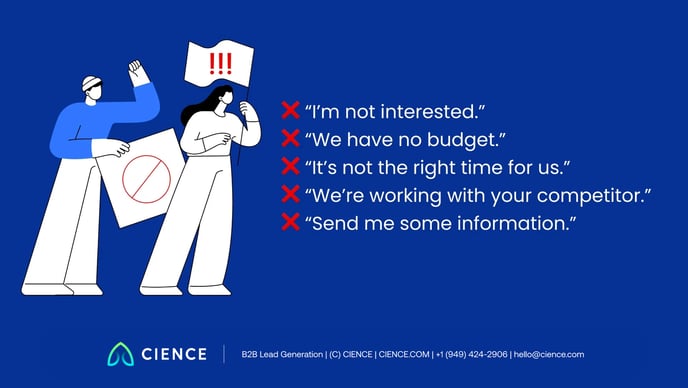 | | |
| --- | --- |
| Objections | Response |
| "I'm not interested." | "Is it because something else is a top priority for you right now, or perhaps you have a solution in place?" |
| "We have no budget." | "At this point in time, it's not about purchasing something. Our experts have studied [company] and your [business process] and want to share a useful insight." |
| "It's not the right time for us." | "It might not be the right time for implementing this solution. But what about planning? We can offer you a fair expert opinion about [process]. And we can share some tips on how you can improve." Or suggest circling back in a month or two. |
| "We're working with your competitor." | Ask several questions about their level of satisfaction and plans. Then offer to have a "second pair of eyes" on the process. |
| "Send me some information." | "Do you want to learn more about [attaining goal 1] or [solving a challenge 1]? Or maybe you want to learn how we can help you [increase ROI by xx%]?" And make sure you send that information. |
4. How to set up an appointment
At the end of the call, it is important to provide a clear path with next steps. You'll want to try to set up an appointment to discuss the product or service in more detail.
Be sure to suggest a precise time and date for the meeting and provide contact information to make the process easier. Have a couple of options for the conversation ready depending on the nature of the call: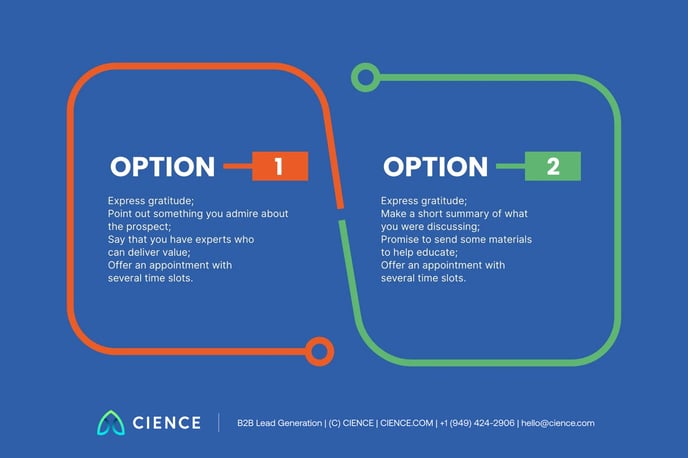 5. How to overcome call reluctance
Call reluctance is a problem that most sales representatives have faced at least once: a mix of call anxiety, panic, and fear of rejection that creates a mental block for making a call. It can have a significant impact on individuals and their well-being, the performance of a sales team, as well as the general work atmosphere.
Sales managers can help SDRs deal with call reluctance by providing clear expectations and guidance. This includes regular training, resources, and feedback to help build their confidence. By implementing coping strategies, businesses can create a culture of success and high performance.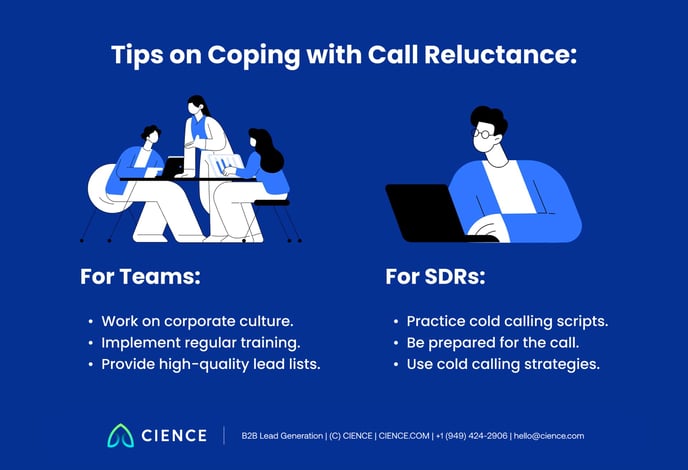 6. How to make cold calling fun
Performance depends on whether you enjoy your job. People can hear a smile on the phone—and if that smile is genuine. To make this process as enjoyable and fun as possible, you just have to know how to cold call and bring some fun into the cold calling experience.
Master Your Cold Calls in Sales
Cold calling can be one of the most challenging aspects of the sales process yet one of the most effective sales strategies for connecting with potential customers. It's a highly successful outreach tactic that can help you engage with companies that you want as well as convert them into your clients.
With practice, sales professionals can learn to be comfortable and effective at cold calling. By taking the time to research potential buyers and implement effective lead gen strategies, sales teams can learn to master cold calls to level up their performance.
Tired of cold calling? CIENCE has the solution.
CIENCE provides highly trained, US-based callers for B2B organizations. Our callers are trained to spark attention, interest, and desire with the primary mission to persuade prospects into your ideal action.
Test Our Callers
A Few (Related) Sales Posts
Your source for sales information