8 Common Sales Objections and How to Overcome Them
Imagine an ideal sales world: Researchers find a perfect lead, and SDRs then contact them and set an appointment, right? Sounds great, but that's not always how it works. There are lots of things that can go wrong: Your lead (aka: human being) could be mad, busy, tired, and therefore won't accept your sales pitch. This is called a "sales objection."
Every week, SDRs at CIENCE go through hundreds of unique phone and email contacts with different outcomes. Here we've gathered and categorized the most common sales objections and reply-handling examples so you can turn barriers into open doors.
What Is a Sales Objection?

Sales objections are the reasons a potential customer provides to a sales representative to avoid a purchase, meeting, or future communication. However, a sales objection isn't necessarily a hard "no." It can simply be an obstacle you need to overcome.
If your sales reps gave up whenever someone was unsure about your service, your pipeline would be empty. That's why you need an objection-handling strategy. This approach gives your teams actionable tips and carefully crafted messaging to take on the most common sales objectives.
3 Steps for Handling Sales Objections
Whether an SDR is overcoming objections via phone sales or emails, these three steps are crucial in reply handling:
1. Listen.
Being attentive is essential to make a lead feel heard and gives you an understanding of the person on the other side of a conversation. While you listen, you may get a chance to catch an objection before it even presents itself.

If it's a phone call, wait until the person stops talking. Then, use the active listening techniques that include repeating some sentences after the lead and phrases like "I hear you." Repeating them will ensure a speaker's objection and mood are understood correctly. While you do that, you have time to prepare your answer.

Pro tip: Make sure you accept the answer first. So start with saying "Thank you for your answer/feedback."
2. React.
While you listen and exchange the first few phrases, you should categorize the objection. First, ask yourself "Is this an objection or a rejection?" Listen to the tone of the voice or the wording of the response. If it's a rejection, there's a chance that your lead was wrongly qualified.

A brush-off usually doesn't have a backup story, but with an excellent reply-handling strategy, it can be overturned from a sales objection into a sales conversation.
3. Respond.
The actual response should be respectful and informative. Remember, you are here to solve the pain points of your potential customer. State that their concerns and problems are valid, and if you can, offer a solution.

Pro tip: Always stay calm, even if a lead is a bit edgy or aggressive. If you had a stressful conversation, take a minute break and a deep breath. It happens, but it doesn't define your job.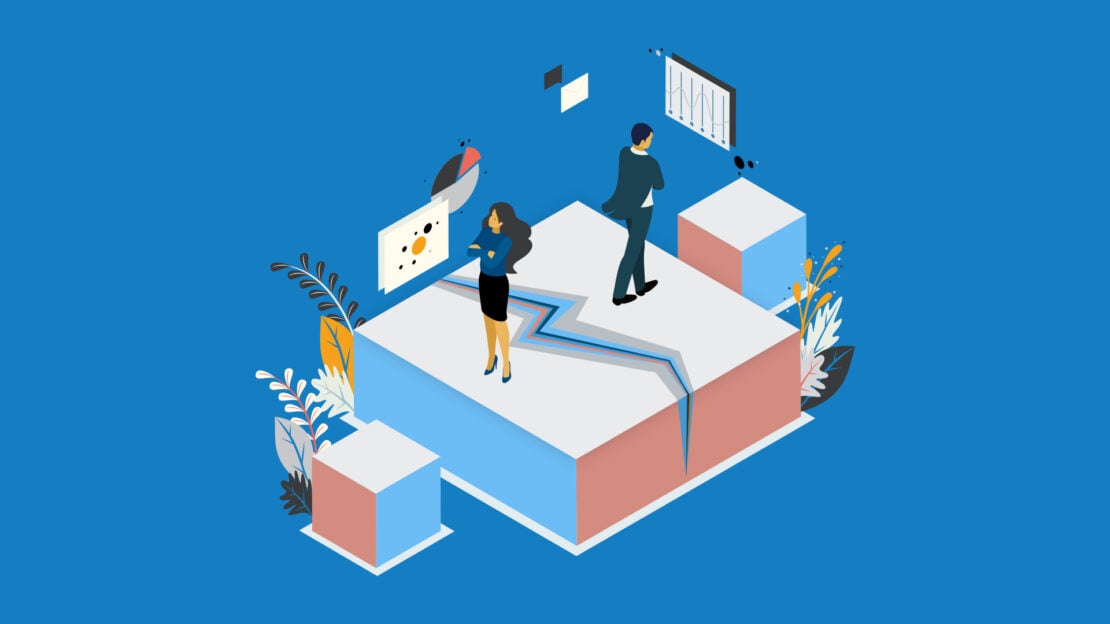 Types of Common Sales Objections
Every SDR should be trained to handle sales objections, and while some of those require creativity, you should create scripts and canned responses. Whether it's an email or a call, a document with common sales objections and answers will make the work easier.

Sales objections are often based on lack of money, time, and need. Here are some of the most common sales objections you'll hear and ways to overcome them:
1. The price is too high.
This is the most common sales objection because sales purchases usually come with some financial risks. To overcome this, you have to shift the conversation toward the value of your services.
The value of what you provide is always an essential selling point. Show that the price tag can be justified by your service's benefits and all the challenges it can solve. It can look like this:
2.
We are in the middle of budgeting.
Here is another money-related sales objection. As with the previous one, your handling strategy must be focused on value. Try explaining the benefits they get with ROI references included. If they stand their ground, suggest a follow-up after the budgeting is over or when the funding returns.
This sales objection rebuttal can look like this: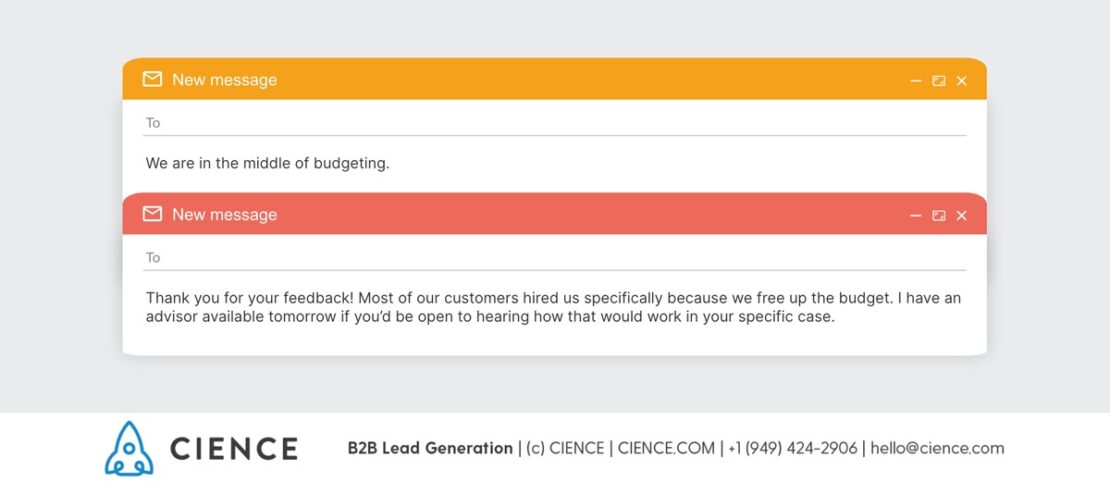 3. This isn't the right time.
The "wrong time" is a very common objection. A few reasons behind this sales objection include:
A lead didn't understand your value proposition.
A lead didn't want to understand your value proposition.
It really is a bad time.
The goal here is to understand the person behind this objection and how business processes work at their company.
For options 1 and 2, take out your "value" card and flash it one more time. Although, be careful not to oversell. You want to investigate yet not push too hard. If it's option 3, suggest circling back in a month or so. Use a specific date.
Here is an example of what this sales objection handling may look like: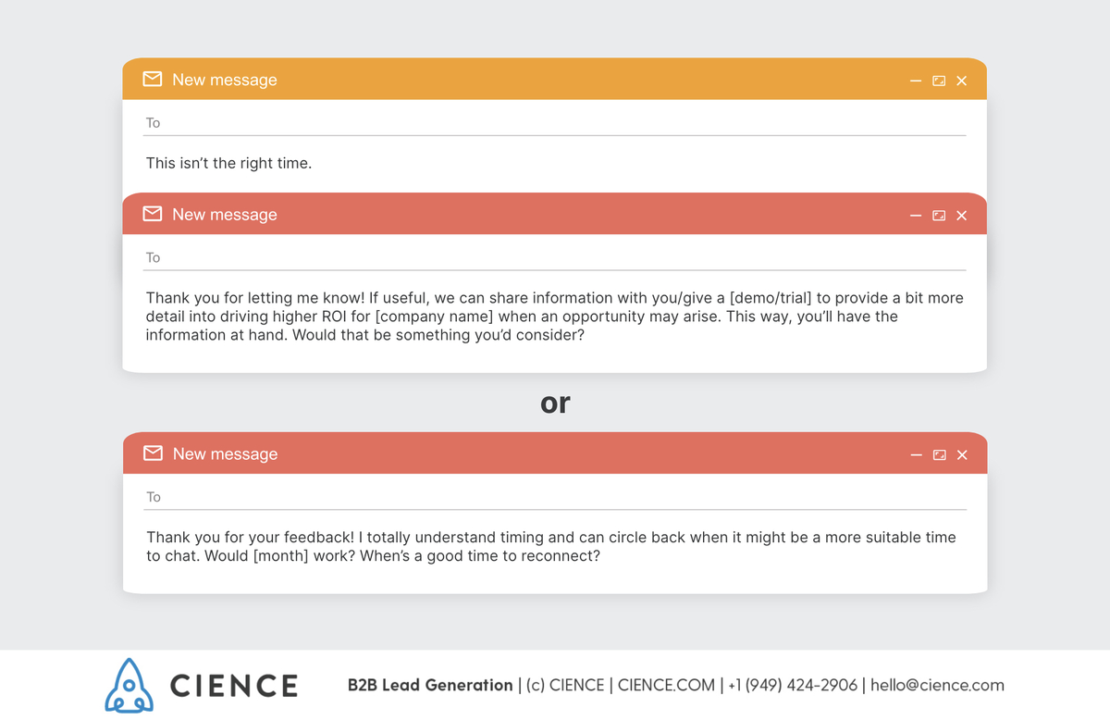 4. I don't have time.
Call me in a month.
Your leads are busy people. They have loads on their plates, and an urge to postpone is natural. They may also hope that, after this answer, you will fade away. You can handle this sales objection by addressing the benefits of your service, adding personalization, and making them a priority.
Make sure you mention that they don't have to purchase anything at the moment; it's an opportunity to scale their business processes.
Your response to this sales objection may look something like this: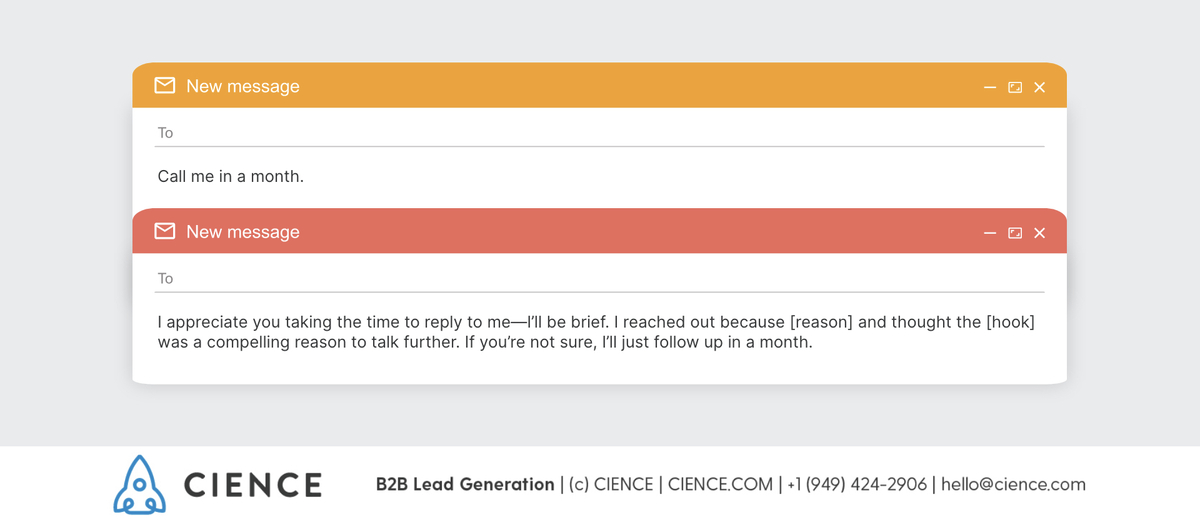 5. We already have an internal team.
This "lack of need" sales objection is not that hard to handle. It's actually great that they have an internal team. It means that the topic you talk about is familiar to them.
The first thing is to assure the lead that you won't replace their internal team. Start by noting that your service would boost their internal efforts (a real example or case study would be of great use here). If you've helped one or two of their competitors, a "name drop" would be acceptable here.
The best sales rebuttal may look similar to this: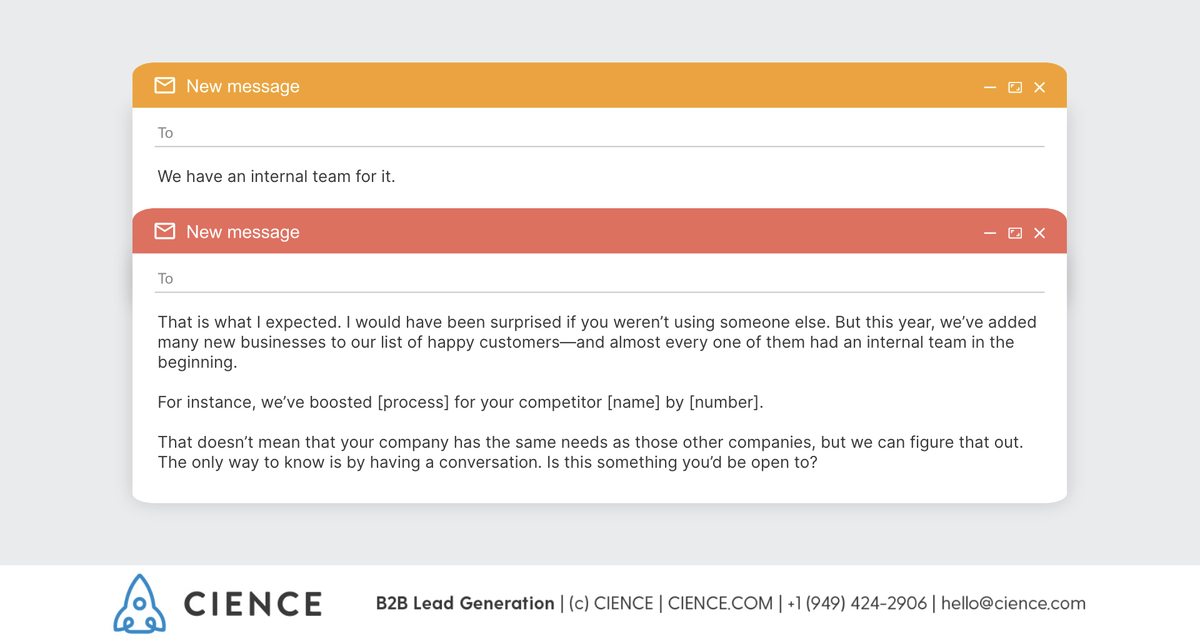 6. We work with another vendor.
This sales objection allows your SDRs to shine using their product knowledge. When a lead opens your email or picks up a phone, the person may see the service category and think: "Well, I already have that."
No wonder you get an objection as a response. If your lead has that service in place, your goal is to change their mindset around it. Give reasons that will back up the statement showing you are better—or even the best.
To get that info, ask them questions about things they like or don't like about their chosen vendor. Ask whether they are getting the ROI they expected.

Here's one way to handle this sales objection: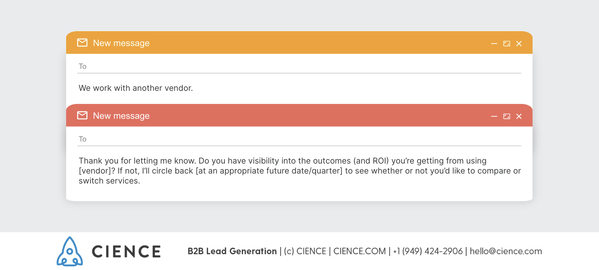 7. We've had a bad experience with another vendor.
This response is an ample opportunity to show how your company is different. Make a lead feel heard, ask what went wrong, and show that you care. The key to handling this sales objection is to prove that the experience will differ from the previous vendor.
Try this approach to show your credibility: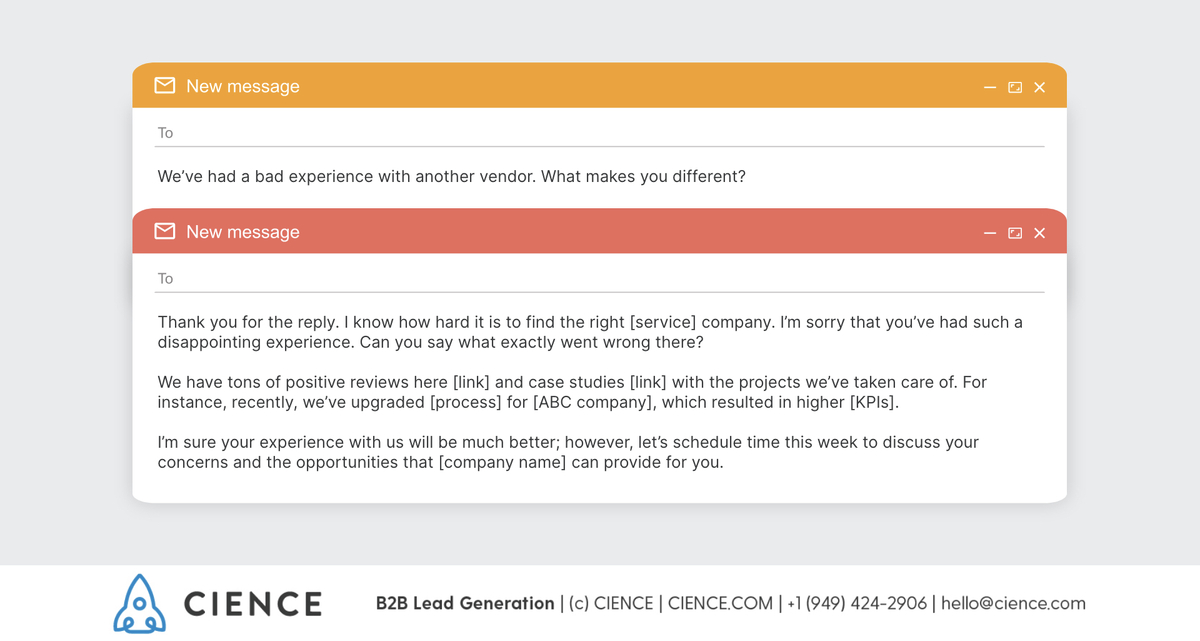 8. We need a feature that your service doesn't offer.
This objection can be handled in two ways:

Offer a feature that your lead needs.
Disqualifying the lead if you don't have an available option.
In the first option, you get a pain point so you can personalize the offer and hit the right sales note. In option two, you get to disqualify a lead early on and put your efforts somewhere else.
For the first scenario, use this sales objection handling example: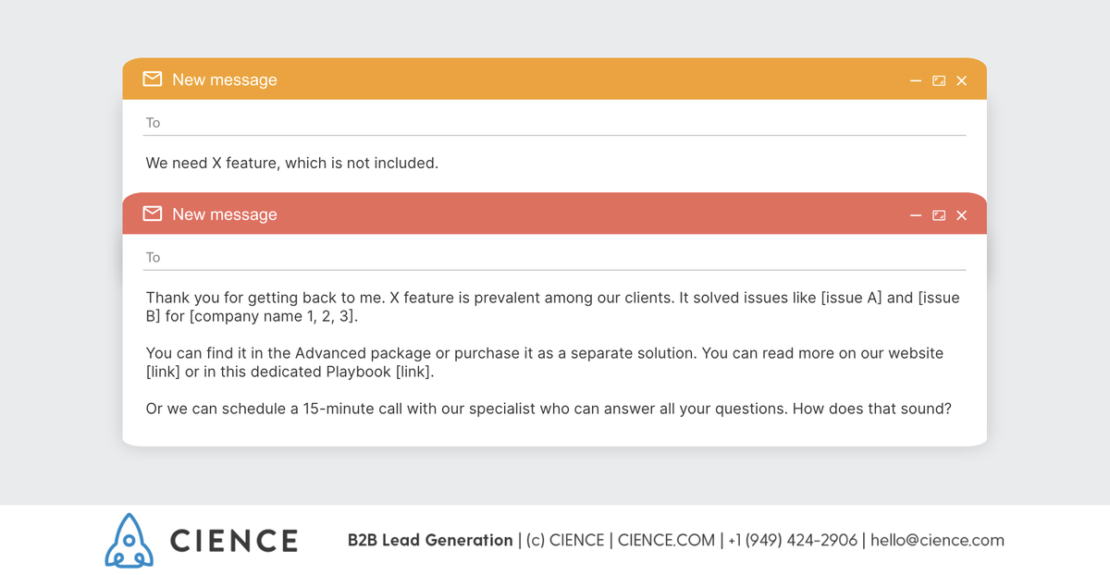 Overcome Sales Objections
Sales objections are a natural part of a sales lead generation process that can indicate whether your prospecting is effective or if your leads are interested enough to ask questions.

Hopefully, we've armed you with enough tools to nail the B2B sales objections down so you can face them standing up. And if you have any troubles, outsource to an experienced team that can help you grow sales opportunities.
A Few (Related) Sales Posts
Your source for sales information