SDR Outsourcing: Is It Right for My Business?
SDR as a service has gained significant popularity among businesses seeking to outsource their sales development efforts. Partnering with an outsourced SDR team can effectively streamline the sales process, freeing up valuable time to focus on high-value activities and fostering stronger connections with potential clients. Furthermore, collaborating with a dedicated SDR team can greatly enhance lead generation efforts and boost overall sales performance.
An effective sales team is critical to your company's success if you want a predictable, repeatable, and scalable sales engine. Deciding whether you should hire an outsourced SDR team or internally hire your SDRs is worth evaluating.
This frame-up is worth consideration, too, as gathering information on full costs associated with DiY (do it yourself) Internal SDR Teams will help you with the evaluation of ANY outsourced vendor.
Today, we'll walk you through the decision-making process of SDR (or BDR) outsourcing and three important factors to consider, as well as offer ways to think about relative insourcing costs and tradeoffs that may lead to an outsourced decision.
What Is SDR Outsourcing?
A sales development representative (SDR) is responsible for taking prospects gathered through demand generation activities and turning them into actionable leads and sales discussions. They perform tasks like research, personalization, lead nurturing, and outbound prospecting (cold calling and cold emailing). High-level SDR performance directly correlates with the success level of your sales strategy.

SDRs can be hired and trained as an internal team, or hired from SDR outsourcing companies. Outsourced SDRs have to feel like a part of your team working for qualifying inbound prospects and generating new leads from outbound efforts.
Current State-of-SDR surveys indicate that the average experience at hire for SDRs in America stands at one year. The Bridge Group 2023 Sales Development Report reveals that since 2010, there's been a 60% fall in required SDR experience at hire — down from 2.5 to 1.0 years.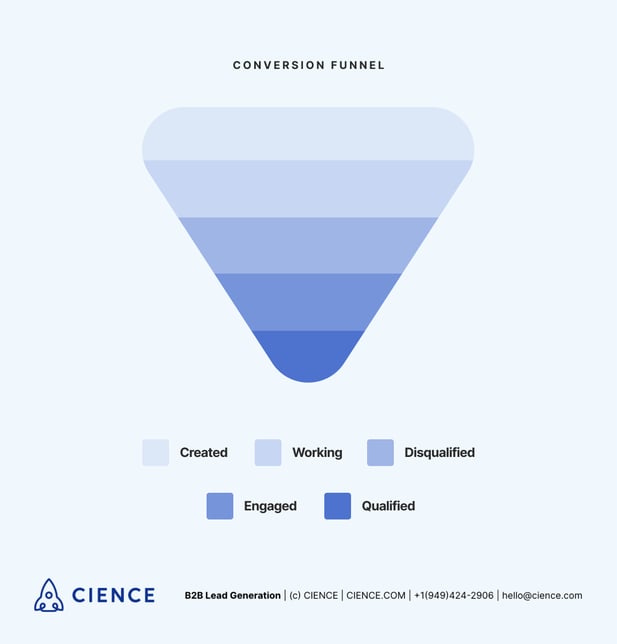 SDR Outsourcing – Typical Conversion Funnel
Outsourced SDR vs. In-House SDR
Perhaps one of the most overlooked pieces of deciding if SDR outsourcing is right for you and arguably the most critical factor is the cost. Also according to the Bridge Group, an inside sales consulting firm, the average tenure of an SDR is 1.4 years, while the average ramp time for SDRs is 3.2 months. Bottom line — the average SDR tenure is barely over a year of productive (total tenure minus ramp) contributions to pipeline.
When considering an in-house approach, it's important to take into account the various tasks involved. This includes developing a comprehensive Job Description, conducting extensive interviews, determining the organizational structure and reporting hierarchy, as well as managing the growth and development of the SDR team. Additionally, there is the ongoing responsibility of managing dynamic processes, utilizing expensive tools, and consistently targeting leads. It's essential to recognize that hiring in-house can be a costly endeavor, as it requires significant time and financial investment.
The average rule of thumb on sales team hiring is 50% burden on annual salary. The Bridge Group reports that the average outbound sales development representative salary in the United States is $80,000 per year. So, for an SDR making a base of $80,000, the associated costs of hiring would be an additional $40,000.
Let's start with job postings: How long will it take you to find the right talent? How many websites will you post on? How many interviews? What portions of management (or peer) time is spent in interviews? How about average HR burdens like background checks or benefits administration? These costs (often hidden) should factor into reasons to consider SDR outsourcing companies.
Our internal research shows that the annual cost to manage even a two-person SDR team is $330,729 annually. We calculated this by including team salaries, tools (software, phone), manager's base, time allocated to the SDR team, overhead (rent, equipment), and hiring and training costs.
When you begin business development representative outsourcing, you can eliminate the costs of recruiting, onboarding, training, and retention. For comparison, for a dedicated SDR team at CIENCE, you're paying approximately $5,000 per month.
The cost impacts of not going the DIY route can be less than one-sixth of the total. When thinking about a lead generation budget holistically, this attractive pricing is an excellent place to start. Outsourcing SDRs is becoming more widely considered once businesses realize they can get the same (if not better) results through the outsourced SDR company for dramatically less cost.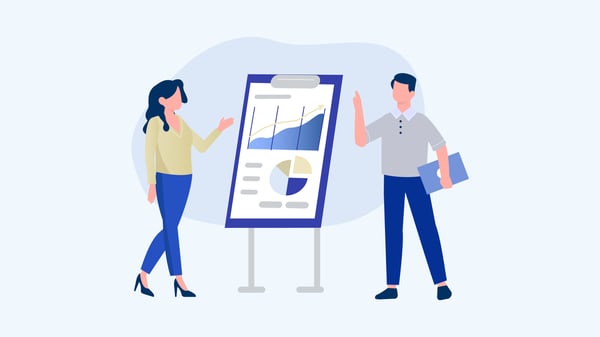 SDR Performance
There are substantial performance implications to managing what is essentially a thankless job primarily staffed by sales newbies. According to The Bridge Group, the average experience required for SDRs has fallen from 2020 to 2022 from 1.2 years to one year.
Those with less than one year of background in frontline sales development mean the performance burden falls squarely on the management of these junior employees. Once you hire your SDRs internally, the manager needs time to learn how to work with each candidate and discover how to motivate each employee daily.
Aside from daily tools that SDRs need to track progress, organize and communicate, you must also account for sales enablement technology and the training involved to learn its usage. Hiring an SDR outsourcing company is beneficial when you don't want to pay for high-quality tools but still want ROI-driving performance.
Another critical note to highlight is that your internal team will often have lowered morale from lesser-value tasks. Compounding the low average tenure of most SDRs is the constant need for promotion or at least a career track. This creates an inherent cost center where SDRs forever work themselves out of jobs because of advertising or flight. The need to backfill positions constantly puts significant pressure on any organization.
Lastly, on performance, gathering targeted, accurate prospect data—crucial to the effectiveness of your sales process—is anathema to most sales professionals. This research role is as time-consuming as it is grinding. Many salespeople argue it's the opposite of sales—it's administration. A good rule of thumb is that any menial tasks that can be sent to an SDR outsourcing company should be redirected to them for best performance.
Time Factor
Building and managing an SDR team requires trial and error and much time. Decisions like which compensation models work, dealing with attitudes, loss of motivation, and outreach methodology are just a few of the issues that come to the surface when managing your internal team.

Internal sales teams often don't align well with marketing teams, which causes organizational issues that continually deepen. SDR outsourcing companies allow you to find the right direction and save tremendous time while your team takes the time to test tools, messaging, and processes, as well as navigate your target market.
SDRs typically spend most of their time on research and outbound prospecting, leading to burnout. On average, SDRs spend three hours a day on the research itself. Imagine the amount that could be accomplished during that time.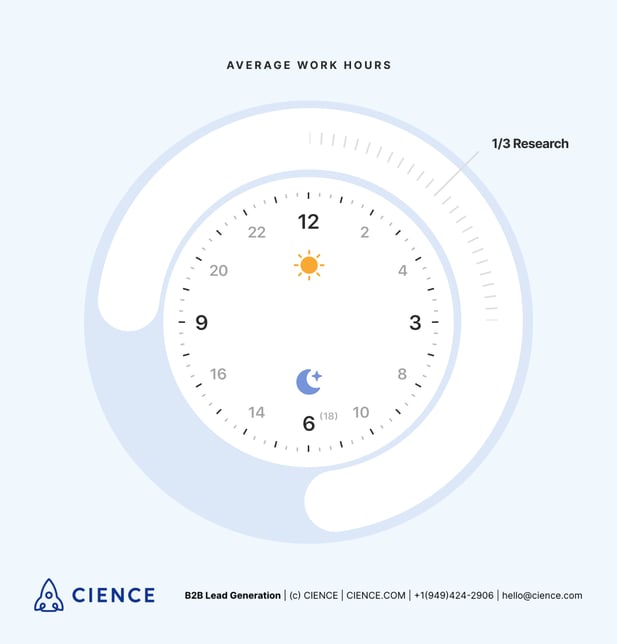 Due to the variety of tasks, the quality of research suffers too. And we are not sure it is worth the hassle. Three hours of research a day turns into 69 hours a month and 828 hours a year. Let's take an average annual SDR salary of $76,000 and see how much money these three hours cost a year. For these calculations, we assume that, on average, SDR has 23 nine-hour working days in a month.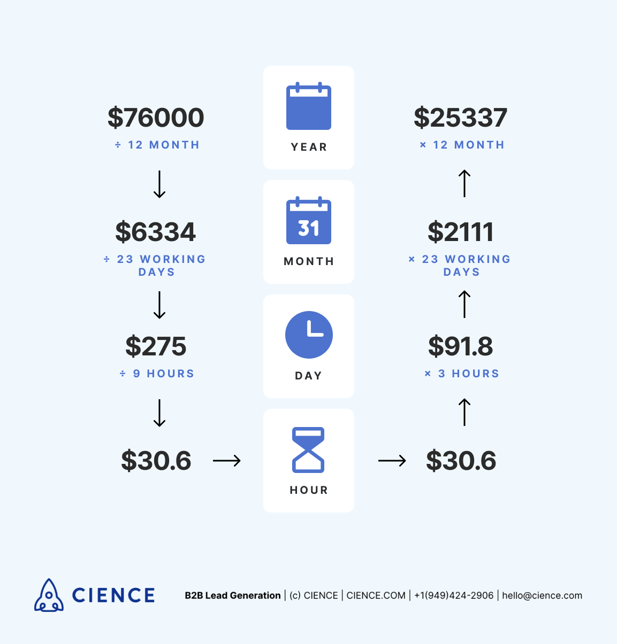 An estimated $25,337 is the amount that can be invested directly in your sales and closing deals. Sales specialization is everything nowadays as it reduces cost and improves your SDR's productivity. Take people who do research all day long. And it's their specialization. Compare their productivity to a renaissance salesperson who spends 10% of their time researching. Not even close. Outsourced sales teams allow you to have a fully qualified sales pipeline.
As the SDR function becomes more mature, companies continue to explore innovative ways to accelerate growth and get potential customers into the hands of sales teams. Building a solid outsourced sales development team can provide a strategic option for scale without unnecessarily burdening sales leaders or distracting them from their core objectives.
SDR Outsourcing for Business
Sales development representatives outsourcing is a smart option for businesses with the flow of information getting faster every day. To keep up with it, you must deliver the best customer experience.
To achieve quality results, SDRs at CIENCE use multiple media channels, from cold calling and cold emailing to social media outreach, to nurture and follow up with prospects.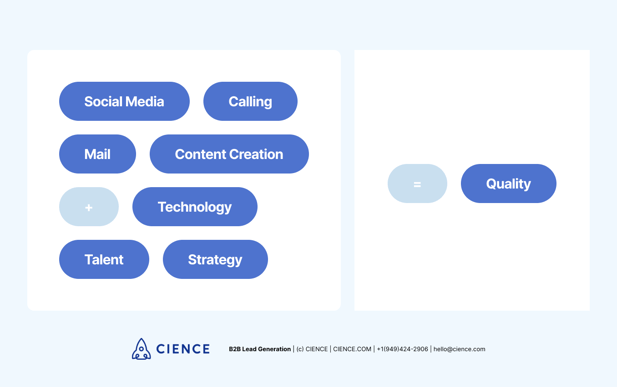 SDR is a highly challenging role in outbound sales. However, as demand continues to rise, there is a steady decline in the required experience for this role. The average ramp time is 3.2 months, which is time and resource-consuming. While at CIENCE, the average ramp-up time for an SDR assigned to a new client is four to six weeks.
The new decade requires new methods, and to save your company's money, you have to consider hiring an outsourced SDR company for the role of equilibrium.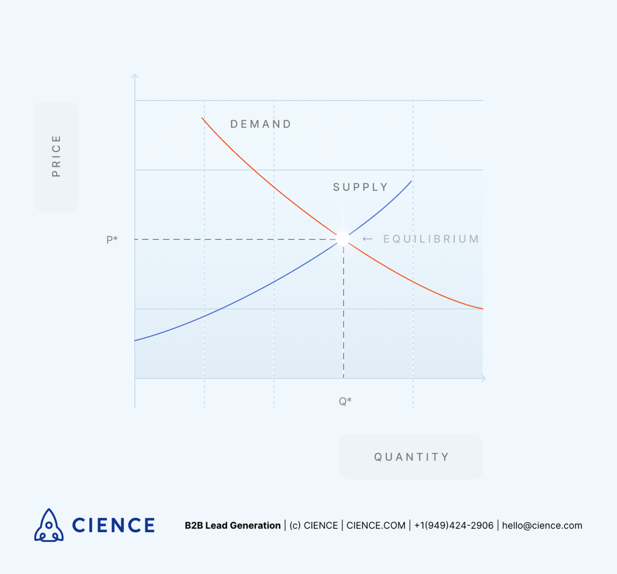 Tips for Better SDR Outsourcing
When you come up with a monumental decision of SDR outsourcing, it's okay to have some expectations for SDR outsourcing companies. You may hope for ROI jumping through the roof in a month or so without any engagement from your side and a low price. It sounds good, but it's not how it works. Here are some prime tips for using outsourced sales:
1. Don't rush it.
Just like every worker, an outsourced SDR will need some time to adapt. You will save a lot of onboarding time, but the SDR should still understand how your business works and your target market. Give it time while providing insights and training them on your product or service.
2. Engage.
SDR outsourcing companies can help keep your internal team focused on closing new business. Nevertheless, it won't be able to work by itself. You should be open to communication with your new outbound sales partners and align them with your existing teams to increase their productivity.
3. Think about the impact first.

You pay for experts' insights, a dedicated team, and an approach crafted just for your business. The price should be reasonably based on the expenses of your SDR outsourcing company/partner. You would get suspicious if someone tries to sell a brand-new car to you for one hundred dollars. Same thing here with outbound sales.
Make sure you mark your goals clearly, especially on what outcome you want to see. Ask many questions. Choose an SDR outsourcing company that can drive expected results for you, and the expenses will pay off.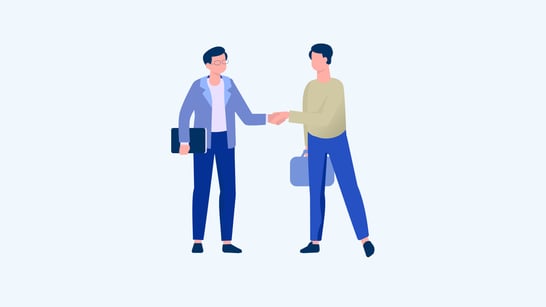 To Outsource or Not to Outsource?
There are many things to consider when you outsource to an SDR service. However, evaluate turnover, burnout, and the cost of hiring and training your in-house team. Then think through the optimal performance of a sales development program. You may find better luck outsourcing.
Our SDR teams at CIENCE are trained to become an extension of your team, genuinely getting to know your business goals. We provide an in-house campaign strategist to learn your business tone and voice and work with you to develop messaging that reflects your brand. Our data team is highly educated, and their job is to focus only on research, assuring every contact and lead is high quality.
Our SDRs become part of your team and get to know your business. They are working your hours, helping your business thrive and grow. Book a meeting with CIENCE today and see how SDR outsourcing can help your ROI and save you money.
A Few (Related) Sales Posts
Your source for sales information