Sales Trends at the Quarter-Pole: Aligning Process and Strategy
April is the time when all the companies make their quarter-pole analysis, summaries, and match against predictions for the current year. Though it heavily depends on the industry, this period provides a valuable insight into the performance of a firm. This is why it's critical to track the sales trends throughout the year.
As usual, a company lays down a selling plan in early January. It sets the quotas for each quarter based on the data for the same period of the previous year(s). For example, your sales team closed $10 million in Q1, 2017, and now projects an $11 million forecast in Q1, 2018. This creative process of creating a leading indicator from a lagging indicator is thankfully getting more sophisticated with the promise of better forecasting tools than simply using previous year's results.
It's also worth noting that recent research into goal setting suggests that the science of getting targets right is its own reward because they've already hit the number.
Tracking the quarter
What is your organizational plan? Tracking towards the number, or did it manage to outperform? Maybe something went wrong, and the team failed to attain their quota. In any case, you'll need to analyze and adjust your sales plan for the year. Let's take a closer look at these sales trends.
Underperformance
This sales trend looks like the worst-case scenario, and the most apparent reason to analyze it. Several things are needed for company when it failed to hit the quota:
Revisit your annual plan. Did you make it based on the same period of the previous year? What if the results achieved then were exceptional?
Check the "environment". Did something happen in your industry, or in your region, that was out of your control and that prevented you from implementing the plan?
Supervise your sales team work. What has changed? Is it a new employee or demanding software? Maybe nothing has changed, and that's the reason for the failure.
After you've collected and processed all the data, you'll need to introduce the changes in your plan, i.e., adjust your annual quota accordingly.
In the sales team work, you'll need to analyze:
Individual performance of each employee and their motivation
Sales pipeline — where is the problem?
Specialization of your employees
Marketing and sales teams cooperation
Account-based management
We'll discuss the possible reasons for a sales team's poor results, and the ways to overcome them below.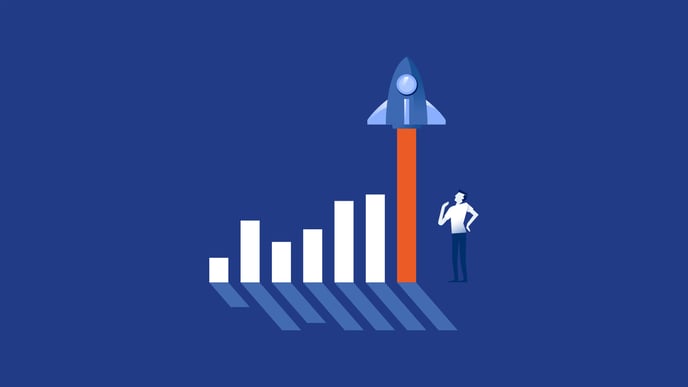 Overperformance
While it looks like the best of the possible sales trends, it also requires you to think harder. Success here doesn't assure you the same results at other periods of the year. However, you'll definitely want to repeat it! Here is what you need to do.
Analyze your annual plan.
Revise the "environment." Your killer results might be due to changes in your industry's sales trends. You won't want to confuse the occasional boom with the tendency.
Take a closer look at the work of your sales team, each of its members and their workflow. What are the reasons for its excellent results? What can you do to retain them?
Change your annual plan, if the results weren't occasional.
Study your sales team's best practices. Make sure they will become the part of the daily activities of your employees. Learn how to retain the necessary sales results below.
Plan Achievement
Most companies would conduct analysis only if they see one of the sales trends as mentioned above. However, they will stay satisfied with the attainment of their plan. While intuitively, this tactic seems right, in reality, it isn't successful, and here's why.
As we said before, the plan is based on the results of the previous years. A company on-target will be expected to do the same by the end of the current period. The sales team met the expectation, but do you think that they have succeeded?
We believe that consistency and stability aren't always assurances of prosperity, and by no means do they signify change. If your company achieves results within percentage-based, yearly benchmarks, then it's likely time to upgrade your stretch goals.
In the ever-changing modern business environment,
it is risky and dangerous to become satisfied.
Like a living being, any business needs to grow. And to do it, it should leave its comfort zone. It means that a company needs changes in how its sales process works. Here are a couple of things that evolve in a successful organization:
Sales pipeline
Quotas
Number of staff
Specialization
Channels
Techniques
Outsourcing
We are pretty sure that when a company opts to change one can succeed and attain the desired results. However, in the beginning, the top management needs to change their mindset towards pro-activity and development.
Analyzing your sales trends
No matter, which of the sales trends your company is having right now, there are three fundamental pillars. First, it's the strategy implemented in your annual plan. Second, there's environment, which is beyond your control, but influences the course. Third, there's the process that is fulfilled by a sales team in accordance to the strategy.
Let's take a closer look at the process. As we just said, it complies with the plan. It might seem that the latter is in charge of the sales and the results; however, there are reasonable extents to which your strategy governs your process.
Sales playbooks
First, you can't put down every workflow in your plan. Similarly, there's no guarantee that your employees will fulfill every step as top management sees it. We all know that processes differ from what they should be in a perfect world. Finally, if your sales don't work as you foresaw, you need to revisit and adjust your strategy.
If we break any process down, we'll have the operations, the executors and the resources. These are tasks, sales team, tools and methods. Furthermore, any process has a "fourth dimension," and that consists of timing and various stages. We call it sales pipeline. Finally, a process operates with and transforms particular objects. In sales, it's the conversion of leads.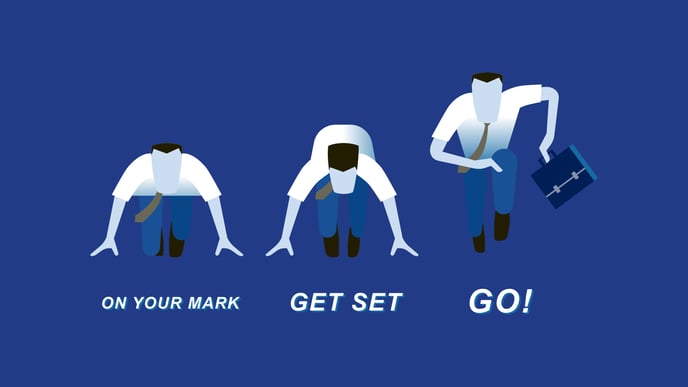 Sales process
When you have the results from your first quarter, you can analyze the following components:
1. Supervise the lead generation. It is one of your primary tasks. We're now considering the gates of your sales pipeline. If they're closed or slightly opened, the rest of the sales team won't have the leads to work with, so here are some things to consider below.
Analyze your buyer persona. Is it up-to-date?
Revisit your sales intelligence and lists of contacts. Are they high-quality? Tip: look at the email bounce rate.
Review the quality of your leads because today it's a number one challenge. Do most of the prospects fit your buyer persona perfectly?
Check for the opportunities to make more prospects.
You can't influence inbound directly. However, you can talk with the marketing department on how to improve the quality and the number of the leads they provide.
Inquire the SDRs on how they qualify opportunities. Conduct training dedicated to this challenging operation.
Consider outsourcing your lead generation to an outbound prospecting company.
It will reduce the costs and increase the quality of this process. Today, like never before, an SDR should be a professional. However, the trend to reduce their tenure, and the quick promotion in 14 months makes it almost impossible to find skillful people in this position.
At sales outsourcing companies, SDRs hold their position for several years and become professionals. They also tend to specialize in 2-3 industries to make their work even more efficient. In addition to this, some firms provide the services of sales intelligence. They will enrich your existing lists of contacts and add to the new ones.
2. Analyze the workflow and a load of your sales team:
Do they have the potential of making more deals?
Consider setting a higher quota for your sales team.
Do you need more Account Executives?
Estimate the ratio of accepted qualified opportunities to the number of closed deals. Sometimes, a sales and marketing team bring enough "material" to attain the quota. However, the real problem is in the AEs.
Today, the number of SDRs per manager has grown.
If your managers can't handle more qualified opportunities brought by an increased number of SDRs, they need training.
3. Examine your software:
How does your database work? Are there better offers on the market?
Is your CRM up-to-date?
Does your software indeed facilitate the process? Is it user-friendly and easy to use?
Do all of your employees use automation tools, or maybe some of them want to make it the "old way."
4. Check the process of lead transfer between employees:
From marketing to sales.
From SDRs to AEs.
5. Estimate your reporting system:
Does it have "blind spots?"
Does your company use reporting for analysis and planning?
What if you make wrong conclusions about the data?
How often do your employees report?
Is reporting the lifestyle of your organization utilized, or is it done ad hoc?
The comprehensive analysis of these factors will help you to see what is going on in your sales process. You will get an insight into the results of the quarter-pole and understand better the sales trends of your company.
It will be beneficial for companies that underperformed and those that overperform. Similarly, it will help those organizations that want to grow and evolve.
A Few (Related) Sales Posts
Your source for sales information