GO Platform - September Evolution
CIENCE's Summer of Innovation: Uplifting the GO Platform

While most basked in the summer sun, the CIENCE Dev Team was hard at work, transforming the GO Platform. Their relentless dedication bore fruit, unveiling a series of feature enhancements designed to harvest more leads.

Updated Dashboard enables you to pin your components used most. Set your priority and personalize your CIENCE app page.
Revamped Navigation offers quick access to support, product tours, and more. Everything at your fingertips.

Some great technical changes make for an even more effective product.
IP-to-Company Mapping now brings our match rates ever higher showing which companies visit your website. Precise retargeting follows.
Dynamic Lists are real-time visitor lists, ready for outreach for your website visitors. True game changer here that doesn't exist in any other product.
Campaign Templates are here! We've created some of the easiest-to-use, off-the-shelf campaigns to plug in and GO! with our AI content personalization engine with pre-filled prompts for each step. Campaigns in a box!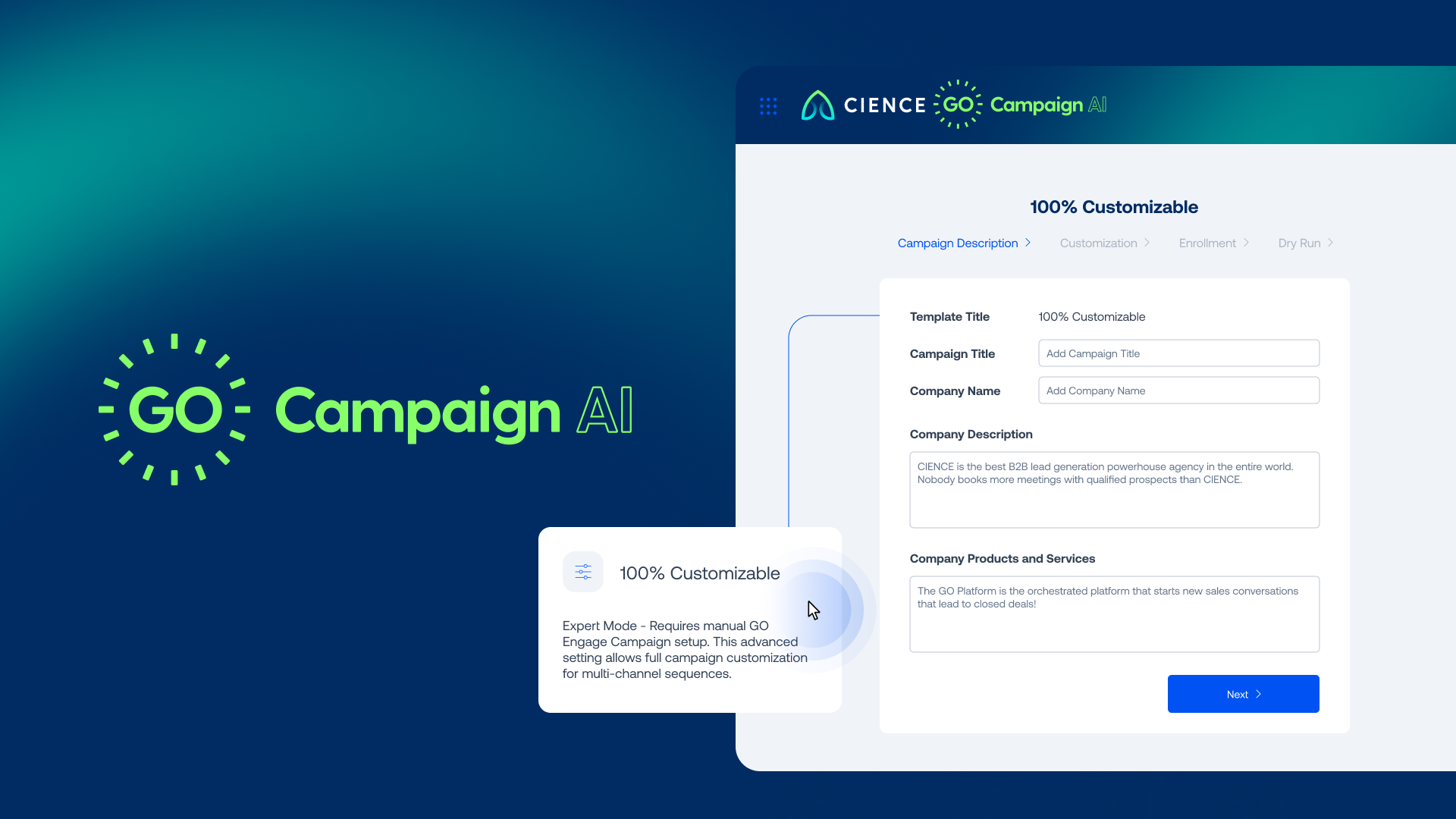 100% Customizable are also available -- giving our users the power to initiate campaigns. During the 'Enrollment' phase, users can modify the pre-filled "Master prompt". All the power you need to automate campaigns to your own specs.
Message Review & Approval Management enables you to preview any message associated with any lead, modify as needed, and validate messages for individual leads or for all leads simultaneously.
This process enables users to migrate messages efficiently to GO Engage, where application to Campaigns and sendouts occur.
We're excited to bring you the newest features, each tailored to give you an edge in call handling, reporting, and transcription.


Voice Call Analysis: Better Than Ever
Dynamic Transcription Views

offer matched transcriptions with audio. Result? Faster review, less confusion.

Advanced Voice Insights

use our AI to take a dive deep into calls. Get actionable insights, not just data, while neatly categorizing content.


Automated Data Redaction

gives the ability to protect sensitive info out of any transcription. Peace of mind, every time.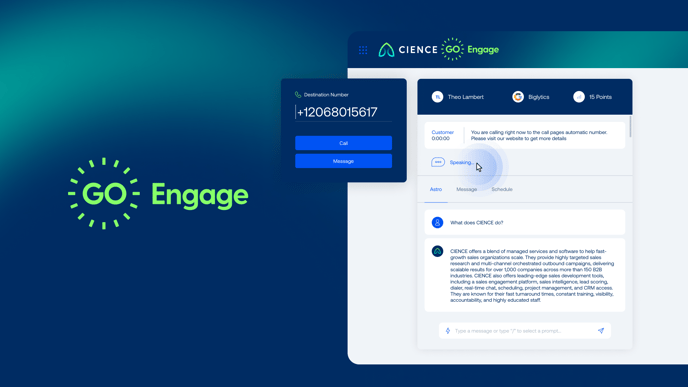 Mailbox Settings: More Power for You
Signature Integration

brings a touch of professionalism to every email effortlessly with its consistent branding.

Phone Number Association

adds a phone dimension to campaigns. More ways to engage.

User List Sync

is simplified campaign design. Reach the right audience faster.
Call Reporting: See the Full Picture
Call From & Call To Number

identification gives specificity where calls start and end. Better tracking, better strategy.

Call SID

offers Unique ID for every call. No mix-ups.

Call Type & Duration

delivers call nature and length (

inbound, outbound, missed)

. Improve efficiency and engagement.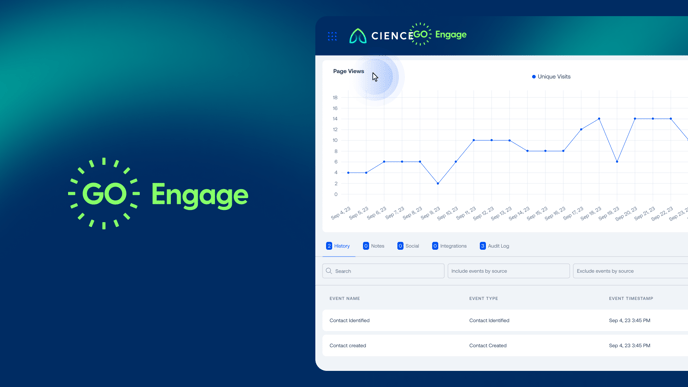 Outbound Report Widget: Everything in One Place


Unified Reporting

gives a single view for calls, emails, campaigns, and more. Quick insights, faster decisions.

Custom Duration Selection

lets you review data your way. Focus on what matters most.
Our latest upgrades to the GO Platform CDP enable enhanced clarity and insights on any contact.
User Info Tabs allow you to understand which lists a contact belongs to -- And especially their behaviors -- giving greater insights on any contact interaction with your website.

Max Employees Parameter limits the total number contacts per company. Balanced prospecting, no oversaturation.
Phone Enrichment API now offers even more phone numbers for greater call connects. Potential for higher engagement.
Audience Status Info tracks audience creation progress. Simple visualizations of the number of contacts we are able to verify for any list.
List Deletion and List Sorting by Date give better ways to stay organized when using GO Data.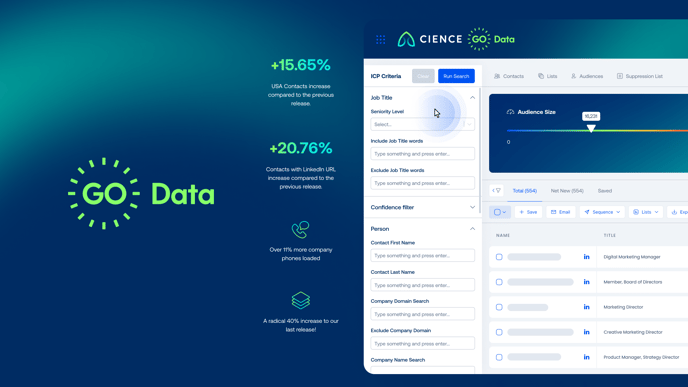 Also of note on GO Data are our current counts:
Contacts
USA Contacts: Our CDP now includes

140,613,375

USA contacts, which is a 15.65% increase compared to the previous release.
Contacts with LinkedIn URL: We've expanded our LinkedIn URL coverage to

87,610,647

contacts,

a

20.76%

increase from previous.
Contact Information Accuracy -- based on job employment information improved by 4% over the previous month.
Companies
Total Companies: Our database now includes 6,109,570 companies (~1% increase over previous).
Company Phone: Over

11%

more company phones loaded.

Web Tech Stack

: A radical

40% increase

to our last release!
Events have been improved to recognize more visitors. Expand your reach.
A Few (Related) Sales Posts
Your source for sales information