6 Actionable Tips to Make Video Work for B2B Sales
There is no doubt that video is one of the most effective ways to market and sell your products and services. It provides visual and audio aspects that paint an entire picture, and its storytelling elements make it memorable and relatable.
Video is not only effective for a B2C audience, but it also works well for B2B. In fact, 73% of B2B businesses using video in their marketing say they achieved positive ROI, and 80% of video marketers report video helped increase sales.
But in order for video to convert, there has to be a strategy behind it. It has to connect with your target audience, and it has to be placed where it will be seen.
Here are some tips that will help you create a video that will get more B2B customers in the door.
1. Pay Attention to Where Prospects Are in the Funnel
The video you send out should be customized to the stage of the B2B sales journey your prospects are on.
An introductory video, similar to the one described above, is perfect for someone that's new to your company and that you've had no previous contact with.
But once you've sent a few emails out to potential clients and maybe even had a bit of back and forth, you will want to send them content that draws them in.
This is a good time to send them emails and newsletters with video content that illustrates how your services have benefited other customers. Or you may want to use your video to outline the benefits of a specific service or product you feel is suited for them.
When customers are further down in the funnel, you will want to send them longer, more informative videos. However, you should still try to keep these on the shorter side.
2. Make Videos Short and Sweet
In this world of B2B business, people don't have a lot of time to view videos. Therefore, you want to keep videos short and to the point, and you have a lot of editing tools to potentially help you out with this.
This study shows that the most effective videos are under two minutes long. But be aware that most users won't even stay on that long.
Considering short attention spans, make sure you get all the important stuff out of the way early. Tell the viewer a bit about your company and how your products and services can add value, boost their sales, and make their processes more efficient.
Leave the fluff for later or eliminate it completely.
Either way, keep the video short. If a prospective client sees that your video is too long, they may skip it altogether.
3. Place a 3D Animated Product Video on Your Landing Page
Whether you have a product with multiple features that would normally take long sentences to explain, or you offer a service that can be used in various ways, a short, thoughtful video will be worth hundreds of words and tens of illustrations.
3D animation is a great way to visualize complex products and services. With such videos, you'll enable your prospect with the ability to look closer at different parts of the product and see its features in action.
3D animation drives conversions for a sophisticated product and boosts prospects' engagement. Moreover, you can use interactive 3D photos and 3D product videos where potential customers can rotate and zoom the product prototype whenever they like: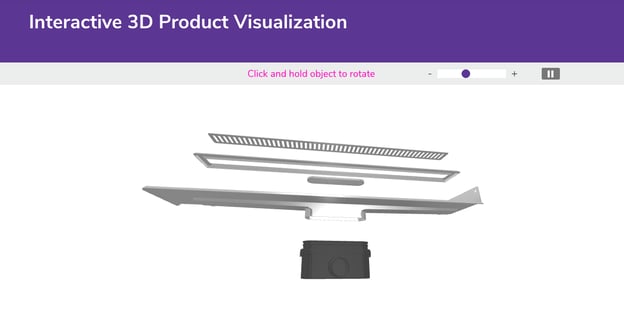 In order to get viewers beyond your landing page and find out more about your business, you'll want to include content that keeps them wanting more. The ability to interact with the video does just that.
4. Customer Testimonials Work
When thinking of creating video content for your B2B business, keep in mind: social proof sells. Customer testimonials are a safe go-to that works magic with prospects.
Potential clients love testimonials because they show them about other customers' experiences with your business. It gives them the lowdown on how your products and services benefited companies like theirs.
When creating customer testimonials, it's important not to make clients stick to a script. If the video seems scripted and forced, it won't be authentic, and that can be a real turn off.
Just let the client act naturally and say what they really think. This will help put your company in the best light possible.

Get some inspiration from these great examples of B2B video testimonials and learn more about tools that help your video become more engaging, such as split-screen video editors.
5. Don't Be Afraid to Have Fun
I know, that sounds like something for B2C guys. However, why should we leave all the fun stuff for them exclusively? When creating videos, have a little fun with them. Don't be afraid to add humor or incorporate trending themes into your content.

That's a perfect opportunity to deliver your message and get your potential clients familiar with the brand. Take a look at this video by Slack, never old.
The video is funny, dynamic, and clearly communicates the product's benefits.

On the other hand, you can also add an element of emotion to pull at heartstrings and make your story relatable.
No matter what direction you choose to take, don't be afraid to go outside the box to make your content engaging and memorable.
At the same time, it's important to let your brand values shine through. Think of your brand's voice, it's goals and missions, and make sure that's integrated into your video and any other type of content you release.
6. Share Your Video
In order for your video to get more bang for its buck, you'll want to share it across a variety of platforms, not only with your sales materials and presentations.
When sharing your video on social media, think of where your target audience will be. Since you're focusing on B2B, LinkedIn will be a good bet—it's a #3 distribution channel for B2B firms after a company's website and email.
However, consider sharing to Facebook, Twitter, and other platforms where you have an active audience. Chances are, Facebook communities for B2B owners and marketers can bring in some qualified leads.
The nice thing is, sharing video to social media platforms is almost always free. And the more sharing you do, the more likely you are to reach your target audience and boost ROI.
Video is one of the most effective ways for you to reach your B2B customers. The tips in this article will help you optimize your content, making for increased conversions. What elements would you like to add to take your video to the next level?
A Few (Related) Sales Posts
Your source for sales information